Fisheries Department to stock fish fingerlings in 5,682 tanks in several Gram Panchayats.
The Karnataka Fisheries Department has stocked more than 1.5 crores of advanced fish fingerlings in 2,442 tanks of selected Gram Panchayat ponds in accordance with the government order to enhance fish production in the state.
Govind Raj, a fish farmer from Tumkur district of Karnataka said that the scheme will benefit him as well as other fish farmers in the state. This is because good quality fish seedlings will be available and as the department itself is transporting the seedlings, the farmers do not have to bear its cost.
The Karnataka government, in its budget for 2022-23, proposed to provide fish seedlings free of cost in tanks of selected Gram Panchayats to develop fish cultivation in the state.
Raghavendra, Assistant Director of Fisheries in the Karnataka Fisheries Department said, "We are notified to select 5,600 tanks as per the government order but as of now we have selected 5,682 tanks and stocked 2,442 tanks with advanced fish fingerlings of Catla and Common Carps."
The fingerlings are first grown above 70 millimetres and are stocked into selected Gram Panchayats of the State to increase fish production and boost the overall revenue of the Panchayats.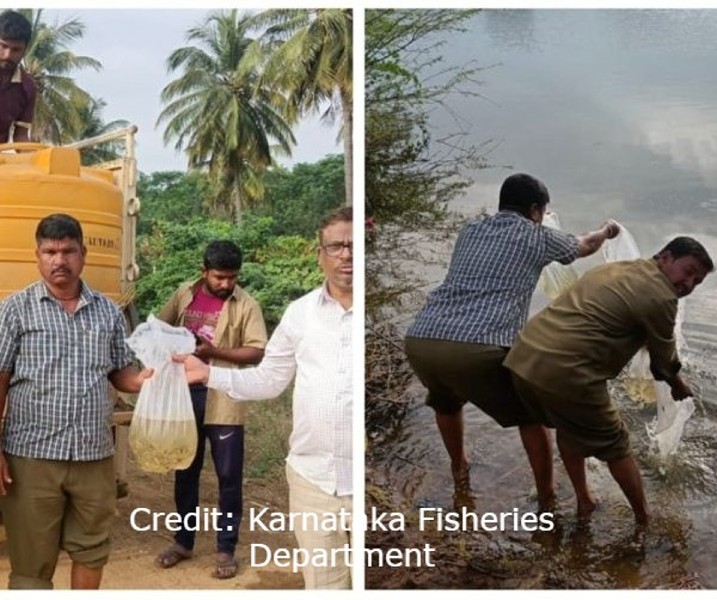 Dr. Shivakumar Magada, Dean of the College of Fisheries in Mangaluru said, "Though we have the highest number of reservoirs in the state, the fish productivity is very low. It is as low as 50-150 kilograms (kg) per hectare whereas the potential is 400-600 kg per hectare. In order to augment the fish production in the state, we need to increase our fish production in reservoirs."
Another official Raghavendra, the Deputy Director at the Fisheries Department of Karnataka, said that the Gram Panchayat tanks in Karnataka are not being used to their full extent and it is essential to utilise smaller water sources available at Gram Panchayat levels.
Dr. Shivakumar also said that if the reservoirs are given to communities or fishermen societies, they do not know the scientific management of those reservoirs like the presence of the predators, stock assessment, and use of the right gear for harvesting. So, the survival percentage of the fingerlings would be less than 10 percent.
"A right balance must be maintained in the entire ecosystem and all herbivorous, carnivorous, and omnivorous fish have to be stocked, but these times only herbivorous fish are stocked," Dr. Shivakumar added.