A room of 600 square feet for anganwadis is still a dream left unfulfilled.
Bruhat Bengaluru Mahanagara Palike (BBMP) is not constructing new anganwadis due to land scarcity and this is increasing stress on the existing small and congested rooms. Ruchita, an anganwadi worker, said, "Around 20 children visit the anganwadi on a daily basis and all are accommodated in the small space. Here, food is also prepared and sometimes hot food is accidentally spilled on children."
Guidelines issued by the Ministry of Women and Child Development under the Integrated Child Development Scheme (ICDS) say that the size of a room for an anganwadi must be 600 square feet. However, Mr. Nischal, Deputy Director of the Department of Women and Child Development said, "The dimensions of existing anganwadis in Bengaluru are 10 by 10 square feet. It becomes difficult for anganwadi workers to teach, manage and prepare food for children in such small rooms."
Maria Ashwin Pratham, Senior Program Coordinator, Makkala Jagriti, NGO for Early Childhood Care and Protection said, "In spite of various efforts from NGOs, anganwadi centers in Bengaluru still have no access to buildings to run their operations. Therefore, they have to manage with small and damp rooms."
Saraswati, another anganwadi worker said, "Although rooms are very small, we are happy because we got the place for free from the Rizwan-E-Masjid Committee. Due to lack of funds from the department, we are left with a low budget and hence, we cannot afford to rent buildings. So, it is better to have something than nothing."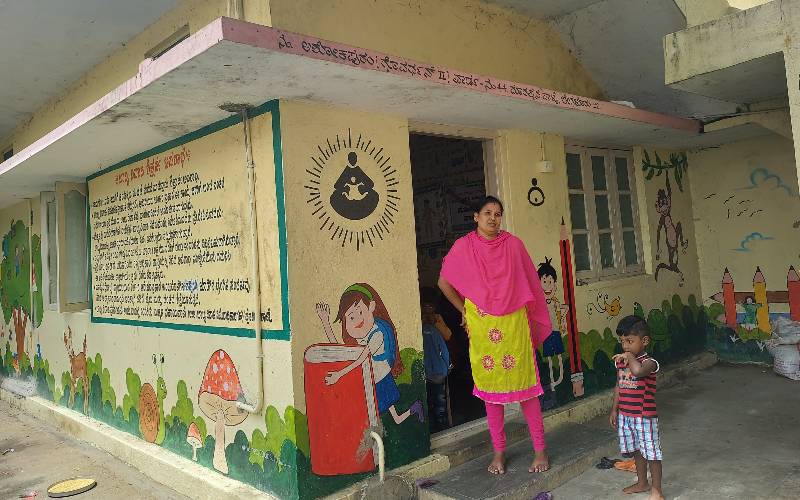 Mr. Nischal said, "The Department of Women and Child Development has approached BBMP many times to plead for land to build anganwadis." However, he said they rejected the applications by saying that there was no piece of land left in Bengaluru where they can build anganwadis.
Besides, Dr. B. Usha, Director of the Women and Child Development Department said, "The immediate control of anganwadis lie with BBMP, so it is their responsibility to provide land to build an anganwadi." She mentioned that there are 1,200 anganwadi centers that are currently running on rented buildings, and BBMP plans to vacate those as well. In addition, she said that there is a scarcity of rented buildings and community halls.
Mr. Nischal added, "The shortage of rented buildings and community halls is because BBMP is giving those spaces to private nurseries and montessories in order to fetch high rents." He further added that in 2021, the Supreme Court ordered BBMP to build anganwadi centers and in reply BBMP submitted two affidavits. In one affidavit, BBMP stated that there are no anganwadis in Bengaluru and subsequently the next affidavit stated that there is no land in Bengaluru where anganwadis can be built.
K S Reddy, Deputy Commissioner for Social Welfare Department, BBMP said, "To tackle the land shortage, plans are being made for removable construction. But, this will take time to come into effect." Mr.Nischal said, "Amidst support to privatization of Early Childhood Care and Education (ECCE) by BBMP and small rooms with at least reinforced cement concrete (RCC), we are proud that we managed to exist."