Bengaluru, Aug.  23, 2018 :The number of butchers in the S.K.R. Market has been reduced from 40 to 10 due to lack of basic facilities and sanitation.
The government-owned market lacks basic sanitation and water supply, and there is no regular collection of wet waste in that area. Nisar Qureshi, owner of one of the stalls, who has been working there for last three years, said, "The market has almost been emptied due to the foul smell that comes from the huge pile of garbage." The sellers also complained that the rent of their stalls have increased from Rs 350 to Rs 1,500 after other shop keepers left the shop.
The sanitation problems have been going on for the last six months. According to Fayaz, one of the shopkeepers, "almost all the shopkeepers have complained to the Bengaluru Bruhat Mahanagara Palike (BBMP) several times, but they only collect half of the garbage. There has also been a shortage of water for three years now – since the Chickpet metro was built." He added, "we spend Rs 1,100 everyday to get a water tanker."
The customers at the market have shrunk from 2000 to 500 in the last year. Naruddin, a regular customer, said, "The smell was a problem in the beginning but now I have got used to it. I come here because the meat is cheaper here."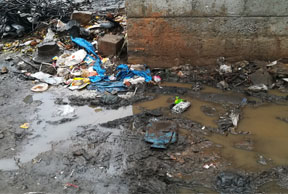 There are two pourakarmikas appointed by the BBMP who clean the market twice a day. Gangadhar, an Assistant Executive Engineer at BBMP, said, "We have not received any complaints. And if we receive any complaints, we look into the matter as soon as possible."
There has been a 20 percent rise in the cases of dengue and malaria in Chickpet which was reported in Victoria Hospital. There were 328 cases of dengue and malaria last year caused due to poor waste management. Lakshmi Devi, the head of Medical Records at Victoria hospital said, "If there is a lot of wet waste stagnant for a long time, residents of that area is prone to diseases like malaria, dengue and Chikungunya."
Shopkeepers in City Market and Jhalli Mauhalla have complained to the BBMP about the overflowing waste that has not been cleaned.
According to the Solid Waste Management law by the BBMP, the wet waste is supposed to be collected every day and dry waste is supposed to be collected twice a week.
According to Aseem, a scrap-shop owner in City Market, "This place is never going to be cleaned."