Usage of cheap exhaust by two-wheelers lead to the production of more noise and smoke.
Bengaluru, Aug. 23, 2018: A large number of people riding two-wheeler vehicles are using aftermarket cheap exhaust systems, adding to the increase in both noise and air pollution.
As of May 2018, Bangalore ranks second highest in the number of two- wheeler users. Statistics show that there has been a change in the number of people booked for the use of cheap exhaust systems.
In 2016, the number was 1951, which rose to 5053 in the year 2017. However, the count came down to 1577 until the month of May, 2018.
Efforts are being made by the Traffic department to control the offenders. According to the Anupam Agarwal, the DCP of the Bangalore Traffic Management Centre, there are different kinds of traffic violations and the number is huge so it is not possible to focus on a particular violation.
Special drives have been taken by the Police department to nab the offenders on several occasions, which brought down the number. He further added that notes have been sent to the Transport department requesting the ban of cheap exhaust systems.
The laws as per the M.V act section 190(2) reads, "Any person who drives or causes or allows to be driven, in any public place a motor vehicle, which violates the standards prescribed in relation to road safety, control of noise and air pollution shall be punishable for the first offence with a fine of 1000rupees and for any second or subsequent offence with a fine of 2000 rupees."
Furthermore, the Karnataka State Pollution Control Board issued directions under section 31(A) of the Air (Prevention and Control Board of Pollution) Act, 1981 to ensure that vehicles are fitted only with authorized horns and silencers, which emit within permissible limits in order to avoid noise menace and achieve ambient air quality standards.
On 1st October 2004, the Motor Vehicles Act was amended stating that all two-wheelers manufactured after March 31, 2000, must not produce more than 3.5 percent of carbon dioxide.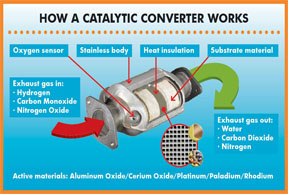 A former official of a racing team based in Bangalore said, "There are two kinds of systems. Just a slip on, you remove the end can and fix a new one. That doesn't make much difference because it is for noise.
People who want more noise, driven toward track (racing) remove the entire system and go for a two-part modification – The manifold and the end can. The full system eliminates the catalytic converter. A lot of people go for the copies".