Insufficient supply of water hard to meet daily needs, increased contamination levels in water at Ankappa reddy layout
Bengaluru, Aug. 23, 2018: The supply of water provided twice in a week is not sufficient for meeting daily water needs as reported by the residents of Ankappa Reddy Layout and the excessive contamination turns the water into hard water.
"We get water once in four days or maximum up to two days in a week for two hours. It's very hard to store the water and use it judiciously ", said Hema, a resident of Ankappa Reddy Layout.
According to the water supply chart at BWSSB, the scheduled days for water supply are Thursdays and Saturdays. The schedule on Thursday is 9:30 a.m. to 1:30 p.m., and Saturday from 10 a.m. to 4 p.m. The residents complained that even though these times are scheduled, they still get water only once a week.
According to Water Inspector of BWSSB, Mahadevapura, to supply water to higher elevated spaces like Ankappa Reddy Layout, they require power supply and they dont get it properly. "The pump of the water from Cauvery is nearly 60 km far from the supply plant. So it's not an easy task to draw water "said the Assistant Executive Engineer of BWSSB, Mahadevapura.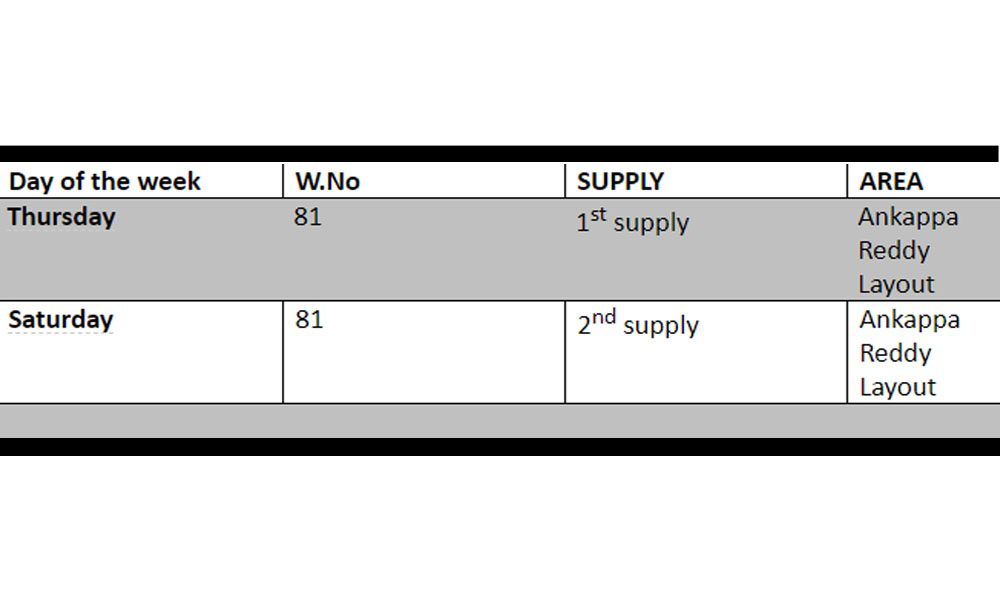 "The most number of complaints of water shortage is on Thursdays as the supply delivery is less, and sometimes the volume of the water depends on the pressure and force of water" said the water inspector of BWSSB.
According to the complaint log book, at least two complaints per supply day are registered from Ankappa Reddy layout area.
The residents complain of contamination of water when supplied, to which the BWSSB answered that the excessive digging of the land damages the supply pipe as a result of whichthe water hit the drainage, contaminating the water.
The contamination levels of Cauvery are six times as high as of that of the Ganges River as published by"Microbial Pollution Indicators in the Cauvery River, Southern India", of Springer Berlin Heidelberg
It gives the concentration of biological contaminants which are mostly bacteria and its types of coli forms, cholera causing bacteria (Vibrio cholerae), and typhoid causing bacteria ( Salmonella typhi ). The contamination due to heavy metals also plays a major role in contaminating the water and makes the water hard.
The research: Heavy Metal Pollution and Chemical Profile of Cauvery River Water says that the major heavy metals contaminated are chromium, copper, manganese, cobalt, nickel, lead, and zinc.
"After respiratory diseases, the water borne diseases are higher, affecting the health of the lower middle class people. Cauvery water is better than ground water but unfiltered water is dangerous. The patients suffer from water borne diseases such as diarrhoea, cholera, typhoid fever, dysentery" said Dr. Shristi, a local doctor.
The Executive Engineer reportedly told the residents to come up with better supply timings schedule to solve the water shortage issue.