"While big players have the advantage of deep pockets and strong lobbies, MSMEs tend to lag behind though their potential is recognised."
Bengaluru: Years ago, many students joined the Central Manufacturing Technology Institute (CMTI) to study aerospace engineering. When they came out, they either joined established aeronautical companies or established their own small and medium aerospace companies in Karnataka. As years went by, their professional growth led to public growth. But this happy ending story is only for the Large, Mega, Ultra Mega and Super Mega Enterprises, as well as those situated in aerospace clusters. The Marginal, Small and Medium Enterprises (MSMEs) struggle for a good deal.
Bhopalan from Accurate Industrial Machining, an aerospace MSME said, "Government side support to the industry is nothing. We are approaching for loans but they are not even sanctioning it. They ask for more security which is difficult for small companies like us." He added that even if the government is not providing other benefits, they should have made loans accessible to help the business sustain.
Though the Karnataka Aerospace Policy gave various incentives to MSMEs, there is no significant increase in MSME entries to the aerospace industry. The government of Karnataka's Aerospace Policy 2013-2023 aims at making Karnataka the hub for aerospace and defence
The Karnataka Aerospace policy also developed aerospace clusters. The state has one of the best MSME cluster development programs, which helps the industry. Industries in these clusters can easily access government subsidies and incentives thanks to cluster departments that oversee the cluster. Murali Mohan, Human Resource manager of Gopalan Aerospace in Hoskote cluster said, "We are one of the fast-growing MSMEs with 200 employees. We get good support from the government through the Karnataka aerospace policy."
Jagadeesh, Additional director, of the MSME department said, "Under the new industrial policy, we are providing incentives to MSMEs in Bangalore also. We are providing subsidies. We are providing statutory exemptions. Many enterprises do not approach us. We don't go search for MSMEs and give them incentives. If they come, we will provide."
Devendra Babu, Economist said, "We have to study whether there is a role for small and medium industries in the aerospace sector. It would be advisable to encourage small and medium industries since they will provide more jobs compared to large-scale industries."
Karnataka has around 2000 MSMEs in the aerospace industry. However, most of them were formed before the Karnataka Aerospace policy.
Established MSMEs:
The struggle is not only for the companies that are starting now but also for those companies that are in operation for years. Anitha, Human Resource Manager of an aerospace MSME said, "Our company is really doing well but all on our own. To get the government incentives, we have to meet a lot of criteria."
Bhopalan said, "Before Covid, we had problems which are usual for all aerospace MSMEs. After Covid, it became worse. We didn't get orders from global customers. It's slowly coming back to normal. We are not performing well. Our business is not growing. We are just operating at a stable level."
Babu said, "Government's incentives and concessions are available. There is more talk and less action on the plan. We need to study whether the policy is really helping the MSMEs. Government should have studied what went wrong. It needs integrated planning." He also added that they cannot rely on the domestic market. As they don't know if the government is taking up enough marketing of their products in the global market.
With the aerospace industry coming under the vigilance of national security, there is hesitancy to encourage small and medium companies in large numbers. Anitha said, "As part of the aerospace industry where national security comes into play, there are very few options for us to expand. Though we perform well, the orders that we get from PSUs are limited."
A KPMG report states, "The only way for the SMEs to overcome the challenges of low capital, lack of proper infrastructure, access to business connections and niche capabilities is to seek support from the government."
Karnataka Aerospace Policy director who prefers anonymity said, "At present, we are going for an amendment in the policy. The existing policy is not helping the industries. Some changes are required. We have sent it to the government for approval."
Karnataka is the first state which came out with an aerospace policy in the country. It aimed to attract US$12.5 billion investment during 2013-23. Later, this policy was merged with the New Industrial Policy 2018-2023.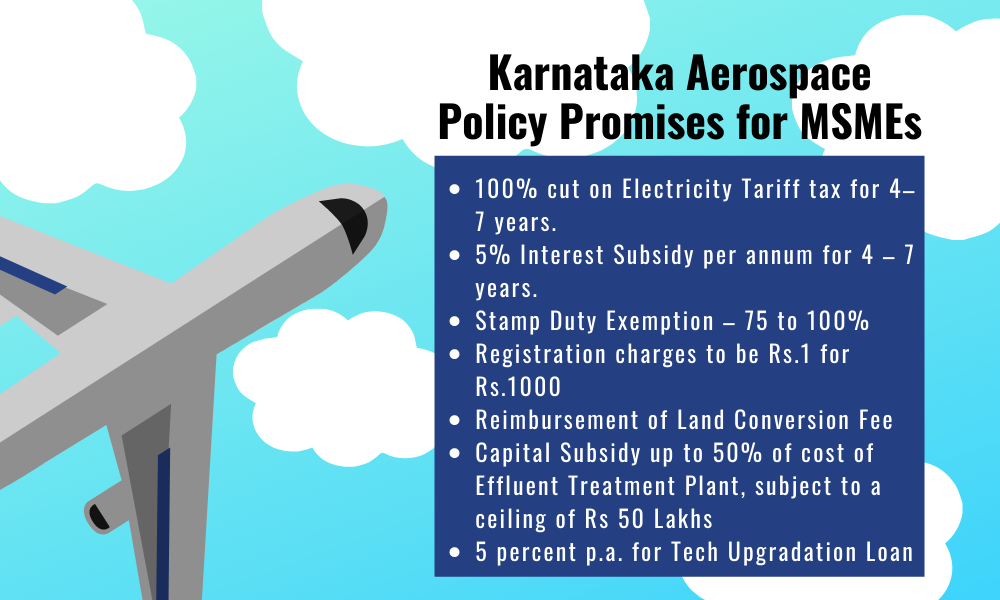 "The disadvantage of the New Industrial Policy is that there are no incentives for the enterprises in Bangalore urban and rural areas," Jagadeesh said.
The growing sector:
Around 65 percent of the country's exports in the aerospace industry are from Karnataka and 67 percent of all helicopter and aircraft production takes place in the state.
Karnataka became a preferred location for Aerospace and Defence (A&D) companies. Karnataka's aerospace ecosystem flourished with Public Sector Units (PSUs) like Hindustan Aeronautics Limited (HAL), Defence Research and Development Organisation (DRDO), Bharat Earth Movers Limited (BEML). Today the state is home to all major companies like Airbus, Boeing, HCL, Honeywell, UTC Aerospace, Goodrich Corporation etc.
An official from Karnataka Aerospace Technology Centre said that there is an immediate need for aerospace SMEs in Karnataka, mainly for technology transfer, innovation, design centre and product improvement.
Future plans:
In 2021, there were proposals for 34 large-scale enterprises in Karnataka. They planned to invest Rs 2,464 crores in the state, which may create 6,462 direct jobs. However, these big-capital business deals are slow and low on returns on investment.
However, their government support in the aerospace industry highly benefitslarge-scale companies. Jagadeesh said, "Without the main original equipment manufacturers (OEM), small companies cannot sustain. That is the reason there are a lot of big industries are coming up with government support."
A report on the problems for the aerospace industry states, "The importance of SMEs has been stressed and reiterated at various forums, but the general business conditions are not very helpful for the realisation of their potential as contributors."