Many qualified people among the LGBT community continue to face difficulties in finding jobs. Even after finding a job, they feel that they are targets for constant harassment based on lookism and gender bias.
Akkai Padmashali a transgender, Karnataka Rajyotsava award and founder of Ondede said, "There are many companies that provide job opportunities but when we go for interviews, we get discriminated and that is embarrassing for us."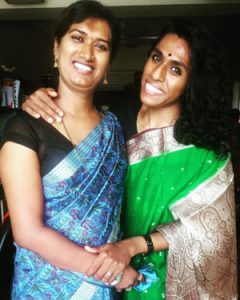 1008 Jobs is one of many online portal companies that launched in Bangalore to help sexual minorities with job opportunities. "We are working on a new project called SHE- Sustainable Humanity Empowerment to provide jobs for everyone regardless of minority or majority," said Keerthi of 1008 jobs
 "About nine of my transgender friends have applied through different online portals and when they went for interviews they have received negative stares from the interviewer. There are much more who want to apply for jobs but are afraid," said Akkai Padmashalli.
Another trans woman, Priyanka said that government needs to ensure that there is respect for them. "Many companies ask for educational certificates that we cannot produce. More than 50 percent of us are school dropouts though there many jobs that don't need these certificates, even there we get humiliated because of our looks" She added, "Many of them do other low-level jobs as they cannot get jobs in companies"
The number of the transgenders is unknown. Shiloki Mukkati, a transgender radio jockey said: "We cannot give numbers for transgenders because as a community we don't know how many there are."
 Naukri and Monster have also announced job opportunities for transgenders. Chaitanya, Assistant Manager of resume department of Naukri said "There are more than 10,000 people who apply for jobs on our portal in a month. Some of them might be transgender. We can't specifically tell the gender because we don't bias people on gender."
Human Rights activist Karthik Navayana said "Government should create small enterprises for these people and support them. This way people would respect them and they will also have a job."
On April 25, 2017, the state government made a statement about providing separate washrooms for transgenders and giving them equal rights. Priyanka, however, said that the new toilets would only create more inequality. She feels that there should be unisex toilets if the government is supporting them.