Karnataka fails to guarantee resolution of citizens' grievances
By Niket Nishant
Bengaluru: The dismal state of grievance redressal mechanism in the country is plainly evident through Karnataka. More than half of the complaints received in the state over three years have been left unresolved.
Data recently released by the Centre shows that 54.4 per cent or 38,596 complaints of the total 71,031 complaints received between January 1, 2016 and November 1, 2019 were still pending in the state,. Whereas, just 32,435 complaints were disposed off..
Moreover, 43.9 per cent or 16,943 of these pending cases have been in cold storage for more than a year. Also, 19.2 per cent of the cases were awaiting resolution for a time between six and 12 months.
Karnataka has an online portal called e-Janaspandana which allows registered users to lodge their grievances against any department or ministry. In addition to online receipts, grievances are also submitted through calls, e-mails, the Chief Minister's Janta Darshans and CPGRAMS.
The Janta Darshans are monthly meetings the Chief Minister holds with the public to listen to their grievances.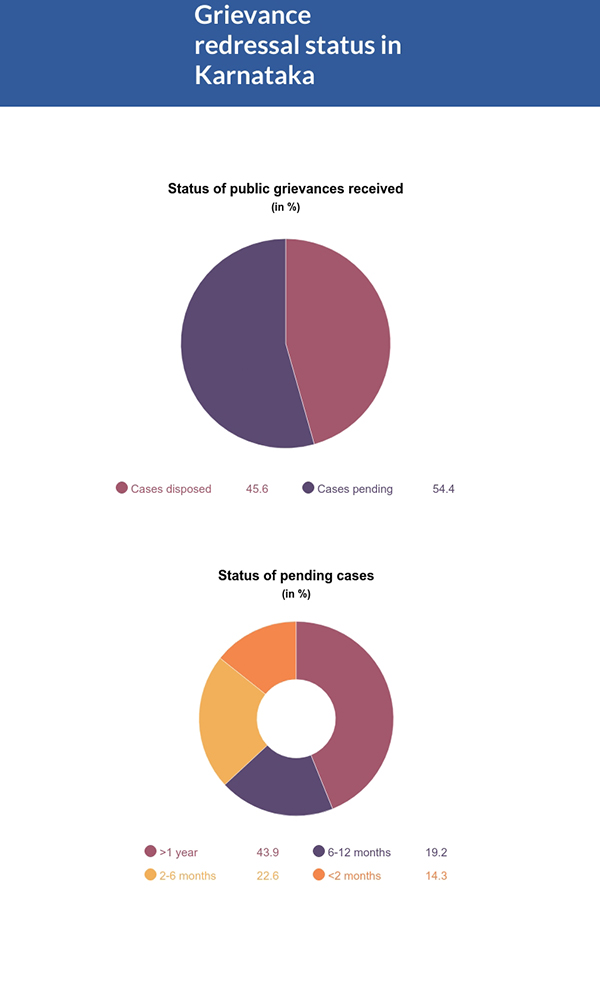 The Centralised Public Grievance Redress And Monitoring System (CPGRAMS) is an online portal which allows citizens to register their grievances, either directly with the Ministry / Department concerned  or with the Department of Administrative Reforms and Public Grievances (DARPG), which manages the CPGRAMS portal.
The Karnataka Guarantee of Services to Citizens Act of 2011 provides for delivering services to citizens within a stipulated time limit. In case of any delay or default, the citizens are entitled to seek compensatory costs. More than Rs. 1.77 lakh has been paid as compensation so far.
However, as development economist Inayat Anaita Sabhikhi explains in her various articles link to one, a right to redressal act at the national level is the need of the hour. Such a legislation will guarantee that all departments of the government are made accountable, something which the Services Act does not achieve.
It would also make the procedure hassle-free. Citizens would only be made to state their grievance. They will not be expected to provide documentation or to specify the department and the officer responsible for their complaint. At present, only Bihar has such an act.
Among the ministries and departments, the Department of Legal Affairs had the poorest disposal rate of public grievances. About 24 per cent of the 12,075 complaints were not redressed. The Department of Parliamentary Affairs and NITI Aayog have the best disposal rate, at 99.8 per cent each.
The department is concerned with offering legal and constitutional advice to various ministries under the government. Ms. Meena Shivanna, advocate at Expert Jurist explained, "When it comes to grievances related to legal affairs, the Department of Legal Affairs does not have superior powers. Most of these are handled by the Bar Councils, which are independent bodies. Also, it is difficult to hold advocates guilty of 'professional misconduct', which is more or less the only ground on which a lawyer can be held guilty. Hence, the failure in disposing of complaints."