A 'shoot at sight' announcement was made by the Forest Minister for the "man-eater" leopard in Tumkuru who killed its fourth prey last weekend.
By Labani Mahanandy
On the eve of the World Wildlife Day, the order of shoot-at-sight for the man-eater leopard by Karnataka Forest Minister Anand Singh struck as a piece of unpleasant news for the forest department. The H. C. Girish, Deputy Conservator of Forest, Karnataka Forest Department said, "Leopards are the most valuable creatures of the forest. But unfortunately, one of them has developed a bad habit of killing human beings, so to resolve the man-animal conflict, we have to go for the toughest decision."
The order for shoot-at-sight came following the death of a three-year-old girl in Baichenahalli of Tumkuru district getting mauled by a leopard. This has been the fourth such death since October 2019.
"It leaves us in deep pain to go for the ultimate decision, but we are left with no choice since it has already killed four people and two amongst them being toddlers. We are answerable to the victims' families."
The first death was of a woman named Laxamma (65) of Vanikuppe village in October last year, followed by Andanaiha (68) from Doddamalavadi village in November. This year in January a five-year-old boy Sarath Gowda became the prey.
Specific guidelines were issued in 2013 by the Union Ministry of Environment, Forest and Climate Change for declaring leopard as a man-eater or "carnivorous". The document states, "Tigers as well as leopards are categorised under Schedule I of the Wildlife (Protection) Act, 1972, with highest statutory protection against hunting under section 9 (1) of the said Act. Hence, such species can be killed if they become dangerous to human life or are so disabled/diseased beyond recovery."
The document also stated, "The declaration of an aberrant tiger/leopard as a man-eater requires considerable examination based on field evidence," and  "elimination of a tiger/leopard as a man-eater should be the last option, after exhausting the option of capturing the animal live as detailed in the Standard Operating Procedure."
In November of 2018, a controversy arose after the killing of Avani, the alleged "man-eating" tigress of Maharashtra, as the procedure for examination based on field evidence in which a certain leopard or a tiger can be declared as "man-eater" was not transparent.
Indian Leopard (Panthera pardus fusca), is a vulnerable species listed on the IUCN Red List because of its declining population. In 2019 alone, 493 leopards were, killed across India, which brought down the population significantly.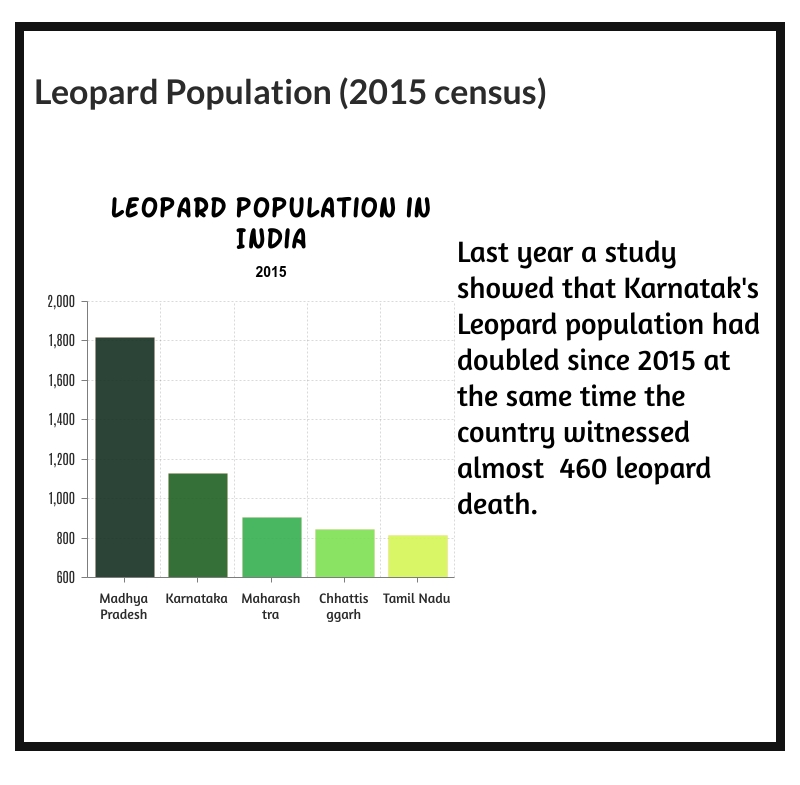 Dito Joseph, the Programme Manager of The Wildlife Protection Society of India (WPSI), a non-government conservation organisation says, "It is under the power of the Forest Ministry to issue an order to execute any species if they are a threat to humans, but most importantly the government guidelines need to be followed strictly to make a decision like this."
Vidya Athreya, CEO, Wildlife Conservation Society said, " Karnataka is doing a lot of captures of leopards which aggravates the problem is what we have found in Maharashtra. Karnataka used to have hardly any leopard conflict a decade ago. But since they have started capturing and releasing a lot of leopards, this problem has increased. We recommend following the MOEF guidelines on dealing with this issue."
Kartik, a spokesperson from People for Animal said," There are other alternatives than shooting a leopard if the cat acquired a habit of eating human flesh. The reason behind it is that humans are destructing the corridors of wildlife and using it for commercial use. The forest officials can put such animals to rehabilitation centres so that they can recover early."