The astute TOP scheme launched by the Sports Authority of India (SAI)—beneficial for a lot of young athletes; as India aims for the silverware in Olympic 2020.
Ritam Chatterjee
The Target Olympic Podium (TOP) scheme by SAI not only proved beneficial for current Indian athletes but also made a rich pool of young upcoming talents, as they boast a list of 352 talented athletes this year in the Tokyo Olympics.
Srihari Natraj, the sensational 18-year old swimmer from Bengaluru is one of the esteemed athletes signed under the TOP scheme. "TOP Scheme has been a major benefit for me," said Srihari, who is prepping for the upcoming Olympics.
"This Olympics is a pretty big point in my career…I am training to achieve the 'A' standard qualifying time. My swimming coach, A. Jayarajan and I, are confident about achieving the qualifying time. We are working hard and smart at the same time, trying to get the best out my abilities," he told The Softcopy.
TOP was launched in 2014. It is directed mainly towards identifying and grooming sports-persons with Olympic level competence. About 54.4 per cent of National Sports Development Fund's (NSDF) are directed towards this scheme.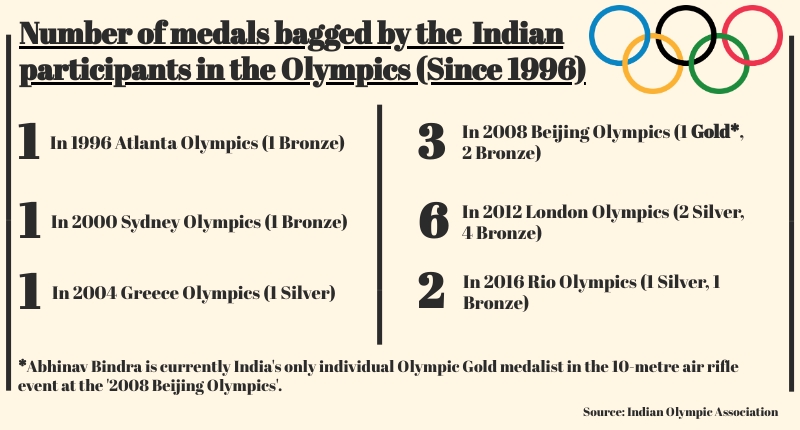 The selected athletes receive services of support staff/personnel like Physical Trainer, Sports Psychologist, Mental Trainer and Physiotherapist along with the entire equipments as well. They are trained under reputed coaches at institutes having world-class facilities. Along with that the athletes receive a monthly allowance of Rs 50,000 as an incentive, according to the website.
The TOPs sponsored athletes gained relative success at the 2016 RIO Olympics and the 2018 Commonwealth Games. Out of the 70 athletes that won medals at CWG 2018, 47 of them were supported under the TOP scheme. Currently it boasts of a strong roster including the likes PV Sindhu, Sakshi Malik, Nataraj and Vinesh Phogat.
Nisha Millet, national gold medalist and a former swimming participant in Olympics 2000, said "Along with big names like Saina Nehwal, PV Sindhu and Mary Kom participating this year, a lot of young talents will also participate. We are working with them for training facilities and sponsorships with the financial assistance provided by the ministry of Sports in India." Nisha Millet is also a huge fan of young Srihari Natraj and said would be keeping her eyes on him.
A. Jayarajan, coach of Srihari Natraj, said, "So many Indian male swimmers have the potential to get Olympic medals in coming years… He (Srihari) is in good shape and I expect him to make it to the finals in this Olympic. We are really thankful to Swimming Federation of India and the Sports Authority of India (SAI) for giving good support."
Recently, Boria Majumdar, a sports writer forecasted that Tokyo is going to be a 'game-changer' for Indian sports as the athletes participating in this campaign have the high potential to secure medals for the country.
So far 62 Indians have qualified for the Olympics in six different sports events — Hockey, Shooting, Equestrian, Archery, Wrestling and Athletics.
Recently, the Sports minister of India Kiren Rijiju expressed his high hope and expectations from the Indian shooters in Tokyo Olympics after their spectacular performance in ISSF Pistol/Rifle World Cup.
Ashwini Nachappa, an Arjun Awardee in Athletics said, "We are dreaming big in this Olympic campaign. I will not be surprised if some young talents from our country make it to the finals for the first time this year," she said.
The Tokyo Olympics, also known as '2020 Summer Olympics', is set to begin from July 24, 2020 and it will end on 9 August, 2020.