Although Indian schools and colleges appoint counselors to foster the mental health development of students, there are no measures to help teachers with their own mental health.
"Hello, Miss *Maria?" said a stern voice as she picked up the phone.
"Yes, please tell me," Maria said patiently, as her eyes anxiously glanced at the pile of illegible answer papers waiting to be graded.
The stern voice now turned cranky—the parent was angry. "Bhoomika's marks are always so bad. If this continues I will complain to the school and get you removed!" Before the English teacher could answer, the cranky-voiced parent hung up the phone. Maria looked at Bhoomika's paper. The girl had earned only three marks out of 10—so Maria gave her what she deserved. But as the parent's voice echoed in her head, the three turned into a five—Maria needed her meagre salary, and a bottle of anxiety pills would keep her calm for a while—just maybe.
"This is the problem with Indian schools. They cater to the parent and the child. Counseling for children. Counseling for parents. What about teachers? Don't they need that too?" said Kavitha, an educator and founder of Paatashaala, a school which guides children with learning difficulties.
Mrinalini, a history teacher, emphasized on preparing for board exams during the pandemic "I cannot even begin to talk about the amount of stress that consumes teachers. We had to suddenly adapt to new technology, and our already low salaries got delayed. And as we know, India worships board exams. The least they can do is get us some in-house counseling."
Many studies have said that when teachers used gadgets and other technologies to teach during the pandemic, it increased their stress and led to mental health problems.
Teachers say that another big blow to their sanity is when students and parents disrespect them. "Students give us less respect because they think our subjects are 'easy'. Our salaries are low—we do this because it is our passion." *Lakshmi, an English teacher said.
The New Education Policy 2020 (NEP) states that all teachers need to take a Teacher Eligibility Test (TET) and attend an interview—this will assess the level of their motivation and passion for teaching. The NEP document also mentions that teachers and other stakeholders in the system must ensure that students are learning.
Principals say that teachers need to be sane and foster a positive learning experience for children.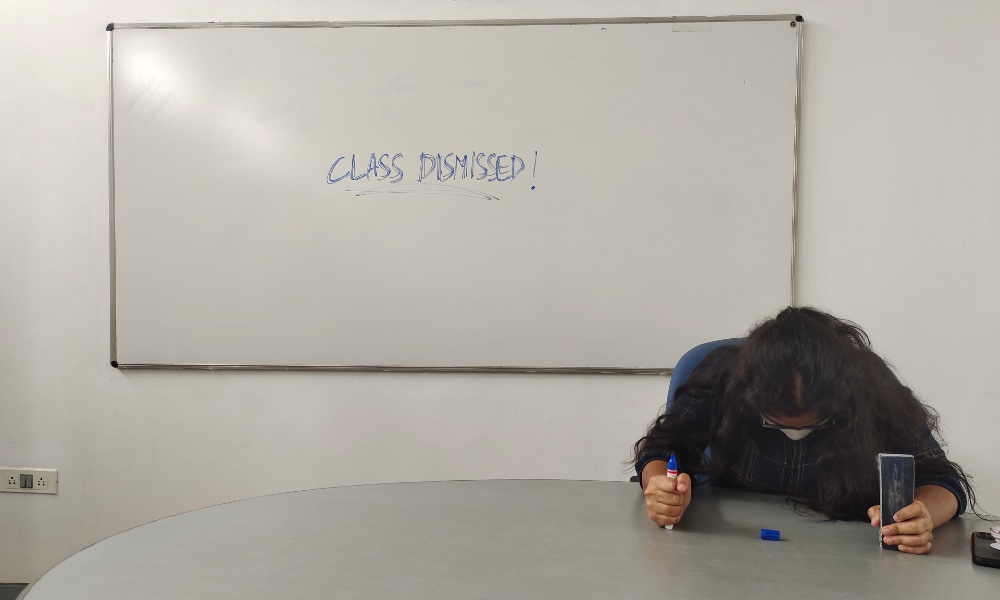 *Akhila, the principal of a private school in Bengaluru said that the school has never had counseling sessions or workshops for teachers, and never plans to in the future. "I don't think they need any workshop. They need to be strong," she said.
"Teachers need to learn to ignore. We cannot expect parents to empathize and be in the teacher's shoes. But a teacher needs to understand. Besides, when a teacher does something that upsets the parent, the parent yells at me," said *Akhila.
R. Mir, a sociologist, said that educational institutions essentially follow a model of capitalism. "If we look at Karl Marx's theory of base and superstructure, he essentially means that the economy influences society. As soon as we started embracing a demand, supply and profit model, education also focused on profiteering. Schools cater to parents and students, and teachers become dispensable," he said.
But teachers say that they cannot keep up with these standards because it affects their mental wellbeing.
"We are always expected to be sane just because we are adults. They tell us that children should look up to us. But when we are depressed, where will we go?" Mrinalini said.
Sociologists say that teachers are merely machines in the system. "Teachers used to be respected in earlier societies because they would impart knowledge. But today, society expects teachers to be caring, selfless and the jack of all trades," R. Mir said. He added, "In the process, society forgets they are humans. They can also get tired, overworked, and depressed."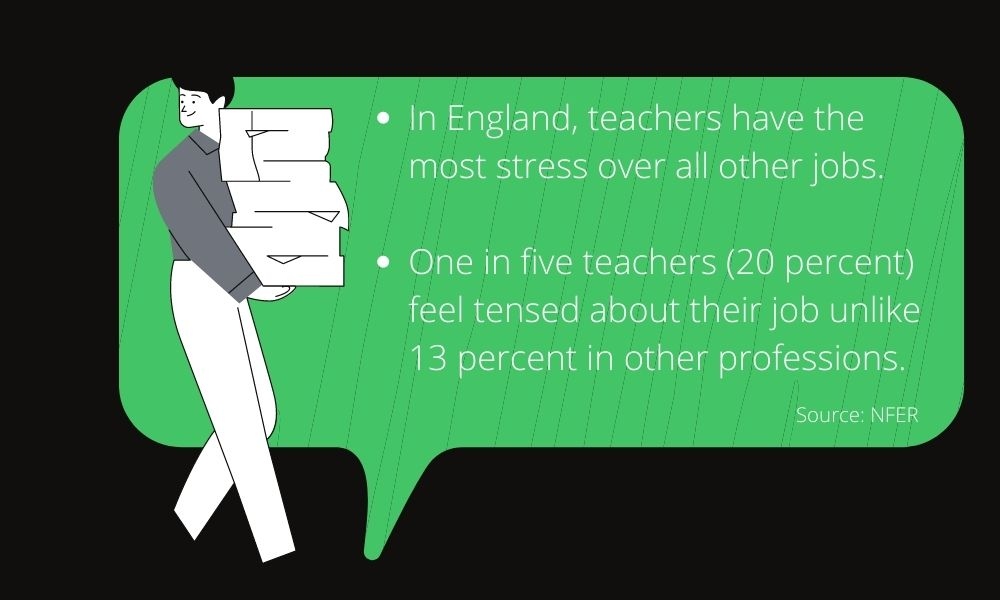 Campus counselors say that school managements do not give importance to any mental health initiatives for teachers.
*Josephine is a clinical psychologist who has worked in schools and colleges as a campus counselor. "The mental health of a teacher is still a huge taboo. At one of the schools I worked in, teachers did not even know a counselor existed," she said.
She added that the school system is often hierarchical. "At another school, a teacher once came to me to discuss some personal issues she was going through. A few minutes later, the coordinator barged in and asked the teacher what the matter was. The teacher said it is about a student and nothing else. This is the fear teachers have," she said.
A report by the National Foundation for Educational Research (NFER) stated that in England, teachers have the most stress over all other jobs—it says that one in five teachers (20 percent) feel tensed about their job unlike 13 percent in other professions. A study conducted in China found that 13.67 percent of teachers had anxiety and that women teachers (particularly older women teachers) were more prone to it than men. Kavitha said that a teacher's mental health has a direct impact on the students. "The system fails to realize that if a teacher drowns in stress, so does the student. Because they pass it on—it is like a chain reaction," she said.
Students say that teachers can be physically and verbally abusive when they are in a bad mood. "When I was younger, I would eat very slowly. My class teacher used to call me 'slow, slow' every single day. My friends started bullying me. So, I stopped eating. My confidence just dropped," said *Manisha, a Class 10 student. "At least I am not a boy. Boys get hit in my school," she added.
Josephine added that teachers have many problems apart from low salaries and exam stress. "Parents often support whatever their child does. Anything bad the child does is immediately blamed on the teacher. It isn't just 30 minutes of teaching for teachers. It is not an easy job like society thinks it is," she said.
Parents say that teachers need to be more understanding because they play an important role in a child's education. *Vidya said her daughter *Manisha had a tough time at school due to insensitive teachers.
"Most of the teachers have not even completed their Bachelor of Education (B.Ed). They are rude and unwilling to help children grow," she said. She added that her daughter was treated badly in school. There are still lingering effects of the verbal abuse," said Vidya.
Dr. Raju TN is a member of the NEP Task Force in Karnataka. He said that a teacher's mental health is important. "Schools must outsource the counseling process to organizations which specialize in that. Teachers will then be motivated, creative, and energetic. Then they can take up intense training programs in child psychology and pedagogy. This will then help children," he said.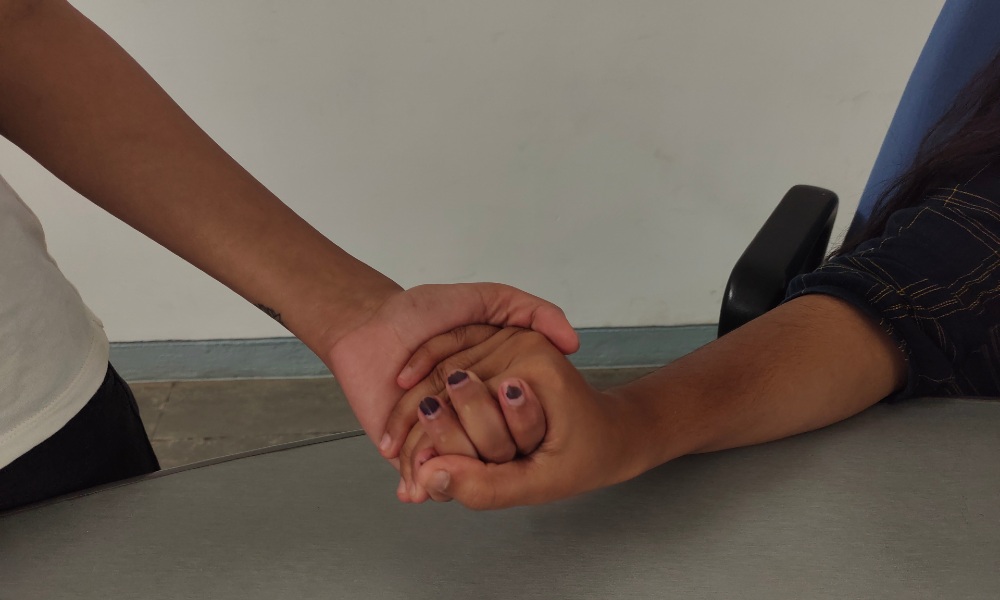 In July 2020, Union Human Resource Development Minister Ramesh Pokhriyal Nishank launched 'Manodarpan', a mental-health initiative to provide psycho-social assistance to children. The initiative included a Manodarpan website, a toll-free number and a handbook for students.
"They do not have programs for us. We have accepted that there is no hope left for us. But we trudge on because of our passion. That is all I can say," Mrinalini said.