Yumna Ahmed
The Chitrakala photo exhibition took up the theme of Trees and transgenders for their exhibition this year, owing to the fact that the Indian society has been turing a deaf ear to the both of them since ages.
K.Venkatesh, the organizer of Chitrakala photo exhibition, said, "This is my 28th exhibition and all my photo exhibitions have some message for the people and the mainstream media. This year I have compared broken trees and transgenders since both have the same situation currently in our society. No one is paying any attention to either of them as a result, their conditions are gradually deteriorating."
"Bangalore was a green city but slowly everything is dying and the pictures paint it all. Just as we do not pay any heed to the dying trees, we are also ignoring the transgender community by not providing them reservation and representation," he added.
Former chairman of Karnataka state commission of backward class and High Court judge, C.S Dwarkanathsaid, "I was really happy when Venkatesh asked me to inaugurate his art exhibition. The theme is really interesting and unique. This event will throw light on the transgender community who have been ignored constantly by the society as well as the mainstream media. I have also recommended for reservations of the transgenders to the government but there is no progress. They are willing to work, its high time the government looks into the matter."
Vishal Murgodi, an artist who came to the exhibition, told the SoftCopy, "This exhibition will help change the mindset of the society which thinks that only female and male models are suitable for these kinds of photoshoots but the theme is really interesting and people will surely enjoy it."
Sumitra, a Transgender who was the model for this exhibition shared her experience on how she was approached by K.Venkatesh and said, "We all were really excited for this photoshoot as our voices and stories need to be heard. The government should give us reservations because we are willing to work, but in this society they just think we are only up as sex workers. Our families don't accept us and are also not willing to support us. We just want one thing, and that is equality for all. We are no different and the society needs to understand that."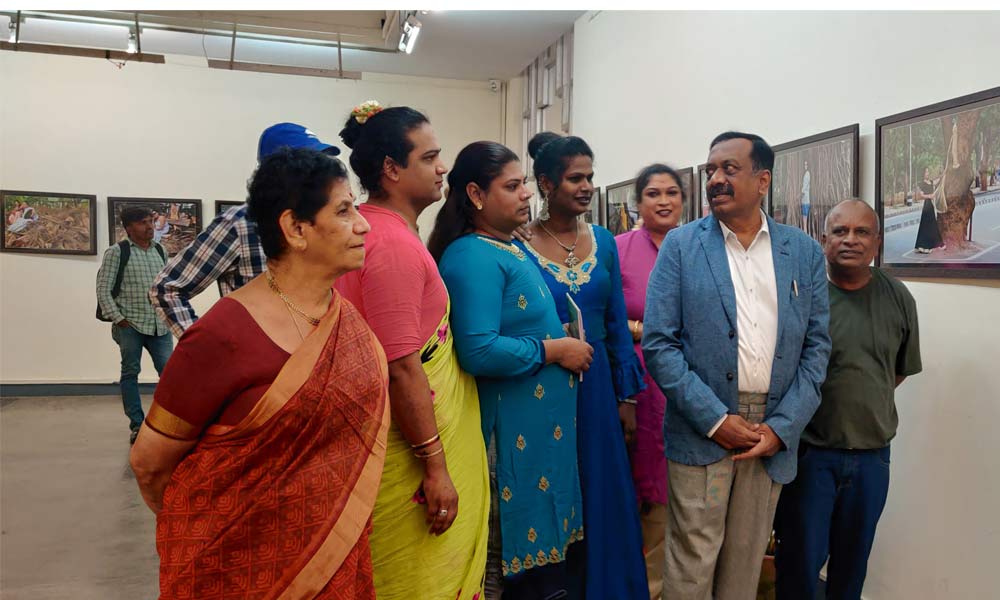 Namrata Rama Prasad, a visitor, said, "This is a not-so-spoken-about topic, and this photo gallery will not only normalize but also bring the community together. All the pictures are amazing and the smile on their faces prove their happiness. Everyone should have equal rights in the society. I am hoping this exhibition becomes instrumenal in removing their blinkers."
Rajesh, Founder of Sangama NGO, which works for gender identity said, "The transgender community must be uplifted in the society and for that reservations and job openings should be made available to them."