Construction of new skywalk will displace about 25 vendors who earn their living by selling their commodities near the Banashankari Temple.
Pradnya Desai
Rajeshwari, who has been selling temple articles outside the Banashankari Temple forpast 15 years might not be able to continue her earning because of the construction of new skywalk. "Soon just a few among us will be able to sell flowers for the Banashankari Mata," she said.
The construction of the new skywalk from Banashankari Metro Station to the Traffic Transit Management Centre (TTMC) will affect about 25 other vendors near the TTMC junction.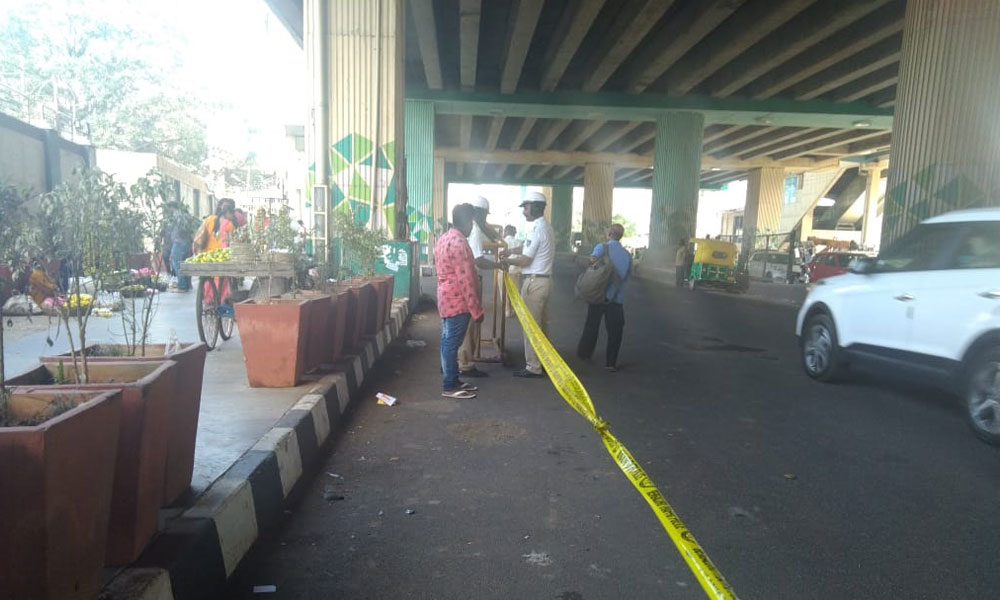 "Some vendors near the junction and the Metro pillar are cleared, more will be cleared in the coming days. There is no space to create another market for the vendors," said Mr. Namdev, Bangalore traffic police, Banashankari Junction. The construction of skywalk began with clearing of the site. Some vendors in front of the Banashankari Temple have been evicted, while about 25 others, out which 8 are temple article vendors, are at risk of eviction.
Mr. Mehtab, Councilor of Temple Ward, Banashankari said, "Some temple article vendors will be allowed to sell outside the temple. An area of 3 feet has been identified for rest on the footpath towards the Sarakki Market." He clarified that the Town Vending Committee has not been formed as required by the Street Vendors Act 2014.
Shabana, a vendor who has been selling pooja items for past 20 years outside this temple has been anxious after eviction of the hawkers near the metro pillars, without an alternate provision. Fayyaz, a fruit seller and resident of Banashankari said he is planning to sell at K.R. Market which is 7kms from the Banashankari TTMC. Ramachari, who sells lemons used to worship BanashankariAmma said there is nowhere else he could sell other than outside this temple.
The Street Vendor (Protection of Livelihood and Regulation of Street Vending) Act of 2014 mandates issuing of ID card and a vending zone prior to their eviction.
R. Shwetha, a student of NMKRV College told The Softcopy that other than the vendors, rashly driven buses and long signals are the major concerns at the junction. A slew of buses line the Metro pillar no. 26 to 30, leaving a narrow passage for the vehicles. On November 8, Bengaluru South MP Tejasvi Surya and Revenue Minister R. Ashoka along BBMP, BMTC, BMRCL officials and ward councilors inspected the junction which is marred by complaints of traffic congestion and difficult pedestrian crossing. A skywalk connecting the TTMC with Banashankari Metro Station was proposed. An "integrated mobility hub so that people can commute seamlessly is the need of the hour" read a report quoting Mr. Surya.Mr. Pasha, an official of Karnataka State Transport (KST) l, said, "Skywalk will help the pedestrians but will not solve the menace of traffic congestion."
Mr. Namdev, Bangalore Traffic Police,Banashankari Junction said, "A complaint has been filed to the Bangalore Metropolitan Transport Corporation (BMTC) about the BMTC buses that halt near the junction. Halting at the bus stand instead of the junction will resolve the traffic congestion."
M. N. Srihari an expert on traffic issues said, "Eviction of the vendors near the junction is a good move as it will resolve the issue of traffic congestion."