More than 37,000 kg of plastic has been seized by BBMP from shops till October 2019.
Shubhangi Mathur
Bruhat Bengaluru Mahanagara Pallike (BBMP) has seized 37,577kilogram plastic andhas collected a fine of about Rs. 1 crore by October this year.
Recently, BBMP conducted surprise raids at two shops in the city and collected a fine of Rs. 50,000 and Rs. 25,000 respectively from them. Around 80 kg of Non-Woven Polypropene (NWPP) covers were seized from one while the other was charged for selling plastic garbage covers.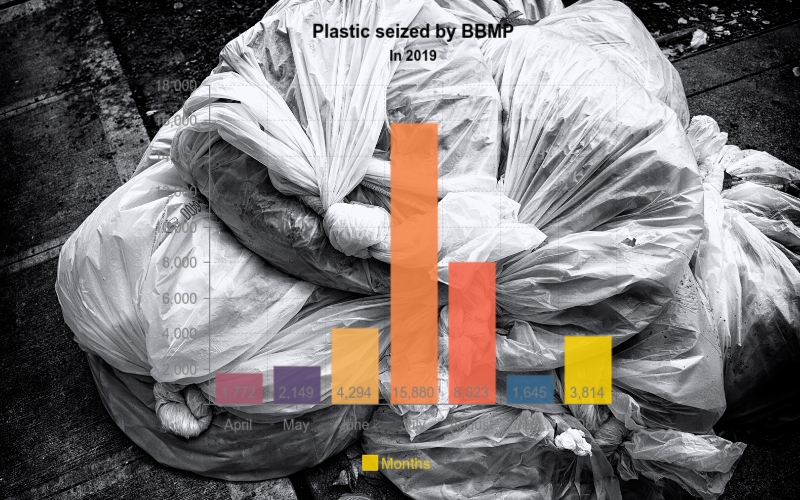 Dr Sandhya, Medical Officer of Health of Plastic Management Department said, "BBMP conducts these raids in all the zones of Bangalore twice or thrice every week. While first time offenders are fined, the license of shops is cancelled for second and third time offenders."
The Karnataka government banned the use of single-use plastic in October 2015 which came into effect in March 2016. The government banned the use and manufacture of plastics but the implementation seems to dawdle.
Shopkeepers blame the high price of the other alternatives for using plastics. Mahesh, Managing Partner of a popular shop said, "The paper bags cost three to four times more than plastics. The alternatives to the plastics are not affordable for the shopkeepers. Also, there is no clarity on single-use and multi-use plastics by the government. Shopkeepers are even charged for using the latter."
Experts suggest that the manufacturing of plastics should be completely stopped. Sandeep, Environmentalist said, "The micro plastics enter the food chain and harm not only humans but all the species. A lot of diseases are caused by plastics. The government should strictly ban the manufacturing of plastics because only one or two per cent of plastic is reused or recycled."