Bamboo suppliers in the city admit no change in business after the act
By Ayanti Bera
Bengaluru, Jan. 31, 2019.
Bamboo farmers and suppliers in the state of Karnataka have hardly been benefited by the Indian Forest (Amendment) Act of 2017 that was enacted to exempt bamboo grown in non-forest areas, from the requirement of felling and transit permit for its economic use.
Syed Salman Ameen, owner of Bamboo Craft, a supplier shop in the Bamboo Bazaar of Shivajinagar, says, "The bamboo grown in non-forest areas are often of inferior quality and cannot be used for furniture making. The good quality bamboos are only available inside the forest where proper permits are needed to cut and transport them. Hence the act does not really help the bamboo growers or suppliers much."
Inferior quality bamboos are easily breakable as the layers start chipping off after just one a single use. These bamboos cannot be used to make furniture and are mostly used for setting up stages.
The 2017 Act was enacted to omit the word 'bamboo' from the definition of trees. Earlier, when bamboo came under a classification of tree, it required government permission before felling and transit. Often, small bamboo farmers and growers got stuck in the legal complications of issuing a permit that would result in huge losses.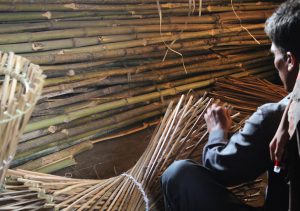 Raja Bakshi, owner of a small supplier shop in Jayanagar, says, "Bamboos in Bangalore are mostly sourced from Hassan, Mysore, and Shivamogga. Bamboos in non-forest areas, although easily accessible, are not much of a profit because of their inferior quality."
Bamboo suppliers in the city are of the opinion that the act does not bring them that much profit as the government hoped for. Javed, owner of a small bamboo business in Banshankari, says that his business had no change because of the act.
The 2017-18 annual report of the Ministry of Environment, Forest and Climate Change states, "The change in the classification of bamboos will usher in much needed and far-reaching reforms in the bamboo sector. The measure will go a long way in enhancing the agricultural income of bamboos growers."
The ground reality of the impact of the Act seems to be in contrast to the statement in the report. The growers and suppliers in the bamboo sector do not seem to have been profited by the act at all.