Over two lakh cases of fancy number plates were registered by the Bangalore Police till August, 2019.
By Bibek Baidya
Number plate violation by the citizens of Bangalore continues despite many restrictions by the new Motor Vehicles act of 2019 . The total number of cases registered till August 2019 is 2,14,513. The violation includes use of fancy fonts, logos, special characters.
Mustaj Ahmed owner of Star Decor, a car and bike décor shop on JC road said, "I still make number plates which are 3D in design because customers still demand that kind of number plates. I know that these plates are illegal but making these plates gives me an extra profit of Rs 300400."
Sticker number plates carry two-tone lettering giving it a 3 dimensional look. It is mostly two shades for the letter which gives the number a 3-D look.
Jetender K Choudhry, owner of an Avenger 220 bike said, "I love bikes and fancy number plates suits my personality. Its looks stylish because it is 3D, and shines in the night."
The Motor Vehicle Law of 1989 states that there should not be anything else written or drawn on the number plates.
The Motor Vehicles Act of 1989 states that plates with design are illegal. The number plates of the private vehicles should have black letters on a white background and commercial vehicles should have black letters on a yellow background.
The Traffic Police Sub Inspector Jallauddin.S of JC Road said, "We usually fine between Rs.100-500 vehicles which are registered before the Amended Motor vehicles Act 2019. The vehicles registered after the Amended Motor Vehicles 2019, are charged more as the charges have changed. We are now charging Rs.1000-2000 for the violations."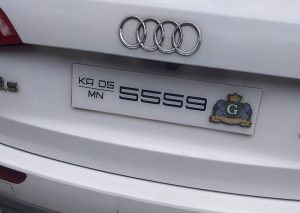 "The fine also depends upon the level of violation, like how much a number plate includes 3D fonts, stickers on number plates, different colors or languages etc. It varies from one another," he told The Softcopy.
Articles 50 and 51 of the Motor Vehicles Act of 1989 state that the words on number plates should be in English capital letters and the number should be in Indo-Arabic style. Bold, 3D, Italics or any other styles are not allowed.
In Karnataka number plates which are written both in English and Kannada are permitted. Plates that only have Kannada fonts and numbers are not allowed.
DR. K. Mohanan Nambiar, the chief traffic warden of Bangalore said "it really is a headache for us to deal with the issue of fancy number plates. We have released many notices and the enacted laws of the Central Government and yet the citizens are not aware. These fancy number plates make it tougher for us to detect the person if he/she is involved in any crimes on the road, but we are still doing our best to prevent the citizens from using these number plates and in next few years we will get rid of these issues."