Despite the 2015 'no-lorry' rule, Chickpet and Sultanpet still experience heavy traffic congestion.
By Sanchari Ghatak
Jalam Singh, a wedding card merchant, has to witness tremendous traffic congestion every day due to trucks and lorries being parked arbitrarily in front of his shop."Traffic congestion due to huge lorries and trucks being parked in front of our shops is an everyday problem that we face here, at Sultanpet," he complained while trying to temporarily fix the footpath in front of his printing shop.
The footpath is damaged due to the trucks drivers hitting the footpath while taking u-turns. "The truck contractors have an extremely strong association here, which is headed by big names in the transport industry, hence, no matter how many complaints we file, it all falls to deaf ears," he told The Softcopy.
According to the 'no-lorry' rule implemented by the Bangalore Traffic Police in 2015, trucks and lorries, or any heavy vehicle of over three tons is not allowed into the city between 6:00 a.m. and 10:00 p.m. This excludes tempos and mini trucks.
"We levy fines from Rs. 500 up to Rs. 1000 from heavy vehicles which are seen inside the city during the time that they are banned from entering the city. We also issue challans to them for various other traffic violations such as driving without a seat belt, ID or without a proper number plate," said Mr. Ashok, the station writer of Chickpet Traffic Police Station.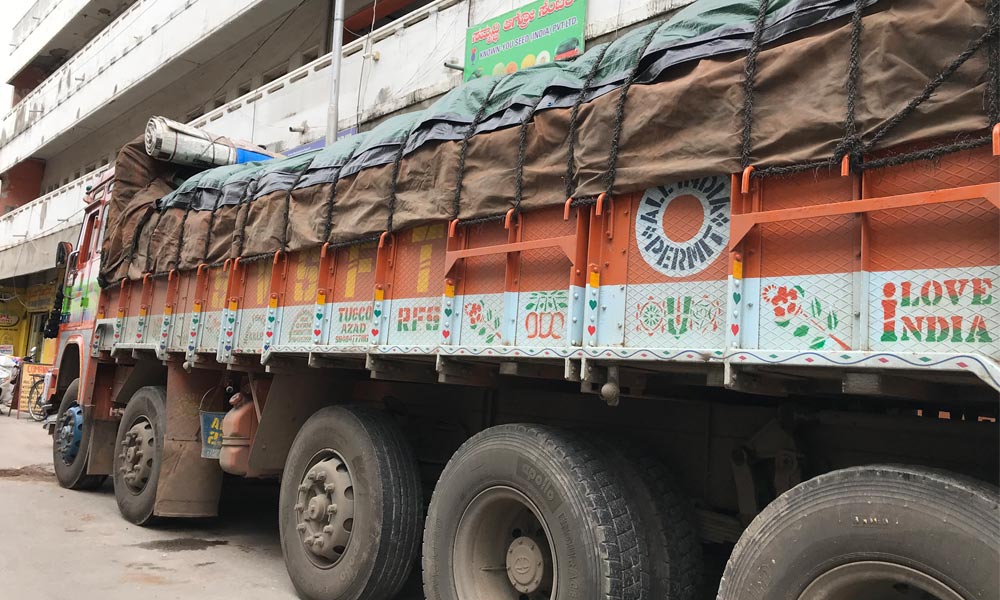 "The trucks usually either carry construction supplies for the construction going on in Chikpet and Sultanpet or carry hosiery and garments to deliver cloth merchants here," Jest Kumar, a paper products and stationery shop owner, told the SoftCopy.
"I carry bricks and concrete for construction purposes to earn my bread and butter As a result, I just pay whatever fine I am charged with, if caught, and then carry on with the day. We usually negotiate with the police officers and pay less than the stipulated fine," said Vasuraj, a truck driver.
"If the people of Bangalore spot trucks, lorries, and heavy vehicles parked or moving around Chickpet or Sultanpet between 6:00 a.m. and 10:00 p.m., they are always encouraged and are welcome to file a complaint against them by visiting the nearest Traffic Police Station, by calling us up at 08022942664, or tagging us in online complaints on Twitter. We will see to it that the heavy vehicles are prosecuted at the earliest," added D. Mutthuraj, the head constable of Chickpet Traffic Police Station.
Dr. Anil Kumar Grampurohit, Inspector at the Traffic Management Center, said, "Almost 50 lakh vehicles operate inside the city every day. Chikpet, Sultanpet, Hosur Road, Hebbal and other places that are connected to the highways experience the most amount of traffic. Trucks from all over come to be parked at Chikpet and Sultanpet as they receive flak from most other places but usually not here."
Prof. M.N Srihari, advisor to Government of Karnataka in Traffic, Transport, and Infrastructure said, "First and foremost, the BBMP should be held accountable for not providing proper parking spaces for these trucks and lorries. The drivers are compelled to park their trucks and lorries on the street as they have no designated parking space in the city. Now, of course they cannot vanish in thin air during the day."
Till the government designates these parking slots, Chickpete and Sultanpet will bear the brunt.