People have started investing in philanthropic activities for social change.
The country's philanthropic sector is seeing a spur as more and more people are coming forward and contributing in philanthropic activities. Businessmen, individual organizations, and even citizens are standing up and investing in the sector to bring about a social change in society.
Recently, Hurun Indian Philanthropy List  2018 was released, which said that 1,560 crores were donated by Indians for philanthropy. As many as 831 individuals came forward and made investments in this sector.
The majority of the investments were made by Azim Premji, a Bangalore- based businessman. In a recent turn of events, he invested 52,750 crores i.e. 34% of his Wipro shares for philanthropic activities. Wipro is a multinational corporation working in the information technology sector. He also founded the Azim Premji Philanthropic Initiatives (APPI), a non-profit organization that works at facilitating a sustainable society which is humane and just.
The organization operates in Karnataka as well as five other states. The initiative works towards the development of people who are disadvantaged, discriminated upon or people who do not have basic rights. They also work in the field of education, health and women empowerment.
[media-credit id=43 align="alignnone" width="300″]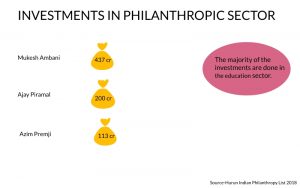 [/media-credit]
Bangalore is known as the 'philanthropic capital' of the country as the city has seen the highest amount of investment towards philanthropic activities.
Supreet Dhiman, who serves in an NGO 'Can n Will', said, "Nowadays philanthropy has become more of a trend and people have started doing it just for the sake of appreciation."
She said that more and more investments are being done to bring about a social change in society and that positively affects society.
The philanthropy sector of India is seeing growth and this growing trend may help contribute to the improvement of the public system.
Shantanu Sharma, who runs the NGO Udgam, said that the government is not doing anything for the development or the growth. No funds are being provided by them. They do not invest in sectors like education, health or contribute towards the upliftment of the society. Only at the time of elections, they do think about the people.
He further said that it is important that these individual organizations or business tycoons come forward and make investments for promoting growth and development in society.