Study shows that constant exposure to dusty and unhealthy environment triggers several lung diseases in the traffic policemen in Karnataka. Air pollution and high level of Particulate matter (PM) are adding to the problems.
Unhealthy road conditions, dusty job environment and constant exposure to high levels of air pollution are causing breathing difficulties among the traffic policemen in Karnataka, according to a study on 374 traffic policemen. This September 2022 study explores the quality of work life of traffic police in Karnataka state. It mentions that constant exposure to toxic air can trigger lung diseases, asthma, lung cancer and stroke.
Mr. Manjunath, a traffic police officer from Ashoknagar traffic police station said that traffic policemen are most affected by air pollution, as their job demands them to stand eight hours outdoor every day, exposed to dust and air pollution. "A lot of my colleagues are suffering from breathing related problems including asthma," he said.
An older, 2020 study on ' Respiratory Morbidities and Pulmonary Functions among Traffic Policemen in Bengaluru City,' conducted by the Department of Community Medicine of Kempegowda Institute of Medical Sciences in Bengaluru, mentions that there is increased burden of all types of respiratory illnesses and lower lung function volumes than usual in the traffic policemen in the city. This cross-sectional study of 217 traffic policemen in Bengaluru showed cough and breathing difficulty in 28 officers and hay fever (allergic rhinitis) in 38 officers.
Dr. Anilkumar P. Grampurohit, Police Inspector from Cubbon Park Traffic Management Cell said that traffic policemen are provided high quality masks. He added that kiosks—small booths for traffic police—have solved the problem of standing for a long time. "Under Arogya Bhagya Scheme, the traffic policemen are eligible for free annual health checkup in multispeciality hospitals across the city," said Grampurohit.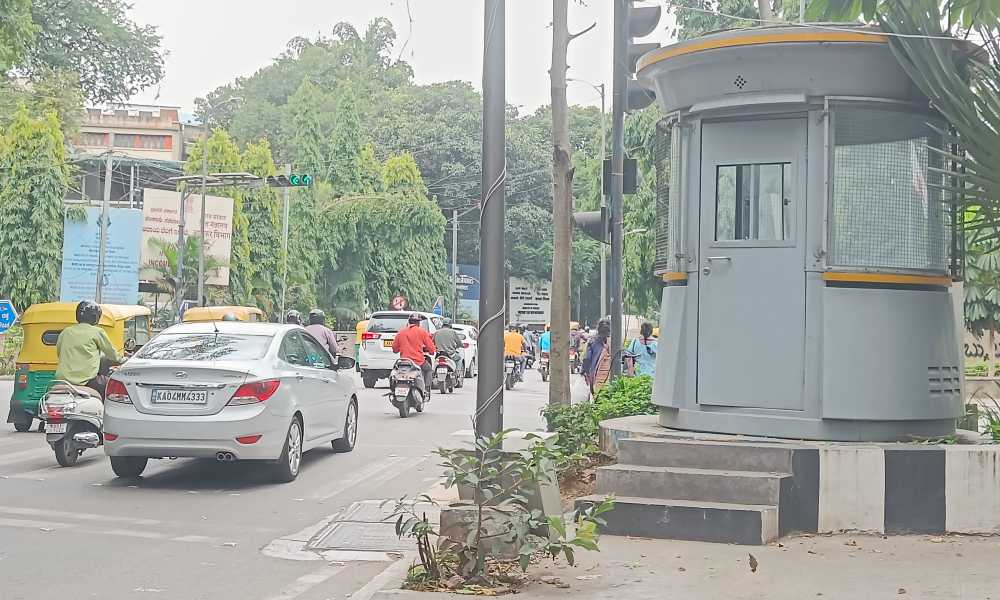 Currently, 174 hospitals are enrolled under the Arogya Bhagya Yojane. The scheme is mainly self- financed by the monthly contributions of police officers. It is also funded through medical reimbursement from the Government. Over 60,000 police personnel are enrolled under this scheme, which is operated under the Karnataka Police Health Welfare trust.
Mr. Manjunath said that the traffic department used to distribute free masks during COVID , along with sanitizers, but the officers are not provided masks now. However, he confirmed that the officers are guaranteed free annual checkups from hospitals like Manipal, Apollo Hospital and Hinduja Hospital.
The WHO guidelines mention that, exposure to PM 2.5. affects the cardiovascular and respiratory system, causing breathing problems, including lung cancer and COPD (Chronic obstructive pulmonary disease). These small particles, with a diameter of just 2.5 microns, can penetrate deep into the lung-wall and enter the bloodstream. Currently, the value of PM2.5 amounts two to three times above the 24 hours Air Quality Guidelines value of World Health Organization in Bengaluru, according to the Air Quality Index data.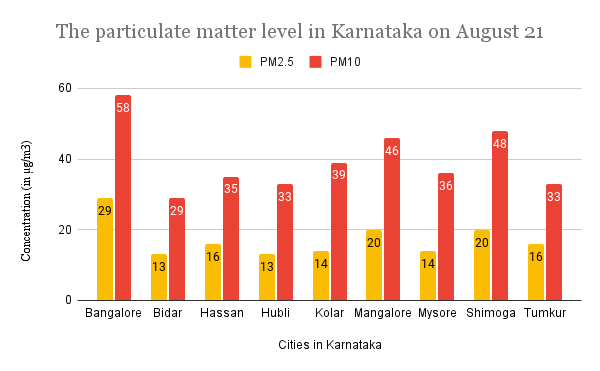 Dr. Giriyanna Gowda, allergy and asthma specialist, said that regular examination, screening and lung function test should be done by the traffic policemen at least once a year. "Working in outdoor polluted air for long years is not safe. They will definitely end up with lung issues," he added.       Dr. Gowda recommended to reduce working hours and wear masks as much as possible. "I know it's difficult to wear a mask all the time. Many will feel practical difficulties. But it definitely helps," he said. He also strongly recommended that the traffic policemen change their job profile after two to three years, where they can work indoors.
The 2022 study on the quality of work-life of traffic policemen in Karnataka, done by Sharath Kumar R, a research scholar, recommends to reduce the working hours of traffic personnel to six hours from the conventional eight.