The uncleared garbage heap in Krishna Rajendra Market affects locals and vendors.
Bangalore's Krishna Rajendra Market is filled with garbage heaps, affecting vendors and visitors who have to deal with the waste and the stench. The garbage deposit surges even more during the festival season.
Jasmine, a visitor at K R Market said, "Everywhere there is garbage and a foul smell. It becomes worse in the rainy season as it creates parking and hygiene issues due to the effluents."
Manjar, a fruit vendor said, "every day BBMP cleans the garbage twice a day. During the festival season the market sees a rush due to which more garbage gets deposited but during festival seasons BBMP doesn't come to collect the waste."
Ajay, a pooja item vendor said, "Vendors dispose of waste vegetables and flowers in the market without following the guidelines of BBMP. Awareness boards need to be put up in the market informing people about proper waste disposal as well as the fine for not disposing it properly."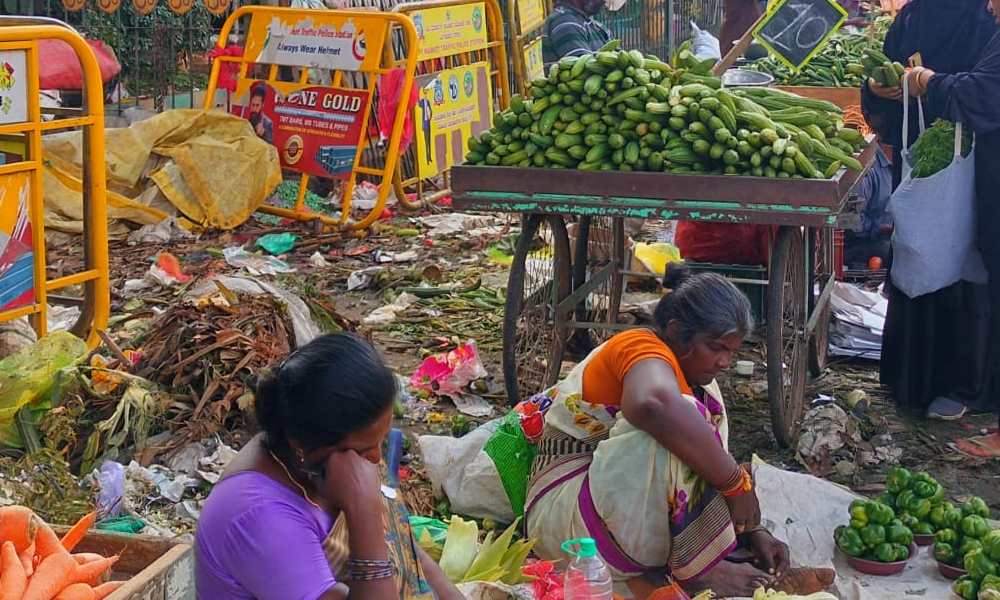 Premita, a makeshift vegetable vendor said, "I have to shift places due to the foul smell of garbage and the waste. The garbage is attracting cows and dogs and not providing a favourable condition to work."
Umesh, Junior Health Inspector of BBMP in charge of K R Market said, "They collect garbage and separate it into wet waste and dry waste. During the festive season the market sees a huge crowd resulting in an increase of waste and it takes one to two days to clean the waste. We request the higher authorities for extra vehicles to carry the garbage during the festive season."
He also said, "even the vendors are not following the hygiene instructions."
According to Bruhat Bengaluru Mahanagara palike (BBMP) guidelines 2020, BBMP must ensure segregation of solid waste into wet waste and dry waste and then process it in the processing plants.
Dr. Dhaheera, senior resident at Bangalore Medical College said, "The heap of garbage will create a foul smell, attract flies and mosquitoes and that leads to different health issues like food contamination, diarrhoea and dengue. The garbage should be cleaned on a daily basis."