The ongoing construction is affecting businesses and vehicular movements. The project was planned to be completed by March 31, 2023.
The construction on the main road of Gandhi Bazaar market is likely to take two more months said officials at Bruhat Bengaluru Mahanagara Palike (BBMP).
However, people are unhappy as it is affecting their businesses.
The footfall of customers has decreased up to 60-70 percent since the construction started said Mr Kaushik, a perfume and incense shop owner.
Another shop owner Mr Ram Murthy added that his business is down by 25 percent, while a street vendor Mr Ram Krishan said that the business of street vendors has gone down by 80 percent.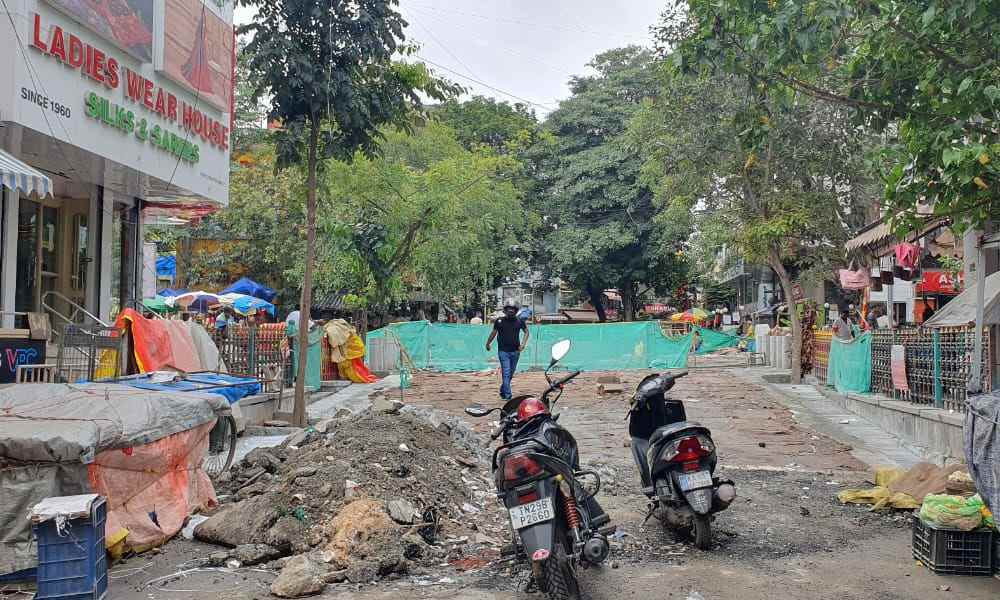 The ongoing road construction is not only affecting the business, residents of Basavanagudi are also concerned about other problems.
The president of the Traders Association of Basvanagudi, Mr Venkatesh said that earlier the width of the main market road was 60 feet but now BBMP is planning to reduce it to 20 feet. He added "I fear that it will reduce the parking spaces down by 50 percent. Earlier there was parking space for 200 cars and 500 two-wheelers, but now it is reduced to 65 cars and 200 two-wheelers."
Another major concern for traders is BBMP's plan to make 200 permanent spaces for stalls for street vendors. "The market currently has 100-120 street vendors and the street vendors do not want any new vendors to come in their area," said Mr Venkatesh.
The residents of Basavangudi are concerned about the non-scientific approach of BBMP in the construction which will eventually result in more traffic and pollution. Guruprasad, secretary of Heritage Basavanagudi Residential Welfare Forum said, " We have filed a Public Interest Litigation ( PIL) against the unscientific plans carried out by BBMP in construction of the main market road"
Residents are also unhappy due to the lack of a response from BBMP officials. "For every problem, we have to knock at the court's doors as BBMP does not share its plan with us. BBMP accepts our requests sometimes, then they put a hold on construction for a few weeks or a month but start constructing according to their own plan not caring about us," said Prasad.
This project of beautification of the Gandhi Bazaar road like that of Church Street was taken up by the Directorate of Urban Land Transport (DULT) and BBMP in September 2022.