Along with MyCityMyBudget campaign, online portal will help citizens to share local problems they are facing in the city.
An online portal for the citizens of Bengaluru will be launched on the Bruhat Bengaluru Mahanagara Palike (BBMP) website where they can raise their voices about major issues in the city.
Sri Jayaram Raipura IRS, Special Commissioner of Finance at BBMP said, "In addition to the MyCityMyBudget, we are also opening an online portal in the next two to three days where citizens can share areas they want to be highlighted in next year's budget. This will help people to contribute in the state budget."
Janaagraha and BBMP launched the initiative 'MyCityMyBudget' along with other civic organisations.The goal is to raise citizens' concerns and make them a part of the budget.
Yashwantha J, City Associate for Janaagraha said, "Since the first day of the campaign, we are getting almost 200-250 offline applications filled by the citizens. In total, we got approx 800-1000 applications filled in six days. Other than that, online form is also available and we are getting a good response over there too."
Manjunath H L, Program Manager for Civic Participation at Janaagraha said, "Earlier we used to bring hundreds of concerns raised by the citizens, and it became difficult for the BBMP to map all those issues. So, since our fifth edition, that is 2020-2021 edition, we are focusing on the major issues raised by the citizens— footpath, street lights, and solid waste management."
Kalavati, a resident of Agrahara Dasarahalli, complained about broken road and footpath at 3rd cross road.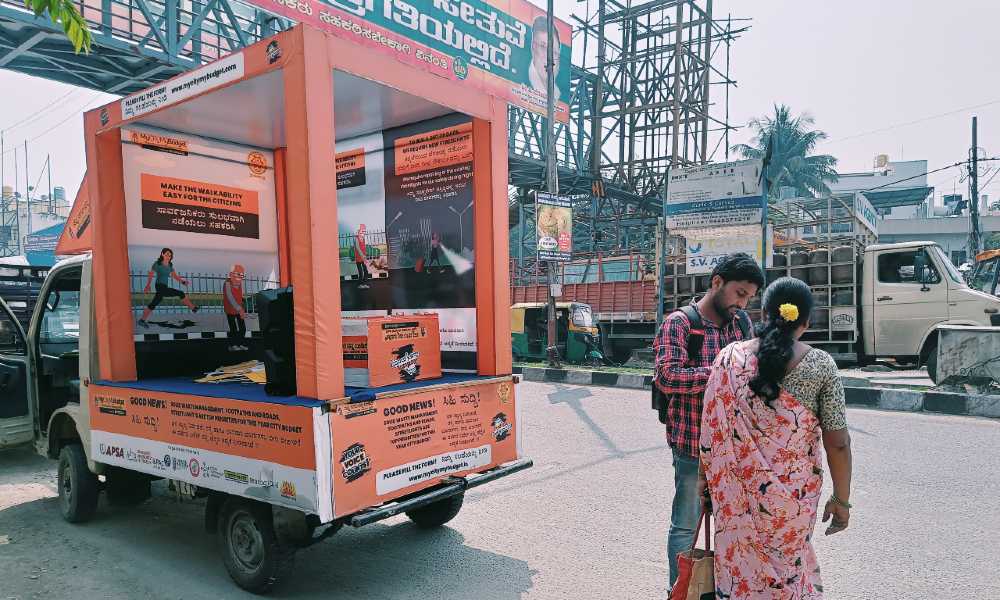 Basavanna, a resident of Doddagolahatti said, "There are many potholes and the footpath is completely broken which causes difficulty for us to commute. Also, there are not enough streetlights."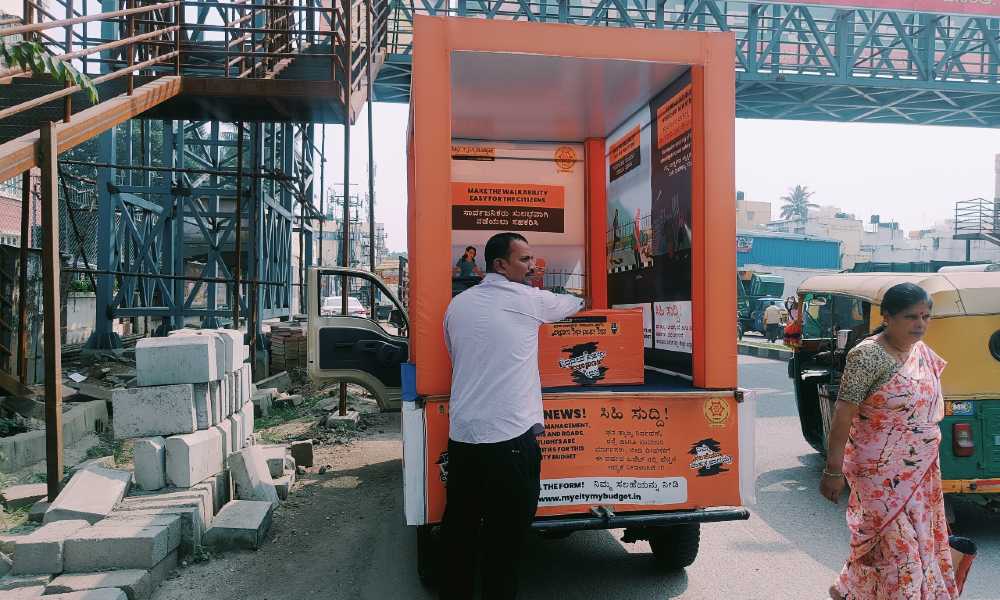 Raipura added, "BBMP has assigned Janaagraha to hire a vehicle to campaign for 'MyCityMyBudget'. With the help of campaign, we will be able to focus specifically on the problems citizens are facing and get them resolved."
Yashwantha said, "Sometimes, we come across people who want to fill the form but are in a hurry, so we ask them their problems and fill the form on their behalf."
Dr Saurabh Malhotra, Dean Academics at Safalta Group said, "More awareness should be created about the campaign by focusing more on the residential societies in the wards. The president of the society should be informed about the campaign and he should further share the form link in the society's WhatsApp groups, so that it reaches mass audiences."
He added, "Moreover, BBMP and Janaagraha should ask colleges to volunteer in this, so that more societies and people can be covered in different wards."