Many states across India hold "Global Investors Meet" every few years. However, many of these investments are only on paper and fail to materialize.
Less than 40 percent of investments made at previous investor meets like the recent Global Investors Meet in Bengaluru materialize.
Memorandums of Understanding (MoUs) for investments amounting to Rs. 9.82 lakh crore were signed at the three-day long Global Investors Meet (GIM) 2022. However, only Rs. 2.83 lakh crore worth investments have been approved so far, data from Invest Karnataka shows. These investments have been cleared by the state's single clearance window to fast track the paper work. At the first edition of the meet in 2000, Rs. 27,057 crore was promised of which 40 percent materialized. In 2010 Rs. 3.94 lakh crore was promised of which only 14 percent materialized and in the recent editions of 2012 and 2016, only eight and 15 percent of the MoUs respectively materialized.
This year, of the 96 MoUs committed to invest in the renewable energy sector, 72 have been approved so far. This sector accounts for 38 percent of the total investments at the meet. In the sunrise sector for manufacturing industries like e-mobility, investments worth Rs. 27, 384 crore have been approved out of the total investments of Rs. 74,284 crore. . In the infrastructure and industries sector, Rs. 18,834 crore has been approved, out of the total investment of Rs. 72,184 crore.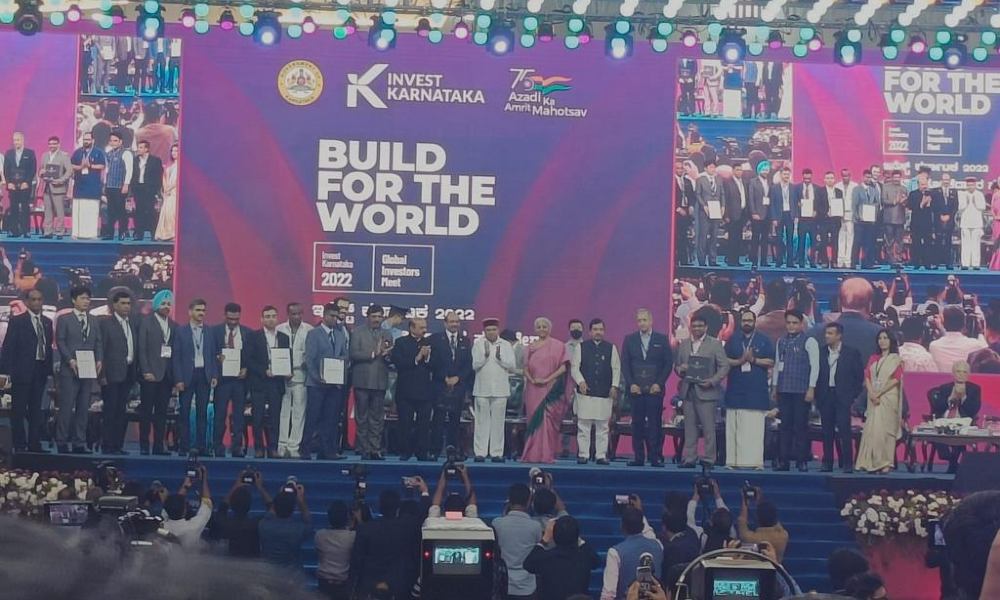 Business analysts say that signing a MoU does not guarantee investments. Venkatesh P, Director of Projects said, "Sometimes the government publishes such numbers to create hype and to show that they have made an effort to attract investments. A MoU is not an actual signing; there are a lot of nitty gritties that need to be worked out after the signing," he said. Sometimes the terms and conditions on tax exemptions may not work out, so there are multiple reasons why an investment may not happen, he added.
Many states in India have hosted similar events to attract foreign and domestic investment. Both Tamil Nadu and Andhra Pradesh are going to hold Global Investors Meet in 2023. According to The News Minute, a total of Rs 19,574 crore was promised to be invested in the state of Tamil Nadu in 2015, of which only Rs 501 crore had materialized. Tamil Nadu's industries minister in 2021 told the state assembly that of the total 98 projects signed at GIM 2015, only 64 of them, worth Rs. 64,000 crore, have been taken up.
Many say that organizing such events is political. Sahil Aggarwal, Investment Analyst, She Capital said, "State governments want to show that these companies want to invest in my state. These are just MoUs or soft plans and these big numbers are a way to get featured in global media outlets. So, even if it is not a huge amount and only 10 to 20 percent comes out, it is better than having no investments." These events are a good place for companies to have initial conversations with government officials, he said.
Krishna Bhimavarapu, Economist at State Street Global Advisors said, "These kinds of events have very little impact in the real sense. Nine lakh crore rupees is a very big number, it is almost 25 percent of our GDP and I think a chunk of it will not materialize. We will only see the impact of such investments in the GDP data for 2023, as the event happened in November." He added that the global recession might impact the investments signed this year.
The Chief Minister of Karnataka, Basavaraj Bommai in his valedictory speech at the Global Investors Meet said that in previous years many of the investments signed at the meet have failed to materialize.
The 2022 meet took over two years to organize and had an approximate budget of Rs. 100 crores according to the media manager of Invest Karnataka, the authority that organized the event.