Out of 8029 cases registered till Oct 15, 1423 cases were resolved through mediation till date.
Divorce cases in Bengaluru are substantially increasing in the past few years. The data from Bangalore Mediation Centre (BMC) shows the number of cases referred from family court to mediation centre were 5,821 in 2018 which has increased to 7,196 in 2021. In 2022, 8,029 cases were referred for mediation till Oct 15, 2022.
Lakshmeesh Rao.G, Mediator and Coordinator at BMC said, "We sit with the parties and try to resolve their conflicts with our communication skills and negotiation techniques. If there is any grievous issue like cruelty or domestic violence between them, then we don't try to resolve it further."
He also said, "We are in a transitional period, and today financially independent and self-sufficient people are not ready to understand their partner and adjust which makes it difficult for a marriage to work."
S.A. Hidayathulla Shariff, Director at BMC said, "Initially, the parties straight away go to the family courts for filing a divorce. These courts refer us the cases which they think stands a chance for mediation. In BMC, an independent impartial trained mediator is assigned to the party where he tries to facilitate them and understands the issue. The mediator helps them resolve their dispute by solely communicating with them."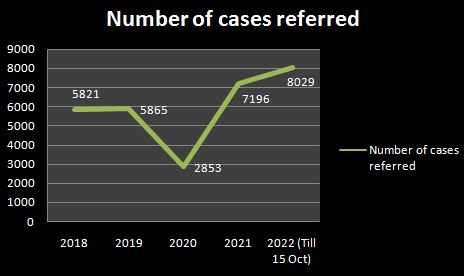 Lakshmeesh also explained, "Compared to arranged marriages, love marriages have more chances of failure because they might have been attracted for different reasons and when they start living together, there are a lot of things you get to know. Also, as families are involved in arrange marriages, unlike in love marriages, when it comes to divorce there are very slim chances of family intervention."
Riya Sharma (name changed), who got separated from her husband when she was eight months pregnant, said, "I got married to a man of my choice but after a few months of marriage my sister-in-law started influencing him negatively about me. Because of that, we used to fight every other day. There was no understanding or trust left in our relationship. So, my parents advised me to take a divorce as it was getting toxic for me."
She added "Although I got divorced after 2 years but, I started working when my baby was 4 months old, and it was really difficult to handle. Not just with work and handling a kid, but the family and society's pressure was even more stressful. This had a huge toll on my mental health, and I was not at peace."
The Divorce Act, 1869 says that the person applying for divorce should be separated from his or her partner for at least two years right after presenting the case in family court.
Prachi S Vaish, a couple therapist and co-founder at the Emotional Wellness Initiatives said, "Today, divorce cases are increasing because women are becoming more financially independent. It is comparatively easy for them to get out of toxic relationships and abuse. Also, now there is slightly a better acceptability of divorce as compared to what it was a few years ago. There are also couples who want to learn tools to deal with the issues they are facing in their marriage, and I try to help them with the same."
She further said, "Rather than promoting or discouraging divorce, we should rather focus on educating more and more people about what healthy relationships are and how to build a healthy marriage. Moreover, we should also learn how to recognise a toxic pattern in a marriage and to find help at the right time."