Expert says children are suffering from social anxiety and experiencing breakdowns in offline classes after two years of online school.
Young students are having a tough time fitting in classrooms after getting used to online classes during COVID.
Tapati Debnath, mother of four-year-old Samadrito said, "After almost seven months of online classes, he refused to go to school when it opened in March." It was an unknown environment for him. "He was scared of a completely new place," she continued.
Neha Cadabam, psychologist and Executive Director of Cadabam's Hospital said, "The change from online to offline classes was an extremely challenging period for the children. They experienced breakdowns, school issues and separation anxiety." She continued that the fear of contracting COVID also had an impact on them.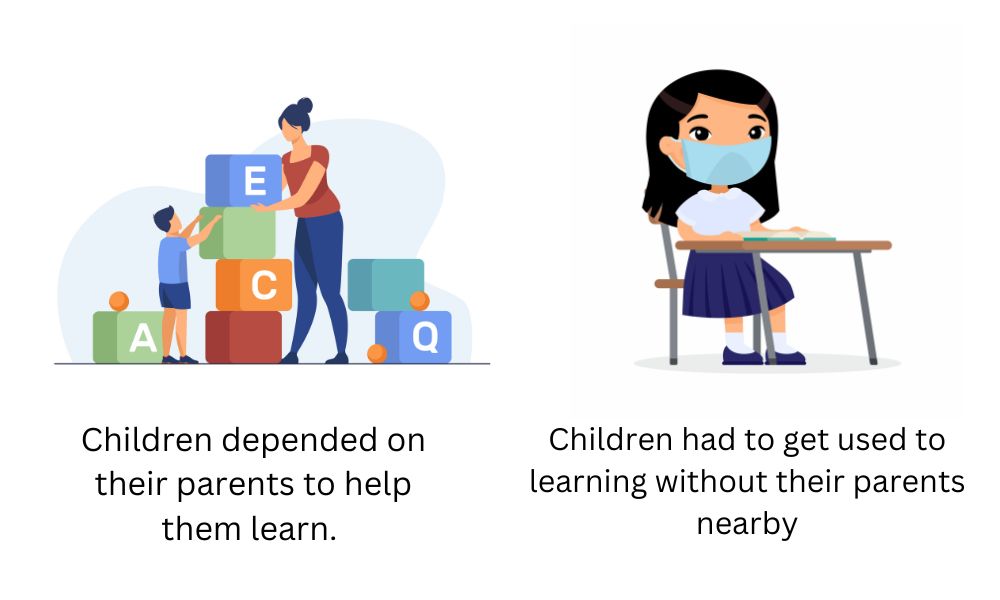 "During online classes, my child got used to having me around. It was comforting for him to have me next to him," said Debnath. "Later, Samadrito kept crying and insisting that I come with him to school."
The school authorities also had to accommodate their nervous students back to school. "Socialisation is the main focus in schools such as ours. Therefore, teaching these children to have a relationship with people other than their parents was the challenge," said Tanushree Das, operator of a Little Laureates branch in Kolkata.
She further added, "A preschool is usually the first exposure to a community for the children born during COVID. It is difficult to adjust them to a school environment because of the limited interaction they have had during the pandemic."
Being a COVID baby, three-year-old Akshita had no social interactions apart from her parents. Her mother said, "She is having difficulty talking to people and making friends. We have even moved houses so that she can have more opportunities to make friends."
Because of the pandemic, all preschools shut down for the safety of both students and teachers. Some shut down completely because they feared that online classes would not be effective for their students. Namrata Patel, Principal of Tiny Home Nursery in Bengaluru, said, "It is difficult to get small children to sit down at a spot. We could not have sustained this arrangement so we shut down completely during COVID." Now, Tiny Home Nursery is running full-scale offline classes. "The children are doing fine as well," said Patel.
Cadabam continued, "The transition from offline to online classes was a big change for children. Since they are more malleable than adults, they adapt beautifully to new situations." Despite all odds, the children are making the best out of all situations.
Debnath said, "Just like online classes, Samadrito became used to classrooms within a few months. He no longer has a problem going to school."
Cadabam continued, "Unlike younger children, whose only concern is that they have to be away from their parents, older children have more things to be concerned about." These children question the need of attending classes and dread the social environment of schools where they need to be constantly present in class. "Online classes gave them the option of not answering or not attending a class. They no longer have that option in offline classes," said Cadabam.