Road construction under the Smart Cities Mission has made life difficult for commuters and local business owners.
Rourkela: The ongoing construction on the two-lane Panposh Road and the Link road (Civil Township Bypass) has led to a one-way movement, resulting in traffic on that one lane and dust everywhere.
Kanta Devi (name changed), a local shop owner, said that the dust from the construction work always makes her shop dirty. "There is a coating of dust everywhere. I have to clean it again and again," she added.
Anuj Hooda (name changed), a dealer in earthmoving equipment, commutes daily on the Vedvyas Road. He said, "Most of the roads are not in good condition. Traffic jams and bad roads are making it difficult to commute on a daily basis. The dust gets into our eyes and we breathe it too. It isn't good for people who have breathing problems," he said.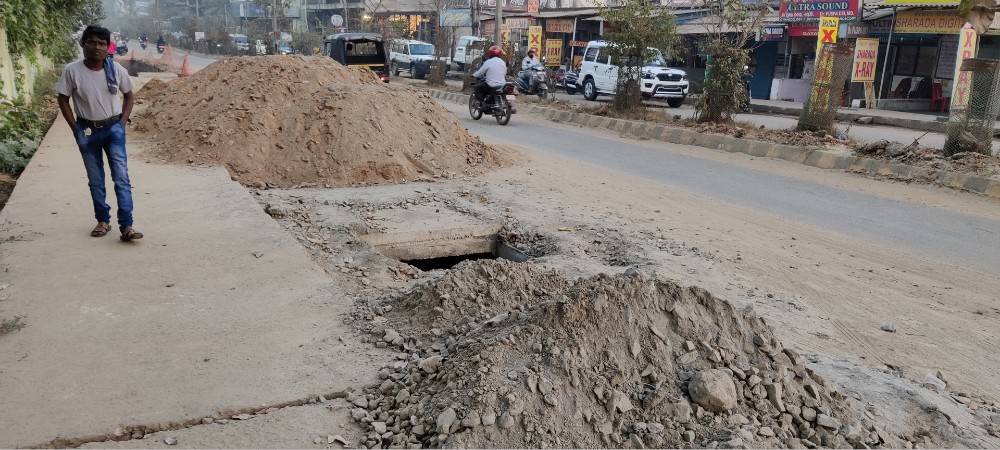 Most major and internal roads in the city have been dug up several times for laying pipelines, fitting underground sewerage systems etc. Their condition has only worsened with passing years.
Anchal Gupta, Assistant Manager, Tata Consulting Engineer, said that the cost of the project is Rs. 93.49 crores. He said that the project of the ongoing road construction began on June 25, 2020 and the deadline is June 24, 2022. He said that the roads which were dug up for fitting sewerage pipelines and were left without proper construction will be constructed properly this time.
Virendra Kairon, an urban planner said that the management should appoint traffic officers to manage the traffic on site. He further said that the general public should be equally responsible when stuck in traffic. "People should be patient and let other commuters pass as well," he said.
"Covid-19 is one of the reasons for contractors not being able to get the work done but it also is used as an excuse if they don't want to finish the job," he added. As per a report mentioned in The New Indian Express, last year, Dharmendra Pradhan called for speeding of road construction in the city. He is the Cabinet Minister for Petroleum and Natural Gas & Steel.