Vulture breeding centre to open at the Bannerghatta National Park by December 2022.
In a new initiative to revive the vulture population, Bengaluru is getting a new vulture breeding centre at the Bannerghatta National Park (BNP).
Experts say breeding centres are the best way to conserve a species. Breeding of the endangered species will bring up its dwindling population.
"There was a proposal to open the vulture breeding centre at the Biological Park but it was dropped and the location was shifted to the National Park instead," said Dinesh, Range Forest Officer (RFO) at the Bannerghatta Biological Park.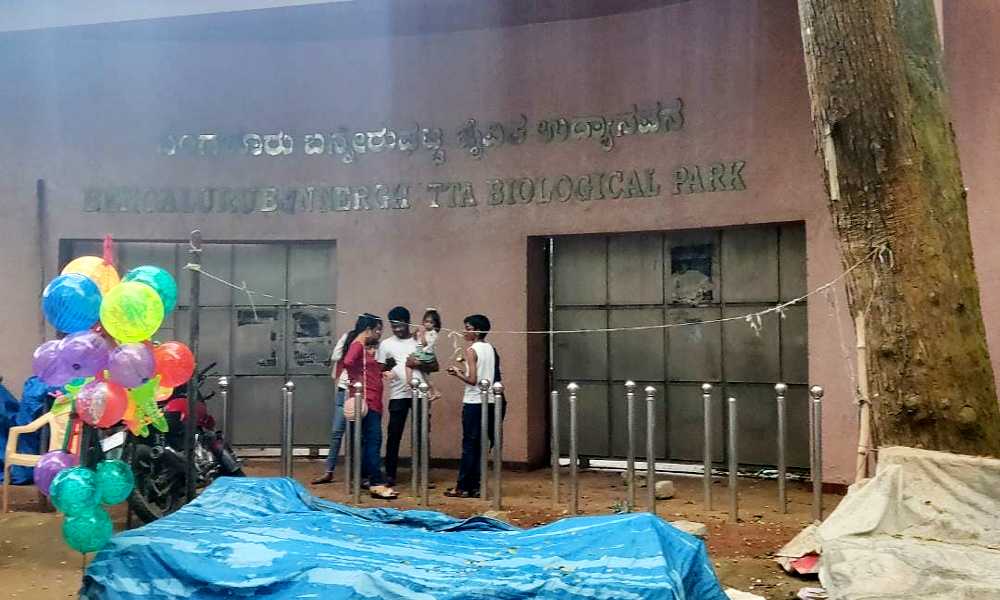 For its new vulture breeding centre BNP is expected to get vultures from the Pinjore Vulture Conservation in Haryana said Prabhakar Priyadarshi, Deputy Conservator of Forests, BNP. "We asked for 30 vultures.." He added that they have not received a formal letter from the Haryana Sanctuary about how many birds they are going to get and when they will get them. He said, "We have asked for more than one variety of vultures but as of now there is no confirmation."
Mr Priyadarshi also does not know how the vultures will arrive. He said, "We are looking at both possibilities i.e transferring them by air or by road but air is the preferred medium."
He said, "The required infrastructure necessary to conserve vultures while breeding—good aviaries, constant monitoring and feeding arrangements is taken care of."
He explained that facilities for both direct and indirect monitoring are in place. A veterinary doctor will constantly monitor the health of the vultures and will also be responsible for managing the breeding centre. The vet and the vulture keepers are the direct means of monitoring. CCTV monitoring is an indirect monitoring practice that will be implemented.
Feeding will be done by taking into account the harmful impact of diclofenac on the vultures, so animals like goats that have no diclofenac in their body will be fed to the vultures. "Techincally, if any animal is administered diclofenac then it goes out of the body in three days so we will be following the protocol of keeping the animals under observation for seven days to be completely sure and then the vultures will be fed."
"Plan for release of the vultures into Ramadevarabetta will be discussed later, it is a decision that will made in two to three years from now." Their primary focus at present is their breeding added Mr Priyadarshi.
Shashikumar. B, Secretary of Karnataka Vulture Conservation Trust, Ramanagara said that the Forest Department has taken steps to increase the number of vultures by introducing in-house breeding centres, like the one being constructed in Bannerghatta National Park. "They need intensive care to hatch so after hatching they will be released into Ramadevarabetta."
Dr Krishna a orinthologist, is sceptical about breeding vultures artificially. He said, "In some cases we might not have an alternative but to resort to captive breeding, but release and rehabilitation of the bird requires great care and skill." He added that this is because learning plays an important role for birds that have a longer lifespan; they learn to adapt from others of their own kind.
The project was announced in 2020 and is almost complete. The vulture breeding centre is in its last stage of completion and will be ready by the end of this month or by December, confirmed, Gururaj Sankeshwar, RFO at BNP. He added, "30 vultures will be coming, but we still have not planned on when and how they will come."
Dr Krishna said, "Every species requires adequate habitat and a food resource in the wild to survive and this needs to be ensured." He added that even if the vultures were bred in a good feeding habitat the estimate of the feeding habitat needs to be taken into account.
Birds normally come into breeding around once a year so a breeding centre is required where they apply great skill, precision and care to cater to increasing the number of the bird, added Dr Krishna.