Nearly 5,000 state subsidized medicine shops in the country are running short on medicines for life-threatening diseases
By Ayanti Bera
Bengaluru, April 8, 2019.
State subsidized medicine shops called "Jan Aushadhi Centres" are out of stock on a number of generic medicines. The stores are built under the Pradhan Mantri Bharatiya JanAushadhi Priyojana (PMBJP) scheme that aims at providing quality generic medicine for a much cheaper price than branded medicines in regular pharmacies.
According to the Indian Brand Equity Foundation (IBEF) website, generic medicines and vaccinations are copies of originally researched drugs, but at much lower prices. A few years post the launch of a new drug by a pharmaceutical company, the patent on it expires.
That is when copies of the drugs are manufactured and sold by non-original makers at much cheaper rates. For example, aspirin and paracetamol are generic drugs that are often sold under brand names like Disprin and Crocin. The dosage, composition, method of intake, benefits, quality, and even side effects of generic medicines are similar to the brand-name version of the drugs.
It is in no way less effective than branded medicines.
There are 51 Jan Aushadhi centers in Bengaluru. Seven of them are run by the Indian Red Cross Society. Pradeep S., the owner of one of these shops on Mahakavi Kuvempu Road, says, "A lot of medicines remain out of stock for a long time. Medicines like Diabetone, Glimepiride, Metformin for diabetes are currently out of stock in my shop since a long time.
Apart from this, medicines like Tazloc 40 mg and Indapamide that is used to treat hypertension has also not been refilled since some time. This reason is that there is only one main body, responsible for manufacturing medicines and drugs for nearly five thousand shops in the country."
The Bureau of Pharma PSUs in India (BPPI) is the central body that is sole manufacturer of generic drugs in the country. BPPI is a collection of right Public Sector companies that manufacture the drugs on behalf of BPPI.
Shivashankara, who works at the Indian Red Cross Society in Bengaluru, says, "The problem is that anyone can open a store under the Jan Aushadhi scheme. A few years ago there were only two to three hundred stores, now there are nearly 5,000 stores across the country.
But the manufacturer is still BPPI alone, which cannot produce enough medicines to keep the stock in all these stores refilled. So ordinary people, especially from low-income groups suffer because these generic medicines are their only alternative to expensive branded medicine."
[media-credit id=32 align="aligncenter" width="800″]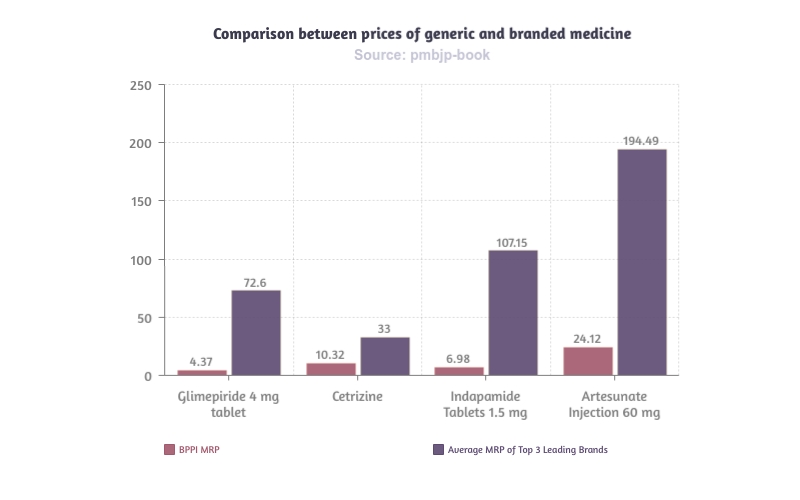 [/media-credit]
There is a considerable difference of price between the branded medicine in regular pharmacies and the generic medicine manufactured by BPPI. For instance, paracetamol 650 m.g., which is a regular medicine for pain and fever, costs Rs.8.03 at the Jan Aushadhi shop. When manufactured by a brand, it costs RS. 25.65. Metformin SR Tablets 850mg, used to treat diabetes, is prices at Rs. 12.38 at jan Aushadhi stores, while its branded price is Rs. 29.66.
Three years ago Union Minister Ananth Kumar declared that there will be 200 new Jan Aushadhi stores in Karnataka, but the status of the supply of important medicines might stand as a roadblock to the plan.