The Vrishabhavathi river has been the sewage stream of the city for years
The Bangalore Water Supply and Sewage Board (BWSSB) has invested Rs 500 crores fornew Sewage Treatment Plants(STPs) that will ensure that no sewage discharge flows into the Vrishabhavathi river by 2024.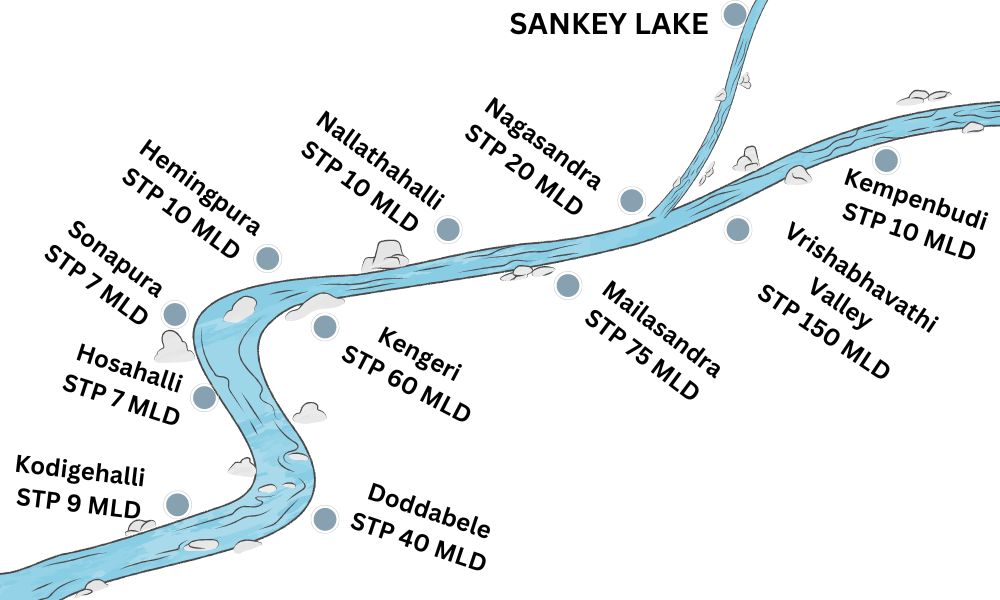 Rajiv K.N, Project Manager, BWSSB said that four new STPs are now being built. He said, "all the under progress plants will be commissioned by 2024, so sewage entry to Vrishabhavathi valley river will stop."
The four new STPs are at Hemigepura, Sonapura, Hosahalli and Kodigehalli. Currently, 10 STPs are functioning near the Vrishabhavathi stream. It is one of the oldest streams flowing through the city, and is the tributary of the Arkavathi river that originates near Bull temple near Basavanagudi.
Raju, a Kumbalagodu resident said, ", "The river was not like this 20-30 years ago as it seems today, all the industries near the river, dump their waste in the drain which eventually flows into the river stream."The Ashoka Trust for the Environment and Ecology (ATREE) in their report stated that out of the total treated effluents from centralized STPs, only water with Minimal Liquid Discharge (MLD)is reused by industries for non-potable purposes. The rest of the treated effluent, along with the untreated sewage, is discharged into open storm drains.
The Karnataka State Pollution Control Board (KSPCB) has warned against illegal dumping and discharge of industrial waste into the river. Shiva Kumar, an official from the KSPCB said, "there has been illegal entry of sewage from the city and a few industries are not abiding by the regulations of KSPCB and are dumping their untreated waste into the river water."
Arpit Kumar, official at S.V Concentrate, a cement manufacturing plant) said, "we don't discharge our waste into the river, we use recycled water to wash the cement trucks." However, the cement water from the factory flows into the river.
A report said, there are 3,304 industries along the river area out of which, 1396 are violating the KSPCB treatment schemes norms by discharging untreated waste into the stream. So far action has been taken against 1476 factories and criminal action against 77 factories.
Rajiv said, "The stream was a storm water drain, but a lot of industrial effluent and untreated sewage has resulted in what the river is described as in the present day. However initiatives are being taken since 2016 and we hopefully aim at transforming it."
The work of restoration and rejuvenation has been entrusted by the Karnataka High Court to the CSIR National Environmental Engineering Research Institute(NEERI).. It states that the STPs will treat the waste water before it flows into the river.