Several of the skywalks in Bangalore are inaccessible to people who need lifts.
Elderly people risk their lives by crossing the road instead of taking skywalks because they can't climb the steep stairs.
Devanath, a 60-year-old man said, "Despite being unsafe, I prefer crossing the road, amidst the heavy traffic because climbing up the stairs is not possible for me."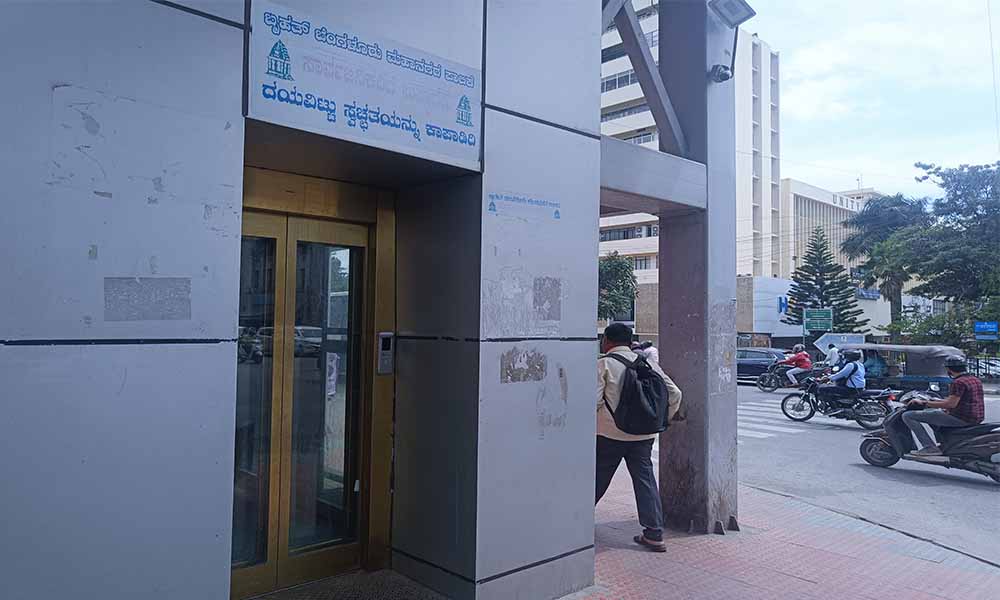 Ruby Jha who was climbing down the stairs of the skywalk at Kengal Hanumanthaiah Road, said, "I don't prefer taking the lift due to frequent power cuts here because I got stuck twice in the lift. So, I either take the stairs or cross the road."
Bruhat Bengaluru Mahanagara Palike (BBMP) officials said, "There are 44 skywalks, and 14 are under construction and will be built in a few years. Out of those 44 skywalks, some are equipped with lifts, whereas some have either no lifts or lifts that are non-functional."
Dadu, a vendor who sits under the Kempegowda Circle skywalk, near Majestic Metro Station, said, "This skywalk is rarely used by the passengers because there is a lot of garbage dumped near the railings of the skywalk. Only the drunkards go there and sleep at night."
Mr. Balakrishna M.D, Assistant Executive Engineer of Road Infrastructure (BBMP Head Office) said, "After BBMP and traffic inspectors decide the location and the number of skywalks to be constructed in the city, we propose the project to the Public Private Partnership (PPP) Model and other private contractors. BBMP has insufficient funds to invest, so we give opportunities to private companies and pass on these projects to them. They maintain the skywalks.
He explained, "The lifts often break down due to heavy rains in Bangalore and it takes a lot of time to maintain them."
Signpost India Pvt Ltd that designs and maintains free or low-cost services at transit points like skywalks and bus shelters maintain three skywalks—on Kengal Hanumanthaiah Road, Kasturba Road and Baiyappanahalli. Mr. Ravi Reddy, Chief Manager said, "Only the skywalk at Kasturba Road has a non-functional lift. Two months back, someone purposely damaged the control panels in the lift room. It is yet to be repaired because the repair work costs a lot and we need to ask approval from our head office for the same."
Mr. Ravikant, Operations Manager at Pioneer Publicity Corporation Pvt Ltd said, "We have six skywalks in Bangalore and all of them are equipped with fully-functional lifts. If it breaks down, we try to repair it as soon as possible." K.B Chaitra, Urban Design Professor at BGS School of Architecture and Planning said, "The location of the skywalk is based on the requirement. There should be a dedicated system to operate lifts at skywalks to avoid the problems faced by elderly while commuting through skywalks."