Trespassing is the biggest issue; government's plan to replace level crossings is still in the pipeline.
Bengaluru has witnessed an increase in accidental deaths on railway tracks in the last three years with trespassing being one of the biggest reasons for them. In 2020, the number stood at 115, in 2021, it rose to 173 and in 2022, the number has already reached 180 by August. KSR Bengaluru City Junction, the city's main railway station alone recorded 115 accidental deaths in the South Western Railway zone from 2020 till August 2022.
M. Anand Gowda, the Senior Section Engineer at Kengeri Railway Station stated that, "The youth today take selfies on the tracks." When the train comes from the other direction, they don't have enough time to step back. He said that some youngsters indulge in drugs on secluded tracks leading to their deaths.
Ajay Kumar, a 24-year-old man who was recently injured while trespassing said that, "The train didn't blow horn while approaching a blind spot." His house is located near the tracks and the accident happened while he was returning from work around 7:30 in the evening.
The Indian Railways Act, 1989 states that trespassers (people who cross railway tracks or enter railway platforms without a ticket) shall be punished with imprisonment for a term which may extend to six months, or with a fine which may extend to Rs.1000 or with both.
According to a report on Level Crossing Scenario of Indian railways, "It is observed that drivers misjudge the speed of trains as the human reaction time is 2.5 seconds which is just enough to coordinate the reflexes against speed of 60-70 kmph. However, trains on Indian railways are moving at about 100-120 kmph for which the reaction time is inadequate. Road users continue to cross the tracks even if the train is visible and approaching, causing level crossing accidents."
In 2018, the South Western Railway zone had proposed to replace railway line crossings with rail over bridges (ROB) and rail under bridges (RUB) as a safety measure against trespassing. Data from Railway Divisional Office, South West Railways shows that until July, 2019, Bengaluru had 230 railway line crossings (manned and unmanned) and as of now, only 15 percent of these have been converted to RUBs and ROBs. Whereas, 37 percent out of these 230 divisions were sanctioned by the government earlier.
Nasir Ahmed, Senior Section Engineer at Divisional Department of South Western Railway Zone said that, "It is practically not possible to construct railway bridges everywhere. A certain amount of curvature is required for heavy vehicles to turn. If these bridges are not big enough, it is not possible for them to pass. RUBs cannot be constructed on areas affected by water stagnation as these are low lying areas and would only accumulate more water."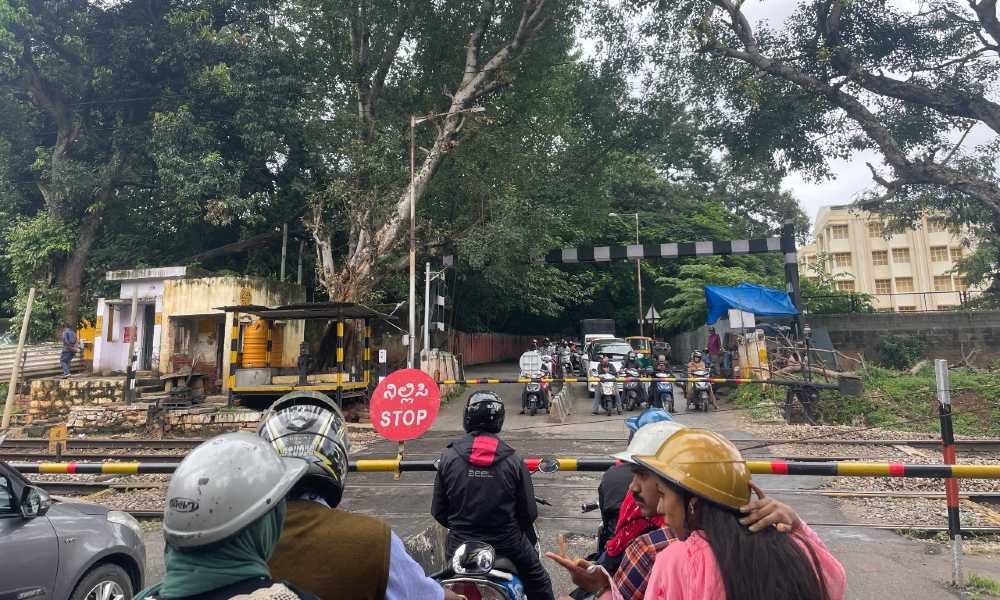 Srinivas, retired assistant engineer said, "There are certain complications associated with constructing ROBs and RUBs like water stagnation." Implementation of speed restriction cannot be applied for longer railway routes. Although Railways can construct water outlets, it doesn't have enough land allotted to do it; which is allotted by the government.
The total budgetary allocation to the South Western Railways for capital expenditure for this fiscal year is Rs.6900 crore which is 43 percent higher than that of last financial year of Rs.4900 crore. The budget has Rs.254 crore dedicated to Road Over bridge and Road Under bridge (ROB/RUB) which is 46 percent higher than the budgetary grant of the last fiscal year.
Srinivas said that, "Even the construction of ROBs and RUBs cannot curb accidental deaths on tracks. But railways are not underfunded, it has sufficient funds."
Narendra, Public City Inspector at South Western Railways said that, "The places where railways cannot construct ROBs and RUBs, it has started Project Gate Mitra to enhance safety and prevent accidents at unmanned level crossing gates." People from the village guard their respective area crossings and alert the commuter about approaching trains. Railways conduct campaigns on various occasions like International Level Crossing Day to spread awareness about trespassing.