The new deadline for completion of the smart city project is May 13 but traders are doubtful as BenSCL keeps missing deadlines.
Avenue Road traders say that, Bengaluru Smart City Limited (BenSCL) has been turning a deaf ear to their pleas to finish the project. And, they say, the organisation has ignored the orders of the High Court of Karnataka.
Vivek, a medical shop owner at Avenue Road said, "We are not protesting or filing complaints. We are requesting the various authorities involved to finish the task as soon as possible. The construction materials are laid outside our shops. We can manage for days or maybe weeks but not for months."
The traders also said that their customers are disturbed by the in completion of the smart city project. Narayanan, a stationery shop owner at Avenue Road said, "Our customers find it difficult to park their vehicles and go around the market. Covid was a big hit to our business and now this gives us another problem."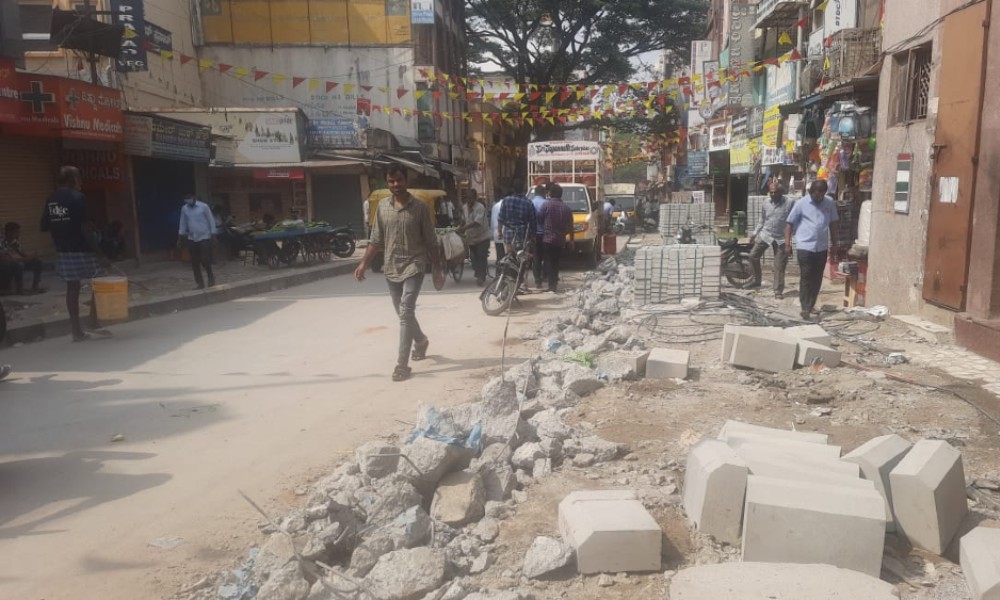 Not just the Avenue Road, but also other roads that lead to it are affected by the project; creating problems to commute. Jayaram, an auto driver from Chickpete, said that he did not want to take any routes to Avenue Road because of the rains and the road condition.
Rakesh Singh, chariman of BenSCL said that the project will be completed by May 13, as stated in a report. However, the shopkeepers are not sure about how the new deadline will help them. Vivek said, "They give new deadlines every three months. But the work is never completed." Talking about the trade unions' idea of protesting , Vivek said, "We have no time and resources protesting against the government. If we protest, who will take care of our business? We have written a lot of letters to the government and the other authorities to complete the project hoping they will take care."