An increase in the number of vehicles and poor monitoring of scrap tires contributes to tire burning, leading to pollution in the city.
Industry's burning of tires for fuel and oil goes unchecked by the government posing serious dangers to the environment. Burning of tires is illegal and is nationally prohibited under the National Environmental Standard for Air Quality Act, 2004.
Mahadev, a spokesperson for the Karnataka Transport Department (KTD) said that they are responsible for managing scrap tyres in the city nowadays as BBMP is not really looking after discarding of scrap tires. In the last three years we got 100 scrap tyres per year , which were sold to vendors, who sold them to the recycling industry.
Sri Ranga Prabhu, owner of Deepa Enterprises, a scrap tires supplier, said that they send the collected scrap tires to traders, who in turn hand them over to companies where the tires are recycled into traditional fuels and oils. Due to the direct burning of tires, in order to extract fuel and oil, some industries have also been charged with lawsuits, he added.
A report states that to meet the huge energy demand of the ceramic sector, much of the developing world, particularly Middle East/North Africa (MENA), is turning to cheaper options like burning tires and other toxic materials in fuel kilns. Increase in use of tires and other rubber products as a key source of energy for kilns is particularly alarming. Because of their great heating value, scrap tires are used as a supplement to traditional fuels like coal or wood.
The report also explains that a single tire may burn for up to 50 minutes, and each pound of scrap tire rubber burned, is equivalent to 15,000 British Thermal Units (BTUs) of energy.
Vikhyath, owner of Aditya Eco Fuels said that he used to be a scrap tire dealer but no longer works in the field. For the past three years, he has stopped dealing in scrap tires. They used to burn tires and extract oil from them using the pyrolysis technique while he was in business.
Prasad Kumar from Pyro Technology said that they purchased tires from wholesalers and burned them to extract oil using a technique known as pyrolysis.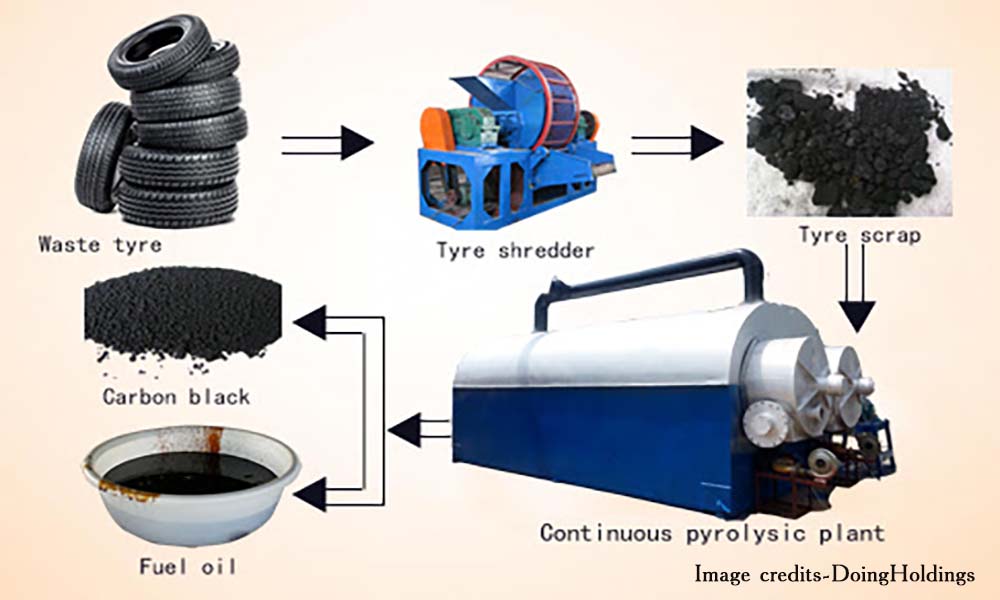 A report had said that the government pollution authority in New Delhi had ordered the closure of 270 tire pyrolysis units in 19 states, citing violations of environmental regulations and high pollution levels. The Central Pollution Control Board (CPCB) cited a National Green Tribunal (NGT) judgement in ordering the shutdown of 270 units, claiming that they were polluting the environment and endangering the health of workers involved in the process.
Prabhu, said "Every morning my workers collect scrap tires from small mechanic shops by paying them. On an average, we get 1000 kg of tires on alternate days. If the tire is 17 inches, 510 tires weigh approximately 1000 kg."
Pyrolysis of Waste Tires and Future report says that India is the world's third-largest producer of natural rubber, fourth-largest user of synthetic rubber, and fifth-largest consumer of both. The Indian Rubber industry is an important part of the country's economy. Every year, an estimated 13.5 million tons of tires are destroyed around the world, with rising markets like China, India, Southeast Asia, South Africa, and Eastern Europe accounting for 40 percent of the total.
Rizwan Khan, a mechanic from Kumbalgodu explained, he examines condition of the tires whenever someone brings old tires to his shop. If the tire is half worn out, he inserts grooves to make it usable again, but if the tire is completely damaged, he keeps it in his shop and gives it away to scrap collectors that come to his shop.
"Every morning, some vehicle comes and collects the tires from the shop. They pay us a certain amount of money per kilogram for the scrap tires," he added.
The availability of discarded tires in India is estimated to be around a million tons per year, as vehicle numbers in the passenger, commercial, and industrial sectors catch up. According to a survey, the number of registered automobiles in Bengaluru increased from 2.62 million in 2006 to 8.05 million in 2019.
The rise in automotive use in densely populated areas and highly industrialized countries has resulted in disposal of waste tires. It has become a serious environmental concern worldwide. Waste tires are an issue mainly because they are non-biodegradable and can last for decades if handled improperly.
Yathish Gopal, regional officer, Karnataka State Pollution Board (KSPCB) said "The suspended particulate matter (SPM) is being chemically analyzed. However, the amount of rubber and plastic particles in the pollution is extremely difficult to determine."
An article says that pyrolysis is an environmental concern that is outlawed in developed countries because it releases life-threatening gases, according to the Australian Tire Recyclers Association.
A report states, besides negative effects that tire burning has on the health of humans, it also hurts the environment in ways that have not yet been discussed. Air, water, and soil pollution are the three major effects of tire burning on the environment. Heavy metals and other dangerous pollutants are included in the black fumes, which can linger in the air and cause acute and chronic health problems.
The report explains the hazards of uncontrolled tyre burning. It has16 times more potential to cause cancer than home wood combustion in a fireplace and can be 13,000 times more mutagenic than coal-fired utility emissions with good combustion efficiency and add-on controls.
Krishna Raj, climate change expert from Institute for Social and Economic Change said, "There is no scrap policy in place at the state level. There is no government oversight of scrap tires. Instead, the unorganized sector, such as the recycling industry, performs it.
"Either the KSPCB or the tire manufacturer should oversee the waste as it is being burned or disposed of. Yet they fail to supervise these leads in the burning of tires, which pollutes the air and contributes to climate change. The government should implement a scrap tire management policy that includes recycling and reuse, according to the proposal. They must devise a method of safely disseminating information," he added.