Paralegal volunteers have not been able to provide free legal services to vulnerable groups due to low pay and communication gaps.
Bengaluru: Karnataka Child Rights Observatory (KCRO) along with other child rights organizations and UNICEF have decided to work on strategies to work on child issues that worsened during the pandemic.
Child marriage, violence against children, school dropouts, and adoption of Covid orphans will be focused on with the new framework that the bodies wish to work with.
At the launch of "Karnataka Child Rights Observatory Activities 2022 and Capacity Building on Laws Related to Children Rights Protection" held at Student of Christian Movement of India (SCM) House, on Thursday, children related issues after Covid were discussed for recommendations and measures.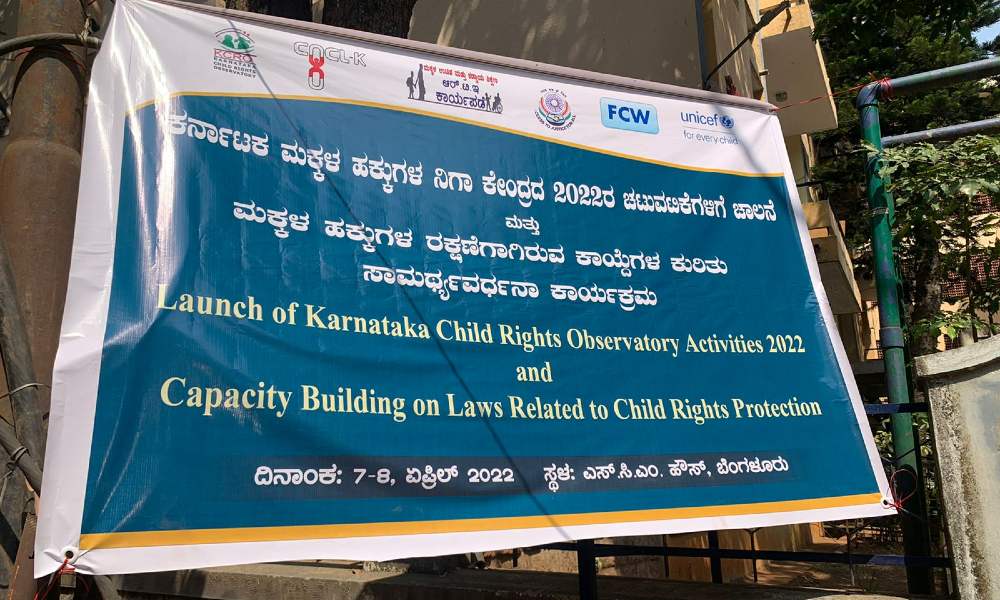 Mary Priyanka Francis, Director of the Women and Child Development Ministry of Karnataka addressed the meet and stated that work will be done this year to curb child marriages in the state by 2024. Another official from the department mentioned that the child marriage rate in Karnataka stands at 21 percent and the pandemic has led to a further five to seven percent increase.
Consequently, work regarding merging helplines with police helplines will be conducted. Moreover, major focus will be on the education of the girl children most vulnerable to early marriages and finding children who have been engaged.
Venkatesh T, Program Coordinator, Child Rights trust said that child marriages have increased significantly in Karnataka. 25 out of 100 marriages are child marriages involving girls according to him. "In order to stop this, we have already initiated IMAGE- Initiative for Married and Adolescent Girls Empowerment. Under this initiative, we recognize the girl children who have gone through child marriage and empower them. On village, gram panchayat and district level, if we see any cases of child marriage, immediately a case has to be registered by calling 1098 or 112. We are spreading awareness in societies, schools, and colleges."
"We are conducting a sensitization workshop for child marriage prohibition officers. Stopping child marriages should be a responsibility for all of us. If anyone notices that child marriage or engagement is taking place we should notify that," Venkatesh added.
Mentioning UNICEF's collaboration with the organizations, Prosun Sen, UNICEF Communications, Advocacy and Partnerships specialist for Hyderabad, addressed the meet and highlighted the impact of Covid on children.
"Child poverty has increased by 10 percent with 100 million more children being pushed into it. Six hundred million children have been affected due to the closure of schools during the pandemic. Moreover, more than 10 million girls are now vulnerable to harassment, gender violence and child marriage. The pandemic exposed the faulty healthcare system in the country and increased malnutrition among students due to closure of schools and absent mid-day meals," Sen added.
Henceforth, he recommended that there should be more investments in building resilient systems that support families and children during pandemics or similar situations.

Sen also highlighted that since the global education is facing an emergency, redesigning the education system with bridge courses to work on learning gaps and numeracy skills is necessary. Moreover, there is a need to work on a technology development program.
Dr. Vasudeva Sharma NV, Convener, KCRO spoke that KCRO is sensitizing the ministers to child rights issues. He said, "We are doing that in the form of a questionable analysis. All the questions and inputs that we get from the public are put in the form of questions and we are monitoring how ministers are assessing those questions."

"We also release a report on the performance of all the ministers of all the districts. Today we have again raised this issue because of the impact of Covid on our lives," he added.

The convener also highlighted that Covid has adversely impacted the children's development. Sharma further said, "The NITI Aayog report also suggests that development indicators have fallen behind. Learning levels have fallen down."
Moreover, dropout rate of children going school has also increased. "Online learning has not reached everybody. On the other hand, alot of people have taken inappropriate advantage of online classes for sexual harassment and cyber bullying," Sharma added.
Inefficient paralegal services
The adversities can be addressed better and reduced with legal aid being provided to the aggrieved people. However, several reasons have resulted in ineffective free paralegal services.
Justice Shashidhar Shetty, Member Secretary of the Karnataka State Legal Service Authority stated that collaborations with KCRO and UNICEF are aimed at providing legal services to vulnerable groups. The categories under these groups include women and children, people from Scheduled Castes and Scheduled Tribes, victim of trafficking, people impacted from disasters, industry workers and disabled people. The concept of paralegal volunteers was started for providing free legal services and every panchayat was supposed to have one volunteer. "Amongst the 4,309 volunteers registered, only 1,000 have been efficient and hence there is a requirement of a change in the team," Shetty said.

Venkatesh T explained that the volunteers have not been able to provide free legal services to people in villages due to lack of accessibility, which was severed by the pandemic. He said, "The interest of these volunteers is a matter of concern because most of them want to go for professional jobs instead of contributing to such services. The budget has been really low and hence it is not possible to pay them well. Since it is not a mandated order but just services to help people, serious work has not been done."

The majority of intended programmes have not been able to help the people they were aimed for, Satish G.C, Director of Child Rights Trust said. "The local political influence and pressures have affected the efficiency of volunteers. Hence, this collaborative meeting was conducted to work on strategies that can specifically address issues aggravated by the pandemic. The laws for child rights protection have to be implemented in a better manner because the existing work has not helped much."