With more convenient and efficient delivery methods, online flower deliveries have seen a rise
Since the last two years, Nikhil has seen a robust boom in his online flower business in India. He is very pleased with how well his business is doing, as his sales have risen from 145 to 160 percent over the past two years. He said that his purchases have also increased from 40 to 45 percent.
Today, he is the chief florist artist of the company; Flower Co, and this makes him immensely proud.
According to a recent report, flower business on E-commerce remains unstoppable and continues to grow. Over the past year, the online business has recorded double-digit growth of 10.9 percent, resulting in sales of Euros 58.466 billion. Moreover, The United Nations' trade experts' reports that ecommerce sales rose from 16 to 19 percent in 2020.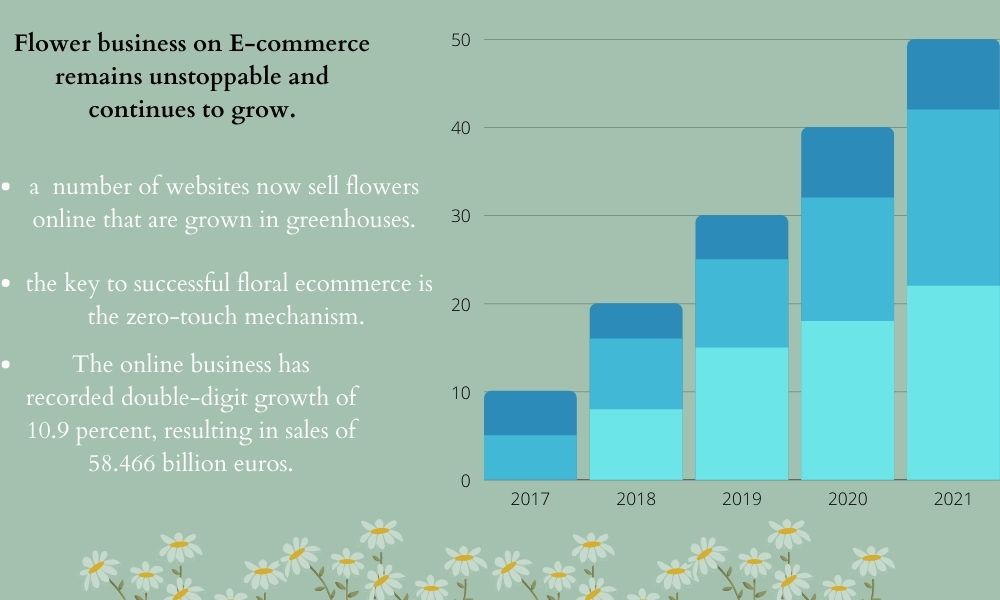 "A 10-time growth in deliveries was seen compared to last year. The number of deliveries per month increased from 10,000 to 100,000 in 2021," said Rhea Karutri, the founder of Hoovu Fresh, a Bengaluru-based flower delivery service of loose puja flowers.
She added that most Indians interact with traditional flowers every day – jasmine, marigold, chrysanthemum, bud roses, etc, and prefer ones that do not perish or wither easily.
Women in India are known to wear flowers in their braids, make floral offerings to deities, etc. The flowers are plucked just below the calyx and are in high demand as they can be used to make rangoli arrangements, hair Veni (or Hair Gajra, which is traditionally used for South Indian weddings), garlands, pooja essentials, and garden displays.
Trishanya Raju, one of the buyers, said she subscribed to the puja flower delivery and was pleased with its quality. "The delivery was consistent, and the flowers were fresh," she added.
Anika Khan, another buyer said she ordered bouquets of orchids; they were fresh and lasted about 12-15 days.
The Produce Marketing Association (PMA) says that ecommerce is one of the most exciting opportunities in the flower industry, and wholesale florist websites are no different. As a result of the Covid-19 pandemic, ecommerce has become important to consumers and has changed how they shop. PricewaterhouseCoopers(PwC) research shows that over 50 percent of the over 8,600 consumers surveyed are more digital now, and more people are shopping online every day.
Dr M Vishwanath, joint directorate, Horticulture Department said that a number of websites now sell flowers online that are grown in greenhouses. As a result of a greenhouse network in and around Bengaluru, the city is able to meet the needs of urban consumers consistently and predictably.
According to Asenla, the Chief Technology officer (CTO) of Hoovu Fresh, the key to successful floral ecommerce is the zero-touch mechanism. This enables sanitized, biodegradable packaging that has a longer shelf life than traditional two- to-three day packaging.
One of the major benefits of floral ecommerce is the convenience and ability to buy wholesale flowers 24/7. "Innovation in the packaging helps us extend the flower shelf life for longer days, something unheard of in the current industry," said Rhea.