The deadline for construction of Baiyappanahalli Coaching Terminal has been bypassed, yet again – for third time since 2017.
By Jagriti Parakh
The construction of Bengaluru's third coaching terminal at Baiyappanahalli is further delayed. The full-fledged terminal is now expected to begin operations by March 2020, the fourth deadline announced by South Western Railway (SWR) ever since the project took off in early 2017.
Manoj Kumar, Station Master, Baiyappanahalli Railway Station, said, "The intermittent and heavy rains in the city had greatly affected the schedules of the ongoing infrastructure work. There was some issue with the direction and alignment of tracks as well, which we have fixed and achieved good progress in the civil works. As signaling and telecommunication works are time-consuming, there was some delay. We shall be able to meet the fresh deadline."
The South Western Railway (SWR) Zone had proposed to shift 32 trains operating from five different stations within the Bengaluru Railway Division to the Baiyappanahalli Coaching Terminal, so as to increase the punctuality performance at Yeshwantpur and Krantivira Sangolli Rayanna coach terminals and to decongest the city.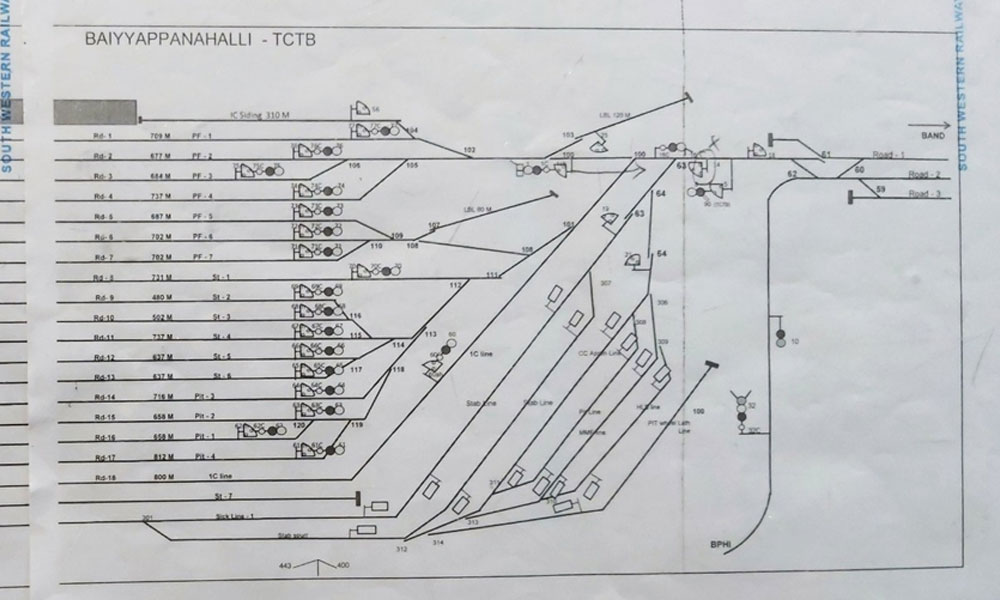 The previous deadline was July 2019, failing which, Union Minister of State for Railways, Suresh Angadi, extended the deadline by March 31, 2020.
Presently, there is a local station at Baiyappanahalli. It has two platforms and 40 trains—mostly suburban and short-distance services with a maximum of 19 coaches—stop at Baiyappanahalli as the platforms are shorter.
With the new coaching terminal coming up at less than 2 kms from the Baiyappanahalli Railway Station, express and superfast trains with 24 coaches can halt at the station.
N. Hari Kumar, Deputy Chief Commercial Manager, SWR, said, "The total project will cost Rs. 192.30 crore, inclusive of Rs. 39.82 crore, for passenger amenities. It will have seven platforms and ample parking space. It will be fully air-conditioned. A foot over-bridge, apart from two subways, will connect all the platforms. Sewage treatment plant and rain water harvesting system are other important features."
Mukul, Rail Infrastructure Engineer, said, "The Indian Railway Stations Development Corporation (IRSDC) have a plan for Baiyappanahalli Coaching Terminal. They are coming up with high-tech, airport-like facilities here. But all this has to be time-bound. The officials and contractors must take the deadline seriously. Bypassing a deadline also impacts the budget of the project, and that money is drained from the pockets of general public, it should be used prudently."
The Bangalore Railway Division plans to shift a few of its long-distance trains to Baiyappanahalli terminal when it is ready for operations. All trains, except those running towards Mysuru, can use this terminal.