Cybercrime cases are not reported by the police, as they are solved internally within the media platforms.
Cybercrime cases in Bengaluru are decreasing, as most cases are solved within media platforms cases registered in India have decreased from 10,555 cases in 2019 (pre-COVID-19) to 6,423 in 2021, states National Crime Record Bureau (NCRB) data.
The NCRB report shows that cybercrime cases in Bengaluru have decreased by 39.15 percent from 2019 to 2021. However, it stands first in cybercrime cases among other metropolitan cities. From Jan 2022 to July 2022, 5,364 cybercrime cases were reported in Bengaluru City, out of which voice-phishing (vishing) and online money transfer account for 2,284 cases.
Other cybercrimes are job fraud, card skimming, matrimony fraud, lottery fraud, SIM cloning, import and export scams, social media cases, and Bitcoin fraud.
Inspector Chandrakala, Cyber Crime Branch, Infantry Road Headquarters, said that their branch receives only a few cases in and around Bengaluru that are recommended to them by the Deputy Commissioner of Police. She also mentioned that nowadays cybercrime cases are solved internally within social media platforms before they reach the police.
Na Vijayashankar, Executive Chairman, Foundation of Data Protection Professionals in India (FDPPI) and Founder Director of Cyber Law College said, "The NCRB report only takes data from what is registered by the police. It is not a reliable statistic. Most crimes of small value do not get registered, as victims want to avoid the harassment of going to the police station for small-ticket fraud."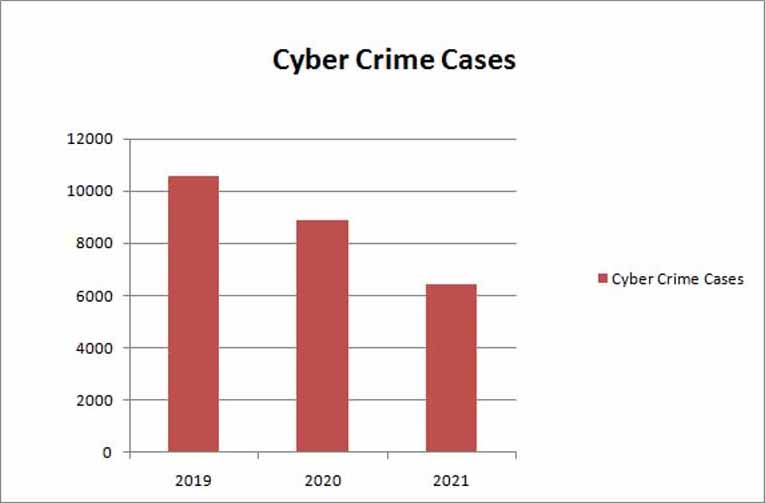 Chirag Shah, a marketing manager from Bengaluru, has been a victim of cybercrime. He said that his e-commerce shopping app's wallet balance (around Rs.8500) was debited, as someone had hacked into his shopping app. Within 20 minutes, he received debit messages of Rs. 2000 each about three times and that is when he noticed that his account was hacked. The e-commerce platform took 15 days to investigate and refund the money.
K.Jaishankar, an international criminologist and the Founder Principal Director and Professor of Criminology and Crime Sciences at International Institute of Crime and Security Sciences (IICSS) said that most media platforms are governed under American laws and have their own Standard Operating Procedures (SOP) to solve any issues that come up on their platform. They have internal guidelines that help them solve these.
He also added that, the number of cybercrimes reported after COVID-19 has reduced.
"The police is not knowledgeable to handle intellectual cyber crimes. Most elements of crime, such as the details of the witnesses and complainants are missing when it comes to cyber crimes as the cyberspace is dynamic. Most cyber crimes today, like hate speech, stalking are all value-based and police prefer dealing with more physical-based crimes," he said.