Migrant workers face financial burden due to a sudden rise in prices of LPG Cylinders.
The sudden rise in the price of Liquefied Petroleum Gas (LPG) cylinders has affected low-wage migrant workers in Bengaluru.
Neeraj (35), a migrant worker selling sweet corn on Church Street said that he has been going through a tough time in managing his finances since the price of domestic LPG cylinders has risen.
He said that earlier he could easily pay rent and visit his family in Bihar quite frequently. Now,he has had to cut down his visits He explained, "Earlier, I used to charge Rs 20 for a cup of sweetcorn, but now it is Rs 50 since my LPG bill has gone up from Rs 350 per month to Rs 500."
Rippon, a tea stall and cigarette shop owner near MG Road Metro Station moved to the city from Assam in 2013. He said, "The rising prices of LPG is affecting my life in Bengaluru; sometimes I even fail to pay the rent of my house."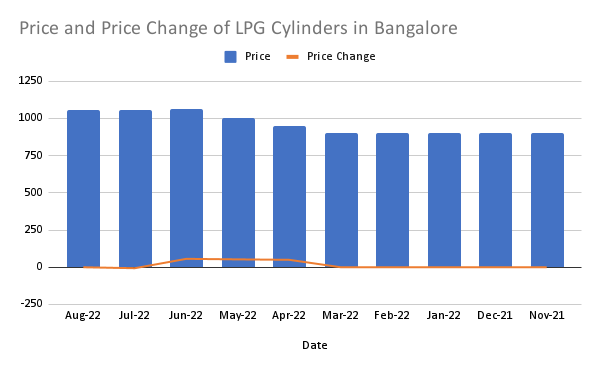 A report shows non-subsidised LPG rates have gone up by Rs 244 or 30 percent. Another report says that Domestic LPG cylinder prices increased by Rs 50 on June 29, 2022. In Bengaluru, a 14.2 kg cylinder now costs Rs 1055.5. The price was Rs 585 in May 2020. Hardeep Puri, Petroleum Minister during a parliamentary session Hyperlink on price rise quoted inflation as "a condition of military conflict involving Russia and Ukraine followed by Taliban and the COVID-19 crisis."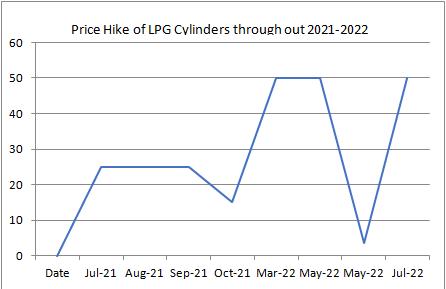 The Head of Department of Economics at Sophia Girls' School, Manish Sharma said, "Keeping the rising prices of the domestic cylinders in mind subsidies on LPG were a great help to these workers The government has suspended the subsidies on LPG cylinders from June 2020 due to CoronaVirus pandemic. The price of these cylinders is not in an equal ratio with the income of migrant workers, forcing them to switch to other odd jobs with low wages to just survive and stick to a livelihood or to return back to their hometowns."
The Indian Brand Equity Foundation states that through the Pradhan Mantri Ujjwala Yojana Scheme, the government aims to maximise the reach of LPG connections to low-income and below poverty line (BPL) households and thereby, reduce their reliance on fossil fuels.

Babu, a local vendor said, many vendors were not even aware of how to avail the scheme. Further, he said that the schemes were an unnecessary burden since the procedure to benefit from them is tricky and confusing. Neeraj also said, "many people whose income depends on daily wages cannot take out time to stand in lines and wait for subsidies and schemes."
The Department of Labour stated that basic help with food and compensation was given to the migrants during the pandemic but no such subsidies are being provided to the migrant workers for gas cylinders as of now.