Citing unavailability of escalators, lifts and inconvenient foot over-bridges, Bengalureans take to crossing tracks illegally, resulting in high rates of death on tracks.
By Savyata Mishra
Accident numbers on Bengaluru's railway tracks in 2019 have reached a record high of 1,246 till September, according to data by Railway Police Force. These accidents occur when people carelessly walk across rail tracks without taking the foot-over bridges which they find inconvenient for heavy luggage.
Vinesh, who regularly boards the local train to go to college from Byapannahalli station, said he encounters track crossing on a regular basis and has indulged in the same. He said, "Foot over-bridge is the last thing on my mind when I am about to miss my train. If the government wants to prevent accidents they should install lifts or make inclined planes instead of staircases."
Vinesh is not alone in his opinion. Many passengers at Byapannahalli railway station, Banaswadi railway station and Bengaluru Cantonment station echo the same view. Senior citizens and people with knee pain dread the steep foot over-bridges.
Thousands of passengers board trains for long journeys and carry a lot of luggage. Gowda, who was boarding Prasanti Express from Bengaluru Cantonment faced major inconvenience while changing platforms with his heavy luggage. He felt that an inclined plane would control illegal track-crossing to a great extent since the lifts are almost always full to capacity at these junctions.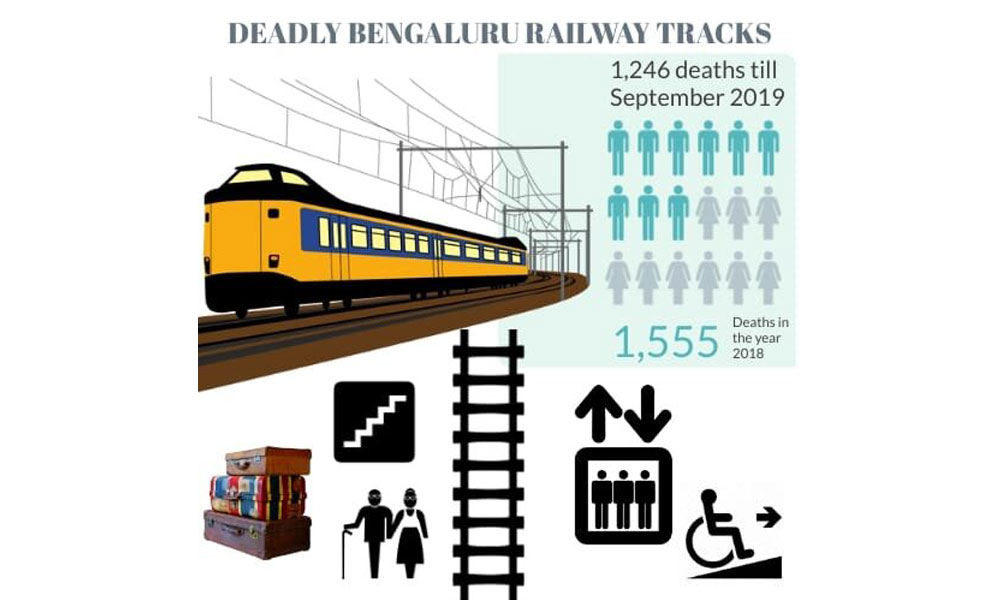 Section 150 of the Railways Act, 1989 states that any act having the potential to cause injury or death of any person shall be punishable with death or imprisonment for life.
While big and important junctions have RPF staff posted to check such acts and penalise people, smaller junctions like Byapannahalli and Banaswadi do not have any police staff. Post-commander of Byappanahalli RPF, Mr Umesh Dhakar, informed that they face an acute shortage of trained RPF staff in Bengaluru. Instead of a minimum of 15 staffers that are supposed to be under his jurisdiction, he manages with only five staffers. As a consequence, they are unable to conduct raids or patrolling as regularly as they should.
Mr Umesh has booked 85 cases of track deaths and nine cases of footboard travelling this year. In 2018, only 82 deaths were reported with them in the entire year.
"The number of cases registered for footboard travelling is less because of our inability to conduct regular checks at junctions due to lack of staff," he said.
In the city, while 1,771 people were booked for footboard travelling in 2018, 1090 cases have been reported so far in 2019.
Currently, there are 386 RPF employees in Bengaluru and 250 people are undergoing training for the post. Rail activist, Mr Sanjeev Dyamannavar said, "Awareness needs to be created amongst the passengers to not take this dangerous short-cut. The RPF should be employed at all the stations to look after older people unable to climb the stairs and help them. Inclined slopes like the ones at the majestic station should be built at all railway stations. Safety sign boards in local language should be put on to emphasise the same."