The city continues to move with no condoms vending machines.
Bangalore, Sept. 17, 2018: The number of AIDS/HIV cases has gradually increased in the city over the past year. The awareness program by the Karnataka State Aids Prevention Society (KSAPS) includes the monitoring of sex workers and their health check. The society provides free condoms in primary health care centers.
As per a report from the Bowring Institute, the number of AIDS cases increased from four in the year 2016-17 to 447 in the year 2017-18. The availability of condoms in public places continues to be low, as no condom distribution machines can be found around the city in places like bus stands and public toilets.
The National Aids Control Organization (NACO) led support to the KSAPS in order to install condom vending machines around the city. The project was taken up by the Population International Services who installed the machines. But, 13 years later, there does not seem to be any vending machine left in the city. In an interview with the softcopy, Dr. Ravindra N.R, the programme officer of technical support unit (T.S.U) at KSAPS said "In 2008, there was an NGO called Population Services International. It was given the contract and they started installing the vending machines, which were there for almost three years.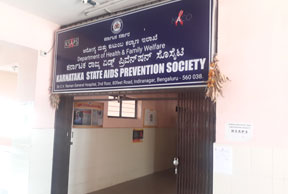 After that, NACO and KSAPS were asked to take over, but it was not highly successful. Slowly, the machines didn't work, so they disposed of them. NACO suggested that instead of having these vending machines in public places, we should use traditional outlets, such as primary health centers."
The KSAPS now has different wings that targets different groups. There are core groups and bridge population. The core groups consist of both male and female sex workers, same-sex partners, and transgender.
Free condoms and free medical services are provided at the primary health centers. Thorough check-ups for HIV, syphilis, plus every three months a regular medical check-up is provided in order to control the situation. Contrary to this, Dr. Satyajit Samanta of Charnock Hospital says, "condoms should be easily accessible and should be found in public places.  Private sector should also and play a role in providing condoms vending machines."