India needs more Brain Banks
Bengaluru , Sept. 27, 2018 : Charles Scott Sherrington once said, "The brain is a mystery; it has been and still will be. How does the brain produce thoughts? That is the central question and we have still no answer to it."
The Neurobiology Research Centre at the National Institute of Mental Health and Neurosciences (NIMHANS) has a bank which is unique and the only one of its kind in India, the 'Brain Bank', creation of Professor of Neuropathology S.K Shankar, who built it in 1995.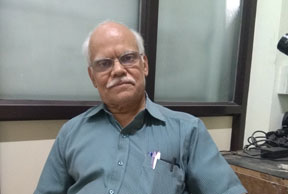 When asked about how the idea of a brain bank came to his mind, Dr. Shankar replied, "It was a sheer necessity and it still is. We started our researches with animal brains like those of dogs, rats, monkeys, and so on, as supply of human brains was very limited initially. Although the biochemical of monkeys and humans are quite similar, but still remains different".
He emphasized on how the United States has more than 40 bio banks, whereas Europe has more than 15. He added, "Research is continuously done on diseases like encephalitis, epilepsy, stroke, HIV, and many other psychiatric disorders or diseases related to the brain. Currently, studies are going on diseases like Parkinson and Alzheimer, which we are trying to understand, so brains are sent to the scientists for research."
He also mentioned, "Research take a lot of time and initially it was quite difficult to study human brains in comparison to what it is now as it included a lot of hard work to convince people to donate brains. Usually old people positively donate their brains." Adding to this he said "It is not possible to get more brain banks and I am saying this after working for 20 years in this field – the biggest question is that who will do the autopsies? It stinks!"
According to statistics, there are 319 brains in the bank and 490 fresh brains for biopsies for different diseases. All these brains are preserved at a freezing point of 80 degree Celsius. The Brain museum has a collection of studies of different brains of different animals and humans. There are brains of cow, owl, parrot, hyena, rat, snake, sheep, etc.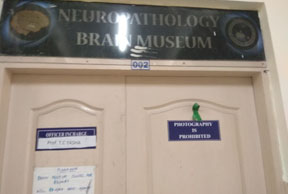 Surendra Kumar Patodi, a service man from Kolkata has been suffering from bipolar phase II and obsessive compulsive disorder OCD for 20 years now. He says "I will happily donate my brain if it helps in the study of the brain and if it helps others in any way".
Shubham Sabherwal, a final year medical student from College of Medicine and Sagar Dutta Hospital in Kolkata, who aspires to become a neurosurgeon, remarked, "Studying the cells of the brain closely at the genetic level helps researchers to develop the most appropriate diagnostic tests and effective treatments. The most modern imaging techniques like MRI and PET-CT are very helpful in studying the structure and functionality of the nervous tissues, but they cannot peer into the nerve cells. Therefore, brain banks are of utmost importance for this level of studies and researches which thoroughly help in studying the anatomy of a human brain".
A consultant molecular pathologist from Radcliffe life sciences, New Delhi who is also a professor in Delhi Academy of Medical Sciences Pvt. Ltd. In the department of Pathology remarked "Brain Banks will help a lot in research but the logistics to maintain and use it is difficult because the understanding of brain's function is known by 10% only and the limit is vast."
He also added "There are many diseases like Alzheimer's which needs more understanding with population shifting towards the elderly. But to meet the requirements a lot of fund is required and you need grants to carry on the study and correctly teach the medical candidates".