The scenario in Bangalore when it comes to different genres of activism.
Bangalore, Sept. 18, 2018: Bangalore's stage in activism being evolving in various ways, there are different forms of activism that take place depending on the issue that it revolves around. Protests taking place on different issues like the fundamental rights, agriculture, women empowerment, the LGBTQ community, salaries and so on. Activism is impactful as it focuses on fundamental rights like the freedom of speech and expression and covering this issue is extremely important and newsworthy. It involves a very important element of conflict subjectively for every activist as the police decides whether the respective activists are illegally functioning or not, but is also responsible for the safety of activists under the Indian constitutional laws. Bangalore has mainly two places where major protests take place – Town Hall and Freedom Park. Both of these places are officially known as places where people gather for protests on various issues.
Joydeep Bose, a student activist from the Asian College of Journalism says "Student activism is one of the fundamental aspects of a democratic society. Much has been said about its roots in the right to free speech, so I'll instead say why it's all the more important today. This is because we're now living in a world that is fast changing, education is being corporatized, privatizing public universities and forming a corporate governance in the education sector that leaves the power in the hands of a select few administrators. In doing so, the education sector today is actually mimicking the bourgeois state. With control over the material means of providing education, they are hence forming the ruling class, that centralizes power and limits or removes the democratic voices of those not in this position of power. Repression of free speech plays an important role in silencing the opposition against these corporate reforms, and in turn, further enabling this hegemony over matters, opinions, and voices. Hence student activism against this silencing of voices is all the more important today in this late capitalistic education framework to ensure their voices are heard and the material means of education are not controlled by the select few administrators of the university."
According to Abhijit Kundu, a sociology professor at Delhi University – "What we call 'activism' today has to be located in the general context of social movement in India today. Historically speaking, it demands a minimum organization, a commitment to change guided by a normative principle, a conscious volition towards some desired goal. In the present day context, it may start without an ideology or organization but in due course of time, it may develop into an organized affair. Essentially, activism is premised on a deliberate intervention to affect a response from the State Government. Activism seeks to redress a social issue by lodging a protest and seeking a change by shunning unconstitutional means. Only, a handful groups make a deliberate collective effort to promote change by means, not excluding 'illegality'. In Indian context, although there is a growing tendency to shun ideology in protest activism, a common denominator of a shared consciousness of rights runs through all forms of activism. The State is taken simultaneously as a friend and a foe by the activists. They understand the State as a repressive one, yet they seek justice from the same State. A conservative State takes to regressive responses when faced with challenges from the activists. It has failed, time to time, to appreciate the contentious politics of activism galvanized as an expression of the 'general will'. A nervous reaction comes in the form of repression and coercion. Not surprisingly, we find the highest court of Law reprimanding the State and its functionaries so many times. Of late, it has to be even reminded that- dissent is a safety valve of a democratic society. To be more precise, dissent is a core value of a civil society. Largely, Indian State has failed to protect that spirit."
The Right to peaceful protest is a fundamental right guaranteed in the Constitution and the aforesaid right is subject to reasonable restrictions in the interest of the sovereignty and integrity of India, as well as a public order. Article 19 of the Indian Constitution allows any Indian citizen to assemble peacefully without arms and to form associations and unions. Activists are also protected by two more laws- Article 14 which states that every citizen is equal before the Indian law and no kind of discrimination would be permitted on grounds of age, sex, religion, race, caste or birth and Article 22 which is protection of Indian Citizens against arrest and detention in certain cases, without being informed, without having the right to consult or being defended by a legal practitioner of the Indian law of his/her choice.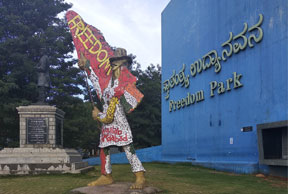 Jaismita Alexander, a 21 year old activist for human rights and the LGBTQ community from Calcutta University states "holding protests in India is a challenge as it is difficult for the mass to make an impact unless they are in a big number. Differed motives in the same organization also lead to the agenda falling apart. Activism being a broad-based aim for many, there are many individuals who have a completely different and sometimes, political opinion as well. The opposition party having a protest in our country would face more police action than the ruling party would".
Swabhava is an example of an organisation for the LGBTQ community in Bangalore for the past 15 years which focuses on providing support to people belonging to the community which  holds protests in the quest of exercising rights which support their lifestyle more actively. There are more organizations like 'Enable India', 'Environment Support Group' and 'Women Empowerment NGO' and so on. 'Association for Promoting Social Action' (APSA) is an organization that was established in 1976 and is a rights-based, child-centred, community development organization that has been working in the vicinity of Bangalore and Hyderabad.