Karnataka Health Minister K Sudhakar earlier said pregnant women were likely to be more infected.
With increasing cases of the H3N2 virus in the country, experts said that pregnant women need to be more cautious as they are more susceptible to the virus.
The Health Ministry suggests, India currently has around 450 cases of the H3N2 influenza virus and the central government issued precautionary guidelines to five states including Karnataka. The South Indian state was also one of the first states to register a death due to the virus.
"I think it is a new strain of COVID-19," said a 4-month-old pregnant lady at the Gosha Hospital, Bengaluru. Nine out of 10 pregnant women at this hospital had not heard of the H3N2 virus before.
"Pregnancy is an immunosuppressed state. This state requires the mother to carry a healthy foetus in her womb, but it also increases her susceptibility to infections, not only to H3N2 but all infections in general," said Dr Bhavini who is pursuing post-graduation in Obstetrics and gynaecology. Immunosuppressed is a state of weakened immune system that reduces the body's immunity against certain diseases.
"If a pregnant woman comes in contact with the virus, she may have minor symptoms like cough, cold, fever, and headache like any other flu," suggested Dr Bhavini. She said major complications could lead to preterm labour pain (Labour beginning before 37 weeks in pregnancy), and birth of underweight babies and could also lead to more chances of foetal distress. Foetal distress occurs when the baby isn't getting enough oxygen in the mother's womb.
In addition to all these complications, Dr Shailly Gupta, a gynaecologist said in severe cases, more cough could lead to pneumonia and could even cause death as the immunity of the body is compromised during the pregnancy.
Physiological changes in pregnant women can make them weak and vulnerable to the virus and therefore they can develop complications, said Dr Kala Yadav N, professor and Head of the Microbiology department, Shri Atal Bihari Vajpayee Medical College, Bengaluru. "Women have less immunity during pregnancy," she added.
She said the extreme cases of the H3N2 virus could cause pneumonia or chronic diarrhoea. And according to a research article, Maternal Immunological Adaptation During Normal pregnancy, "Pneumonia may be severe during pregnancy largely because of circulatory changes and reduced functional residual lung capacity due to increased abdominal pressure."
Although, Dr Yadav said the transition of the virus through the placenta hadn't been medically established yet. On the contrary, she said that the foetus might acquire the antibodies in the womb which would ultimately strengthen its immune system.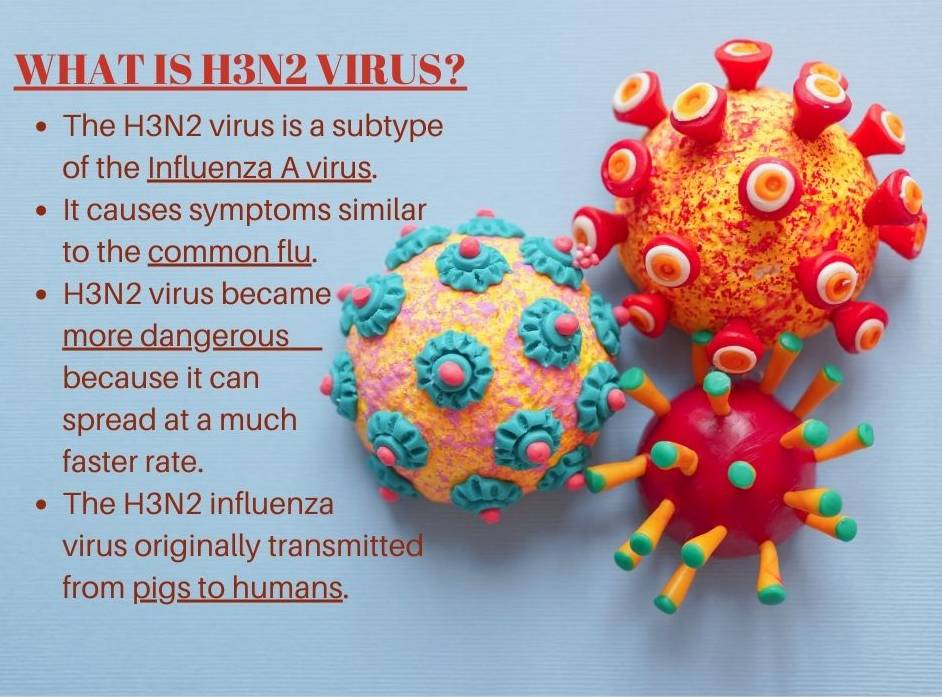 Earlier this month, Karnataka Health Minister Dr K Sudhakar had advised pregnant women to be cautious against the virus. He said there was no need to panic and with right precautions, the virus could be tackled. Children below the age of 15 years and elderly above 65 were also advised to take precautions.
The H3N2 virus is a subtype of the Influenza A virus and causes symptoms similar to the common flu, said Dr Kala. She said the H3N2 virus became more dangerous because of its potential of spreading at a faster rate. "All influenza viruses are not dangerous and it's the variant that matters." The H3N2 influenza virus originally transmitted from pigs to humans.
"It can create a new epidemic," said Dr Kala because of the pace at which the virus was mutating.
However, Karnataka Health Minister insisted that there was no need to panic. Joshika, a 23-year-old intern who assists the gynaecologists in the Outpatient Department (OPD) of a government hospital said that they advised women to wear masks and asked them to wash everything before eating as any surface could act as a carrier for the virus.