BBMP says it has updated the app a week ago and the issues will now be resolved
Many users complain about technical glitches in the Bruhat Bengaluru Mahanagara Palike's (BBMP) 'Fix My Street' application which does not let them register or raise complaints. This is despite BBMP officials claiming they have updated the app a week ago after complaints of people facing these issues. However, the Play Store shows that the app was last updated on Jan 2, 2023.
Siddharth, a user who tried to register a complaint but could not, posted a review under the BBMP Fix My Street app on Play Store, "I am consistently facing an error while trying to register. The app shows 'Please try after some time.' It feels like they are doing this on purpose to avoid people's complaints and reduce their work. Should BBMP Sahaaya 2.0 app be used instead of this app?"
Ravi (name changed) is a software developer and a resident of Jayanagar who was successful in registering on the app after eight – nine times. He tried to file a complaint about the potholes in the area where he lives. He said, "I have submitted a complaint but it does not show up under my complaints. The user interface is very poor. The BBMP should hire a good developer and improve the app quality."
Since many citizens no longer go to offices to complain about the streets and roads, the BBMP launched the Fix My Street app. Deccan Herald reported that the app has received 40,000 complaints about potholes since May 2022.
BBMP officials say the app has over 90 percent resolve rate and B S Prahalad, BBMP engineer-in-chief, in an article dated Jan 19 said, "There were a few repetitive complaints and we had to filter them. As of now, only 815 complaints are to be attended."
Vivekanandan C, whose complaint was rejected without a reason, said, "I lodged a complaint on the Fix My Street app and on the same day received a message that the complaint has been rejected and there was no reason assigned. As an honest taxpayer, I think I should at least be made aware of why the road I am complaining about does not require any work since it is filled with potholes."
A BBMP engineer said, "As of now, the app rejects complaints that are not about potholes. If there are complaints about other things like street lights and if a tree has been felled in the area, it will be rejected."
The official site of the BBMP Fix My Street App says the app was first launched in 2017 to resolve the issue of potholes. It adds that "Besides reporting potholes related complaints, Fix My Street can be used for registering any civic amenity issues such as street light and garbage."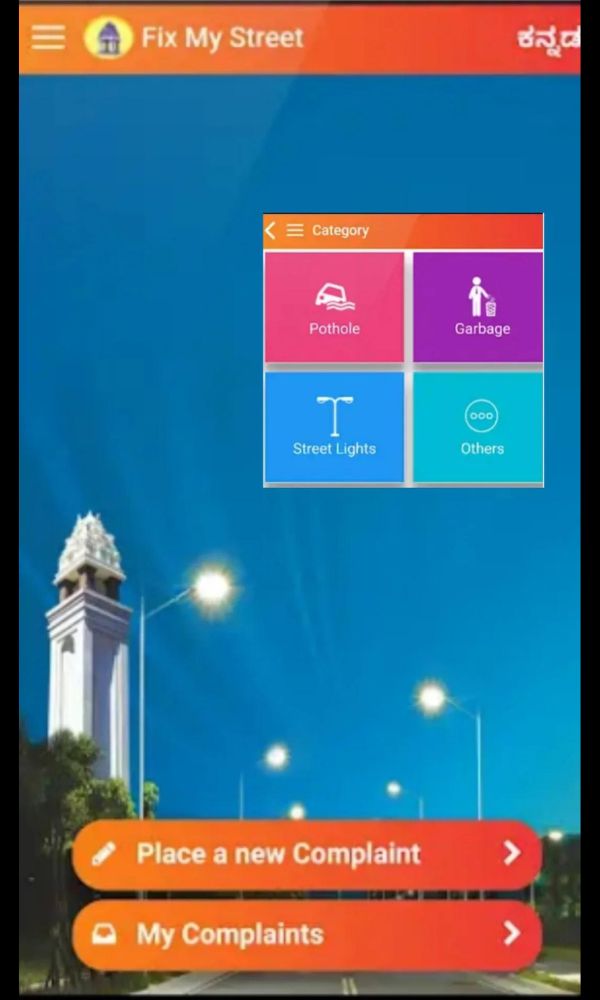 However, the BBMP engineer said, "As of now the app only takes complaints regarding potholes, we will expand to other issues like street lights and garbage soon. People are usually shown the reason under the remarks section why their complaint has been rejected. If there are cases whose complaints have been rejected without a reason, we will be happy to look into it."
Many also complained about authorities not taking action or responding to requests while others say that the app closes complaints saying they have been resolved without actually resolving the issue.
The BBMP engineer said, "We admit there were some problems with the old app and we tried to resolve that and launched the new 2.0 version of the app last week. The app currently is only available on Android and not iOS but we are gradually improving the app and it will soon be available to iOS users."
K. Nagesh, deputy chief information officer, BBMP said, "A complaint is only rejected if it is outside the BBMP limit, for example, if the road that someone has complained about comes under Defects and Litigation Period (DLP) where the road is currently under contract and those with the contract have the power to maintain it. Any other complaints other than those about potholes are rejected. In case of a complaint requiring complete road restoration, time and approval are required and it will come under long-term problems that require budget and time, so they are also rejected."
He elaborates how an application is processed. When you register a complaint, it is acknowledged and the status is updated. It is then processed, rejected, or resolved and escalated to higher authorities. A complaint can only be resolved by a second-level officer, who closes the complaint.
The app developer does not see any technical problems. Madhukar Shetty, the developer of the Fix My Street App said, "We are not aware of any such issues. The application has been actively used since May of 2022, and we have received over 40,000 complaints. However, we will look at this and understand if it is a problem specific to a particular mobile brand."
He said the problem may be a localised issue with a user's mobile or due to a specific mobile brand since "a geo-tagged image is required to understand the location and identify the repair required site."
Sahil, a software development engineer said, "To build a user interface, several elements like 'button' are used. For every button, there is a listener which takes in the command about what action is going to be taken. If the camera is not working for the app, that may be because there was no listener added to take in the command."
He explains that the app crashes because of several reasons. One could be load capacity—when an app exceeds its load capacity, it will eventually crash. There is also the case of error handling which refers to the response and recovery procedures from error conditions and if it is not done properly, the app will crash. He said, "The user experience can be made better by improving the error handling process and making the app more scalable, and increasing its load capacity so it does not crash."