BJP spokesperson says everyone deserves a chance to reform.
Opposition parties have said that the Bharatiya Janata Party (BJP) is all set to intimidate voters by using muscle power in the upcoming elections after a history sheeter Wilson Garden Naga was seen at Minister of Housing and Infrastructure Development, V Somanna's residence.
Aam Aadmi Party's (AAP) Bangalore president, Mohan Dasari alleged that V. Somanna met Wilson Garden Naga.
Prathap, Janata Dal's (secular) spokesperson of the state said, "BJP has some sort of detergent. Before joining the party they are miscreants but after they are given party tickets, they are presented as honest innocent people who do not even know what crime is. I do not  know what kind of cleaning they do."
Mohan Dasari said Tejaswini Surya; the MP from Bangalore south was seen sharing a stage with Sunil Kumar, an absconding gangster. "They have made a mockery out of the system and are playing with people's trust,"
The AAP Bangalore president further said that the Central Crime Branch had recently given a report that Sunil Kumar (Silent Sunil) was absconding. "A gangster on the run being seen with a state minister in itself shows the kind of politics this party does." He said even the police was kneeling in front of them.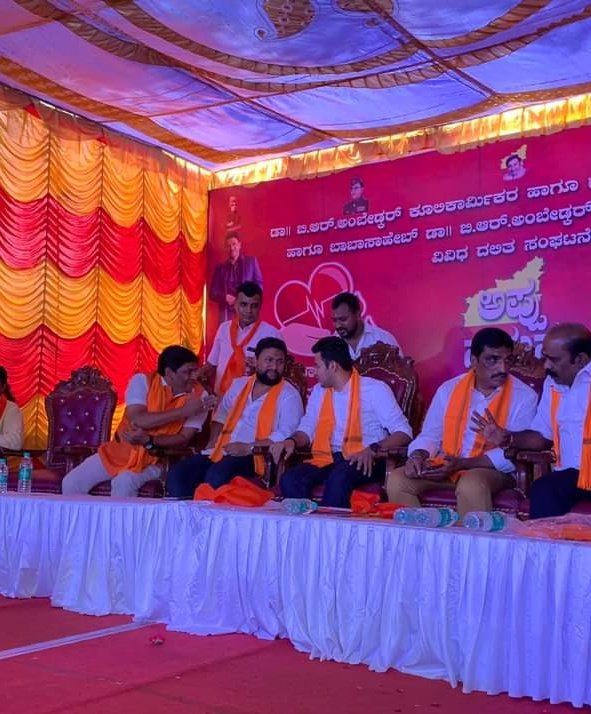 General Secretary of Karnataka Pradesh Congress Committee, Mansoor Ali Khan said that the Police Commissioner and Director General of Police should take cognizance of such incidents.
He also said that BJP had mastered corruption, as both 'Silent' Sunil and Wilson Garden Naga were extortionists. "As the elections are approaching, they are getting jittery and want the criminal power backing them." He also said that the BJP party sought 40 percent commission on all development projects.
Dr. D. Jeevan Kumar,retired political science professor, Bangalore University, said criminals are useful fodder for political parties.
"They help in the aggressive garnering of votes, in intimidating and quelling the few who question them and their ways; they get things done for the people in their constituency by flouting rules and regulations," he added.
Mohan Dasari said that the 40 percent commission policy of BJP was now common knowledge. "The Bommai government has failed miserably in the state. The only option they are left with is to induct goons in their party and spread fear among people to vote for them."
"They claim to be the most patriotic party and have declared themselves as the guardians of this nation. But this recent incident only shows that they can stoop to any level to grab power," said Prathap.
BJP spokesperson, MG Mahesh said that the party did not entertain such miscreants and Congress was trying to defame them unnecessarily. "It is congress who is known for using muscle power. Corruption and Congress have had a long history." He said every criminal should be given an opportunity to reform and till the court declares someone a criminal, the person remains innocent.
Dr. Kumar, concerned about the state's politics, said that such incidents would not adversely affect the BJP's prospects in the coming elections.
He said, "We are no longer an ethical democracy. We have degenerated into an electoral democracy where the average voter, the politician and the criminal all know which side their bread is buttered." He said it was truly a pathetic state of affairs.