A manual is planned to address the risk factors involved in non-communicable diseases.
By Ajay Ramanathan
Bengaluru, Mar. 7, 2019.
Psychiatrists at the National Institute of Mental Health and Sciences (NIMHANS) in Bengaluru,  are attempting to study the relationship between physical and mental illness. The study is directed towards designing a manual that would address risk factors for non-communicable diseases. This would be the second manual of this nature.
Prathima Murthy, Professor of Psychiatry at the Centre for Addiction Medicine, shed light on the manual: "We've been involved in this project for six years. The Gulbenkian Conference attempted to look at mental illness as a non-communicable disease."
The draft of the Conference stated that poor mental health is associated with higher mortality among those with non-communicable diseases. The draft estimates that 52.82 million adult Indians currently live with a mental illness. Titled 'Handbook for counsellors on reducing risk factors for non-communicable diseases', the 2017 manual examined the preventable risk factors for non-communicable diseases namely alcohol, smoking, diet and stress.
The first manual was prepared with financial assistance from the World Health Organization (WHO), as well as the Government of India.
The current study, however, adopts an integrated approach. "This current study is being conducted in collaboration with the University of York. We are looking at the prevalence of physical problems among those with mental illness. The study brings together community medical officers, community health professionals and counsellors," Murthy noted. The study examines the link between depression and physical problems.
An April 2017 report titled, "'Depression in India. Let's talk" examines the various risk factors for depression. These are biological factors, psychological factors, socioeconomic factors, and cultural factors. The aforementioned report states that the major symptoms of depression include ' loss of self-confidence or self-esteem; unreasonable feelings of guilt nearly every day; recurrent thoughts of death or suicide,  suicidal behaviour, diminished ability to think or concentrate, bodily agitation or slowness, disturbed sleep (reduced or increased sleepiness) nearly every day, gloomy and unhappy views of the future, increased or decreased appetite and/or weight.'
The study also addresses the prevalence of major depression in patients who suffer from a physical illness. The study cites a 2003 WHO report which concluded that major depression was present among 46 percent of tuberculosis patients. The relationship between depression and physical illnesses become pertinent in the wake of an October 2018 report that pegged India as the most depressed country in the world, with China and the United States claiming the second and third spot.
[media-credit name="Pixel" align="aligncenter" width="288″]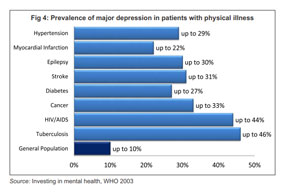 [/media-credit]
Sheela Kumari (pseudonym), who has had issues with Thyroid was also diagnosed with panic attacks, discussed the ordeal. " I used to feel shivers, nausea, stomach pain. " "I developed Irritable Bowel Syndrome as a result of the anxiety."
However, Kumari urges that she is currently, feeling a 100 percent " I wanted to be off medication, so I made changes in my lifestyle, diet and started practicing yoga." "I'm completely off medication now", she remarked.
Mental and physical illness is not just detrimental to the overall health of a county. They also lead to an economic loss. The Gulbenkian report states that India would lose 4.58 trillion dollars due to Non Communicable diseases and mental health conditions. Also, the report pegged these health conditions as the major contributors to economic loss.
However, the impact of the manual is yet to be seen. "We don't know," Murthy remarked. "It is an ongoing process where we're looking for integration."