Sudharma the only existing Sanskrit newspaper in India is starting a subscription model for their e-paper
Sudharma, India's only Sanskrit newspaper in circulation, has seen a 40% increase in readership and is planning to start an affordable subscription model for its e-paper early next year.
"Our e-paper circulation is worldwide and especially after COVID-19, we have seen almost a 40 percent increase in readership especially online," said Jayalakshmi, editor-in-chief of Sudharma.
She added, "Journalism in Sanskrit is very unique and rare. We receive article contributions, and they don't even demand money. We all work towards the same goal, which is to spread the visibility of the Sanskrit language."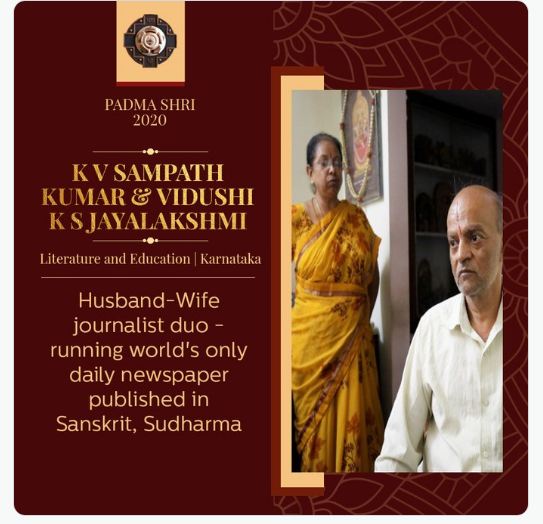 Sowmiya Swaminathan, Assistant Sanskrit Professor at M.O.P Vaishnav College For Women, said, "Our college used to have the e-paper subscription of Sudharma for the benefit of our students. The language is very simple and was easy to understand."
On the website, there are many testimonials from several leaders of the country appreciating the strength of Sudharma to withhold and carry the legacy of Sanskrit forward.
Jayabhuvaneshwari, an entertainment journalist, who is very passionate about the Sanskrit language said, "I have heard about Sudharma before. I haven't read it much because I do not have that much knowledge about it. The media house can look into marketing the newspaper more, especially the e-papers."
She added, "Youngsters will be more interested in e-papers when they are marketed properly. Exclusive newspapers like this also excite the journalist in me."
Sowmiya said, "Especially after COVID-19, more people have started moving towards e-papers. Sudharma can start appealing more to a younger audience, by adding comic strips in Sanskrit. The only way to reach out to more people in this day and age is through social media."
According to her, colleges teaching Sanskrit are likely to be aware of the paper. "This will increase subscriptions of the paper," she said.
Suparna Naresh, Associate Print Journalism Professor, at CHRIST University said, "In India, print still has a stronghold. Subscriptions for e-papers are more expensive than those for printed newspapers."
She said, "The familiarity of the Sanskrit language is more with the older generation. It's too early for them to understand if their readership has increased through e-papers because, the habit of the lockdown still exists, maybe after two more years they will know better if e-papers have helped them."
Sudharama received Padma Shri in 2020 in the category of literature and education.
Jayalakshmi, said that the work they do is out of passion and getting the Padma Shri is not easy for a newspaper but that has helped increase their readership.