The plan to merge the children helpline number 1098 with 112 was taken back by the government in 2022.
Childline helpline number 1098 is out of service due to connectivity issues. The child protection department which is aware of the problem still hasn't been able to solve it.
"It has been merged with 112 to improvise it and make it accessible under Mission Vatsalaya scheme. But 1098 is still in operation for now," said Nivedita, program officer of the Child protection department.
Tarun, (changed name) a 12-year-old kid who was rescued by this helpline said, "Life is much better now after being rescued. It's been two years since my life changed. I want to join the Indian army when I grow up." He was abandoned by his mother during the first phase of Covid-19 and was found on the streets starving with his three siblings. All the children are now settled in a Non-Government Organization (NGO).
Karishma, a child physchiologist said "Non-functioning of these numbers takes away the agency of help and support and also imprints the feelings of learnt helplessness and powerlessness experienced by a child." It also increases the risk of additional traumatic experiences as he/she may continue to experience distress from such adverse life events until he receives help, she added.
The central government had decided to merge it with 112, but after retaliation, it rolled back its decision in September this year. Bengaluru Oniyavara Seva Coota () is one of the organizations that works as a support group for the helpline. It has been associated with the helpline for 20 years now. Karishma said, "Child Helpline plays a crucial role in breaking the pattern of trauma and helps the child to take power back in his/her hands and receive much-needed assurance and support."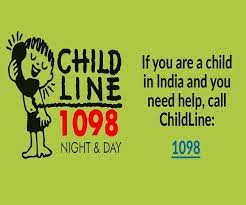 Father Prasad, Director of BOSCO said that the future of 1098 was hazy. "Proper instructions haven't been given to us regarding the merger and we're continuing on our own right now like we were doing before. But there is a lot of ambiguity surrounding it." He added that due to connectivity issues fewer cases were being reported. "On a normal day, we used to get around eight to ten calls a day, but lately it's come down to two to three," he said.
Another member of BOSCO said, "Sometimes the support from the department gets delayed and in such situations each second counts. The communication gap is a big hurdle and it only exacerbates the situation."
1098 is a 24-hour-a-dayfree, emergency phone service for children in need of aid and assistance. "We can't close it, it's an important helpline and we get cases of child labour, Protection of Children from Sexual Offences Act (POCSO), begging and anything related to children. We're working with our technical team to resolve the issue and it will start functioning properly soon," said a senior official of the Child Protection Department. The helpline has received 33,401 calls from 2021 to march this year and on average gets about 100 calls per day.