Auto travel will become more expensive in the city, say Bangaloreans.
The Bengaluru public is unhappy with the ban on Ola, Uber and Rapido auto rickshaws and says that it will directly affect their pockets.
Maya Gautam who works in an IT company said, "Because of this, travelling in Bengaluru can become more expensive and difficult. My home is around five kilometers away from MG metro station and I used to book Ola or Uber auto. The fare was around Rs.150 to Rs.170, but when I asked a regular auto rickshaw he asks for Rs.250 for the same distance."
Sunil Kumar who works at Orion Mall said, "The autos are not ready to use meters. They always come up with excuses to avoid using the meter and hence, I use Rapido autos over regular autos because it costs much less." He further said that this decision will create trouble for the public regularly travelling in autos.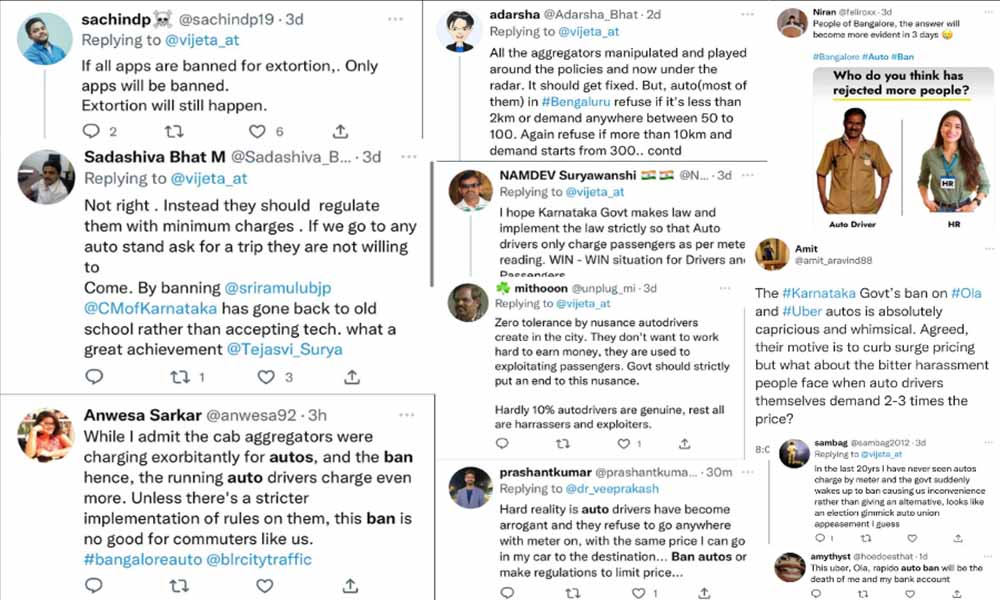 OnOct.6, the Transport Department issued an order to ban auto rickshaws of Ola, Uber, and Rapido. Data show that there are 1.35 lakh auto rickshaws in the city, and only 40 percent of them have recalibrated meters,
The report shows that around 35,000 two-stroke autorickshaws auto rickshaws also ply in the city. The Department categorises them as illegal.
However, auto drivers with no meters are happy with the government's decision.
Chandru, an auto driver near Kengeri said, "This is a good move by our government. Because of Ola, Uber, and Rapido, I was not getting many rides. So, I believe that this will increase my number of rides per day."
Jayaram, an auto driver at Mahatma Gandhi road said, "I use to work with Ola, Uber, and Rapido, but I don't think the ban will affect us, because we pay more than 20 percent of our total fare to the company.
He further said, "The ban will affect the public because many autos in the city refuse to run on meters and charge a high price. So, after the ban, the public is definitely going to face a problem."
Shrinivas from Adarsh Auto Union said, "Sometimes it is a compulsion to take extra fare because of high traffic in the city and high fuel rates."
Prof. M. N Sreehari, an expert who has supervised over 2,000 projects related to Traffic, Transportation and Safety said, "Decision to ban Ola, Uber, and Rapido will definitely affect the Bengaluru public. Many auto rickshaws are not accountable to anyone and that's why they have a habit to charge high or extra prices. But to reduce the effect of this problem every citizen has to be aware of the right to complain about any auto driver through the Government's helpline."
The Government's official helpline number is 080-22868550/ 22868444.
Anekant Bidagi, Head Constable Traffic Police said, "Autos of Ola, Uber, and Rapido are very important in the present time because of their flexible nature and door-to-door service." He also said that it is safer to travel in autos registered with Ola, Uber and Rapidos.