Post-COVID many districts in Karnataka are receiving more child labour cases.
Incidents of child labour in Karnataka show no sign of decreasing post the pandemic. Raids by the Karnataka Labour Department in 2021-22 have rescued about 850 children from various workplaces.
Data collected from Karnataka Labour Department show that 1,981 children have been rescued in the past three years. Of these, 1,333 are boys and 648 are girls. Districts like Raichur, Bengaluru Rural and Vijayapura among others have seen an increase in cases.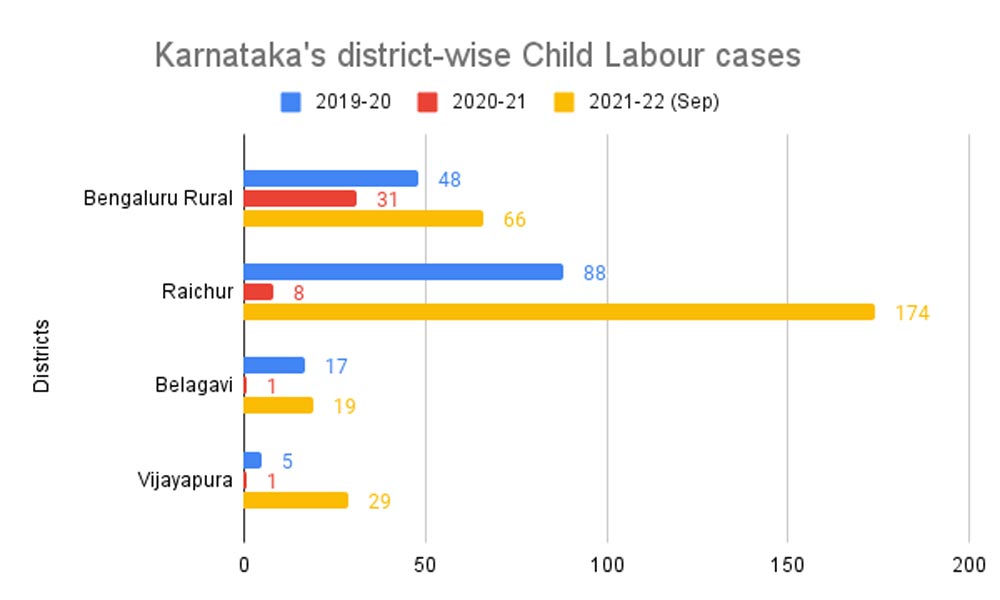 Nagasimha G. Rao, founder of the Child Rights Trust NGO said, "The number is way higher than 1,981. Just look around and you will see a child selling flowers or pencils. After the pandemic, child labour is getting sympathy because our economy suffered a lot.. We are doing our best to spread more awareness about it."
The central government does not have any current data on child labour. The only available data is from the Census 2011. The data shows the number of working children in India in the age group 5-14 years is 10.1 million, 3.9 percent of the total child population. International Labour Organization (ILO) report shows, one in ten child labourers worldwide is from India.
Sarafina, a volunteer from Childline NGO which work towards rescuing working children said,"After we receive calls, our team visits the place for fact-finding and verifies the information our caller has given us. Then we inform the Labour Department, District Child Protection Officer (DCPO) and local police to rescue the child."
Special Training Centers (STCs) under National Child Labour Project (NCLP) Scheme provide basic education to the rescued child, which is the fundamental right of every child. Karnataka has only one operational STC. Fund allocation for this scheme in Karnataka in 2020 was but in 2021 it is only Rs. 83 lakhs.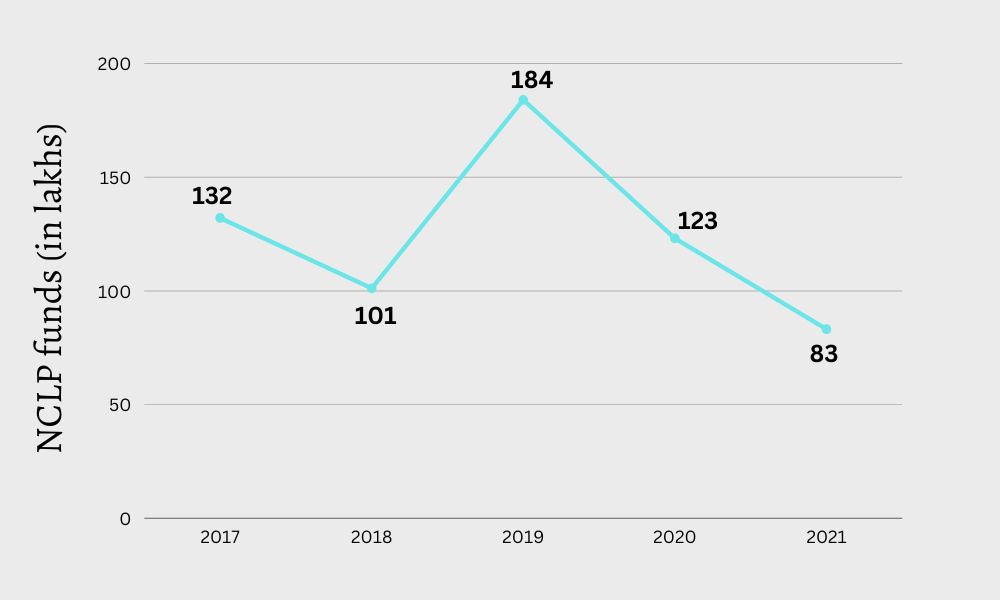 Rao, said, "We need more STC centers in Karnataka. Cutting down the fund is going to have a huge impact on the working children rescue mission."
Mahesh,11, who works at a local market in Bangalore explained why he works. "My mother asked me if I could work after school. She did not force it on me, but I understood her need. I am working to earn a livelihood; I am not stealing from anyone but people treat us like criminals sometimes," he said.
Nishita Khajane, Advocacy Officer at the Concerned for Working Children (CWC) said, "We empower children to advocate for their own rights. We also understand that the government data is not very transparent and does not represent an on-ground picture of working children."
'To take immediate measures to eradicate forced labour' is part of the Sustainable Development Goals set by the United Nations. India only has three years remaining to achieve the goal and eliminate all forms of child labour by 2025.
Nandana Reddy, founder of CWC states on the CWC website, "When you look into a child's eyes you expect to see hope, trust and innocence; but when you see these signs of childhood are replaced by betrayal, hunger, fear and suspicion, we need to take serious stock of ourselves and the society we have created."